Background
Published in 1859, A Tale of Two Cities is an example of a serial novel, a novel published in installments over a period of time. The novel was first published in weekly installments and again later in monthly installments.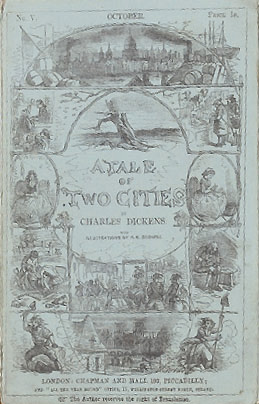 Cover of the serial volume of A Tale of Two Cities with artwork by Hablot Knight Browne, known as Phiz, who illustrated many of Dickens's works.
Fears that England might be heading toward a revolution like the French Revolution persisted into the Victorian Era. Literary references to these fears appear in many 19th-century works including Wilde's The Importance of Being Earnest; Barrett Browning's "The Cry of the Children," Shelley's "Men of England," and Byron's Don Juan.
The passage of Reform Bills in 1832, 1867, and 1884 to extend voting rights evidences the discontent of the previously disenfranchised working class and the unease of the upper classes who feared open rebellion.
Setting
"Chapter 1 The Period" begins with these well-known lines:
It was the best of times,
it was the worst of times,
it was the age of wisdom,
it was the age of foolishness,
it was the epoch of belief,
it was the epoch of incredulity,
it was the season of Light,
it was the season of Darkness,
it was the spring of hope,
it was the winter of despair…
Although these lines do little to depict the actual setting, they provide a hint of the contrasts the novel develops, contrasts of normal life and the Reign of Terror, innocence and guilt, life and death. Dickens makes the lines poetic and memorable with the use of literary devices:
To introduce the period in which the novel is set, Chapter 1 moves from these lines to more specific paragraphs which establish the places (Paris and London), the time (1775), and the atmosphere (foreboding). The last lines of Chapter 1 refer to the road of destiny and provide a transition to a literal road: the mail on the road to Dover. And thus the story begins.
Cities as Characters
The title declares the story a tale of two cities. Paris and London become conveyances of theme: light and dark, good and evil, redemption and retribution.
Portraying London as a place of safety, of survival, even of sanity resonated with patriotic Victorian audiences, contributing to pride in the British Empire.