"It was the best of times, it was the worst of times…"
Charles Dickens, A Tale of Two Cities
The Victorian Age—the era when the sun never set on the British Empire, a time when the upper classes of Britain felt their society was the epitome of prosperity, progress, and virtue—Dickens's words, however, could apply to his own Victorian age as well as they apply to the French Revolution setting of his novel. The Victorian Era was a time of contrasts—poverty as well as prosperity, degrading manual labor as well as technological progress, and depravity as well as virtue.
Queen Victoria
The last seventy years of the 19th century were named for the long-reigning Queen Victoria. The beginning of the Victorian Era may be rounded off to 1830 although many scholars mark the beginning from the passage of the first Reform Bill in 1832 or Victoria's accession to the throne in 1837.
Victoria was only eighteen when her uncle William IV died and, having no surviving legitimate children, left the crown to his niece.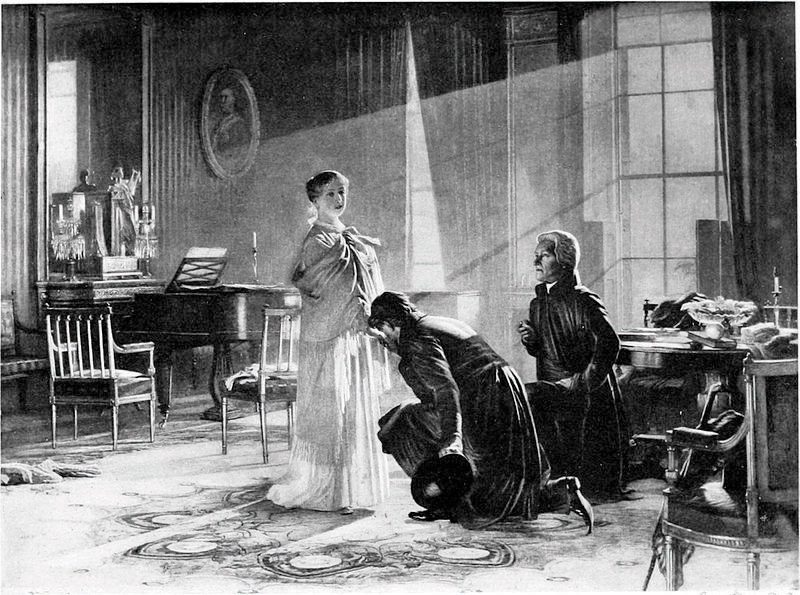 Victoria receives the news that she is Queen. Engraved by Emery Walker (1851–1933), from the picture by Henry Tanworth Wells (1828–1903) at Buckingham Palace.
Although by the 19th century Britain was a constitutional monarchy and the queen held little governing power, Victoria set the moral and political tone of her century. She became a symbol of decency, decorum, and duty.
Three years into her reign, Victoria married Albert of Saxe-Coburg-Gotha, a region in what is now Germany. Prince Albert (given the title "Prince" by Victoria), although he had no actual power in the government, became one of Victoria's chief advisors and a proponent of technological development in Britain. Together the couple had nine children who married into many of Europe's royal and noble families. Victoria and Albert were considered the model of morality and respectable family life.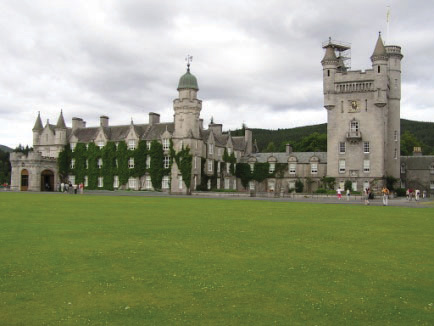 Balmoral Castle, the royal residence in Scotland.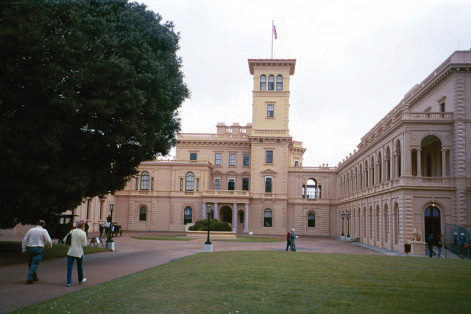 Osborne House, the royal residence on the Isle of Wight.
When Prince Albert died in 1861, Victoria retired from public view, spending time in her Balmoral Castle in Scotland or Osborne House on the Isle of Wight. Public opinion of the queen waned as years passed without her resuming her official duties. Even when she conceded to her advisors' urging to return to London and to honor her public obligations, she continued to wear mourning until her own death. She also commissioned many public memorials to Prince Albert, including the Albert Memorial in Hyde Park (near the original location of the Crystal Palace), Royal Albert Hall, and the Victoria & Albert Museum.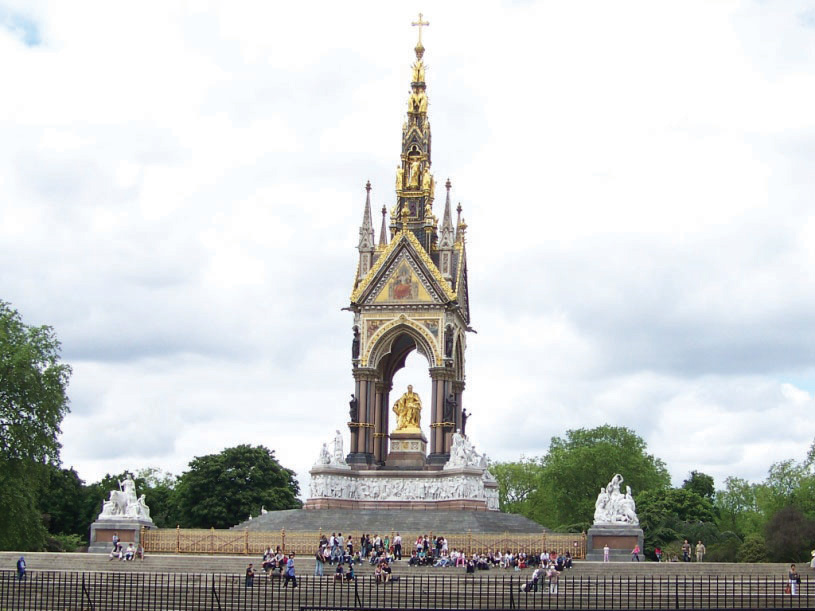 The Albert Memorial, Hyde Park, London.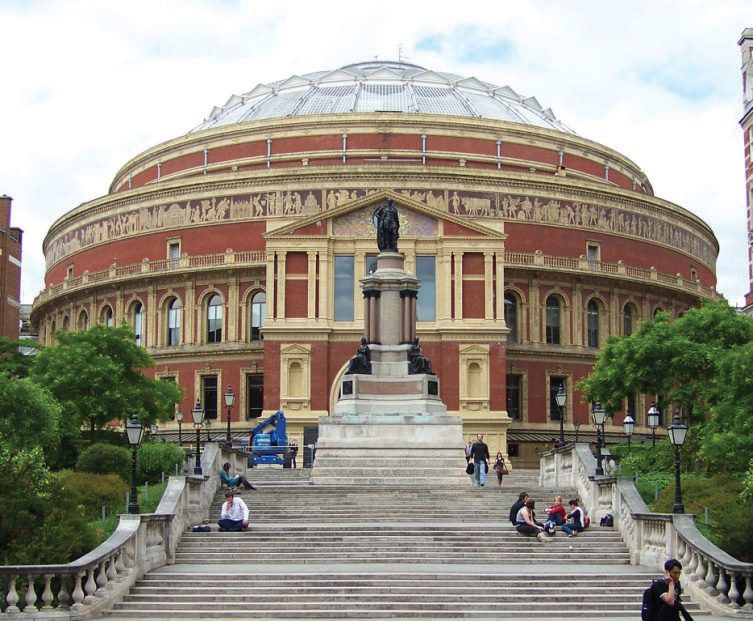 Royal Albert Hall, London.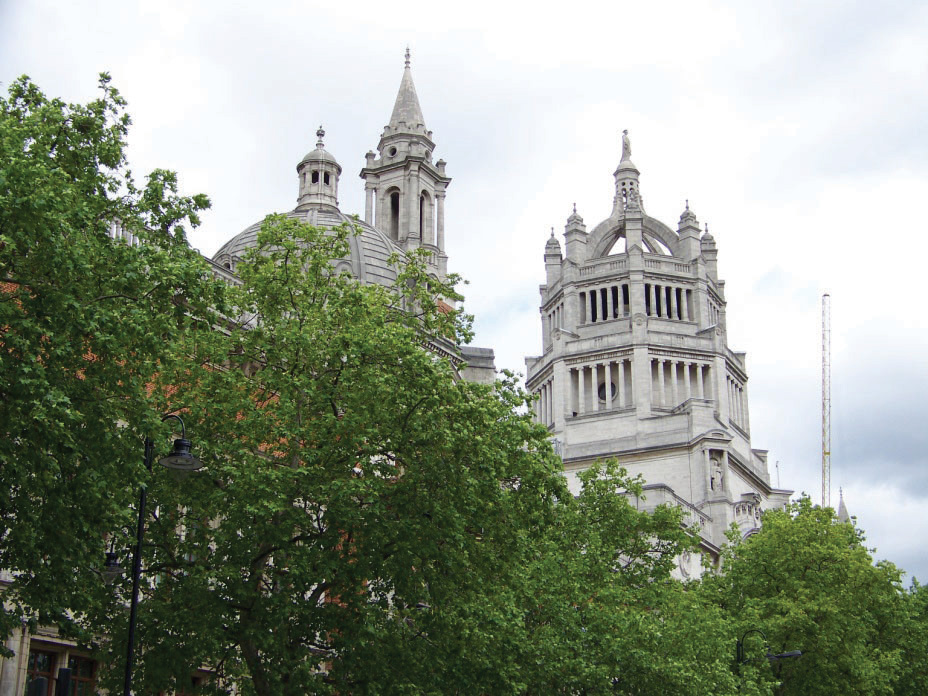 The ornamental dome on the Victoria & Albert Museum was modeled after Queen Victoria's favorite crown, visible in the portrait below, now on display with the Crown Jewels at the Tower of London.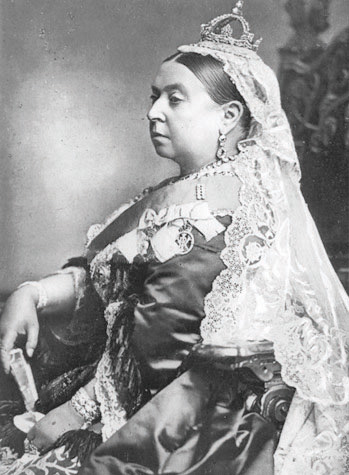 Photograph by Alexander Bassano 1829–1913.
Queen Victoria reigned as Queen of the United Kingdom and Empress of India until her death in 1901.