Sidebar 3.2.
If all the world and love were young,
And truth in every shepherd's tongue,
These pretty pleasures might me move
To live with thee and be thy love.
Time drives the flocks from field to fold,
When rivers rage and rocks grow cold;
And Philomel becometh dumb;
The rest complains of cares to come.
The flowers do fade, and wanton fields
To wayward winter reckoning yields:
A honey tongue, a heart of gall,
Is fancy's spring, but sorrow's fall.
The gowns, thy shoes, thy beds of roses,
Thy cap, thy kirtle, and thy posies
Soon break, soon wither, soon forgotten,—
In folly ripe, in reason rotten.
Thy belt of straw and ivy buds,
Thy coral clasps and amber studs,
All these in me no means can move
To come to thee and be thy love.
But could youth last and love still breed,
Had joys no date nor age no need,
Then these delights my mind might move
To live with thee and be thy love.
Sidebar 3.3.
Sir Walter Raleigh is perhaps best known to Americans as one of the first to attempt to colonize the New World. The colony he established in Virginia (named for Elizabeth I, the Virgin Queen) has become known as the lost colony of Roanoke. Raleigh and a group of the settlers returned to England for supplies, and when the settlers, without Raleigh, returned the entire colony had disappeared. He is also well known for a story, unlikely to be true, that when Queen Elizabeth visited his ship, he threw his cloak over a mud puddle so that she would not have to get her shoes wet or muddy, a gesture more impressive when one considers the cost of the materials needed to make a gentleman's cloak in the 16th century. He's also known for introducing tobacco to England.
Imprisoned when the Queen discovered he had married one of her ladies-in-waiting without her permission, Raleigh was eventually released although he remained out of favor with the Queen for many years. After Elizabeth I's death, Raleigh was again imprisoned in the Tower of London, accused of plotting against the new King James I. Although he was sentenced to death, the sentence was not carried out, and Raleigh eventually was released to lead another expedition in search of riches in the New World. During this expedition, his troops attacked a Spanish settlement, and the Spanish demanded that King James I carry out the death sentence earlier imposed. Raleigh was beheaded and buried in St. Margaret's Church.
Figure 3.4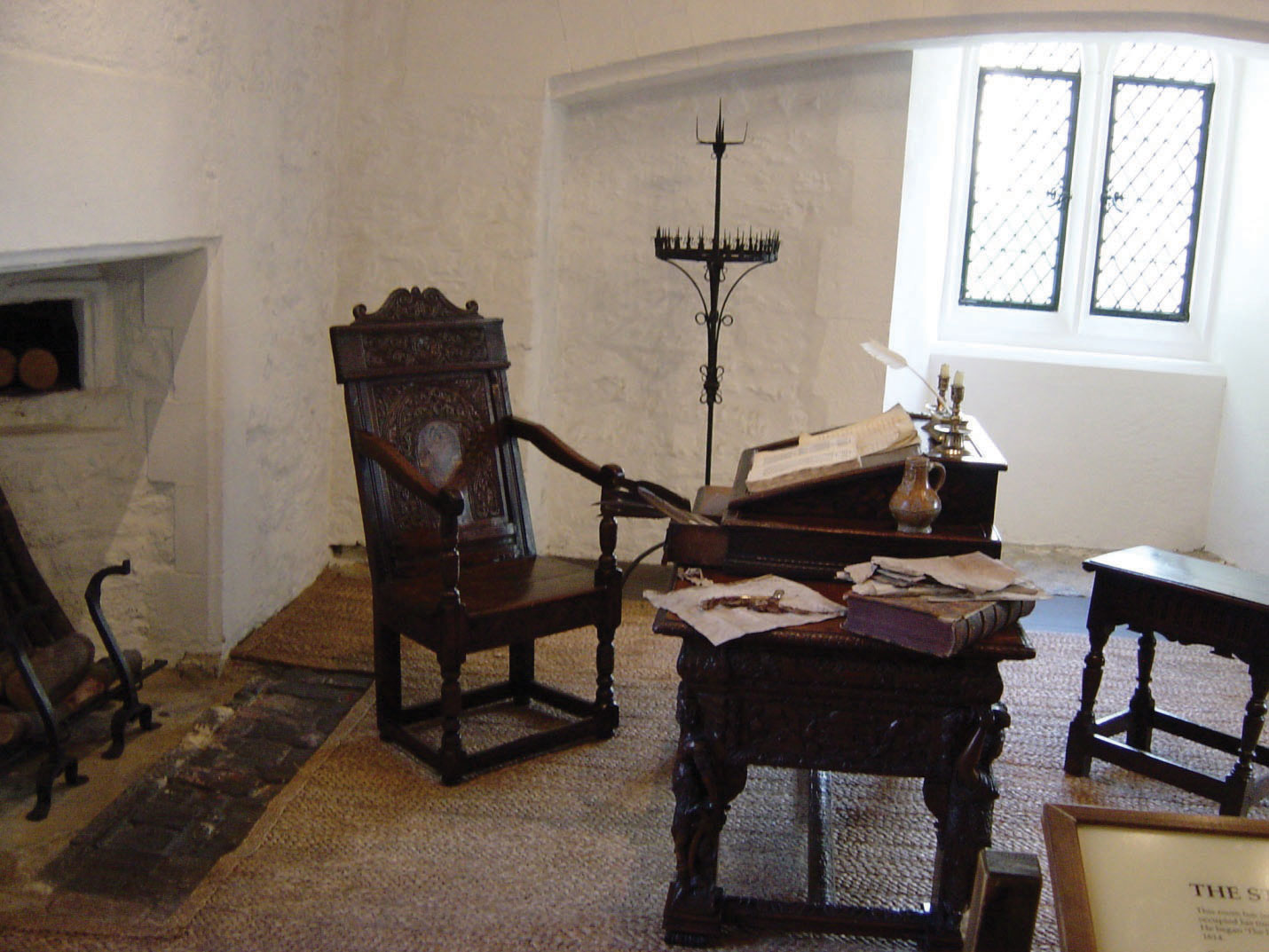 Figure 3.4. shows the room in the Tower of London in which Raleigh was imprisoned. Wealthy prisoners often lived in relative comfort while in captivity. Their families and friends were allowed to purchase food, fuel for heat, and other comforts for the prisoners. Here Ralegh began to write A History of the World, a work which he never finished.
Figure 3.5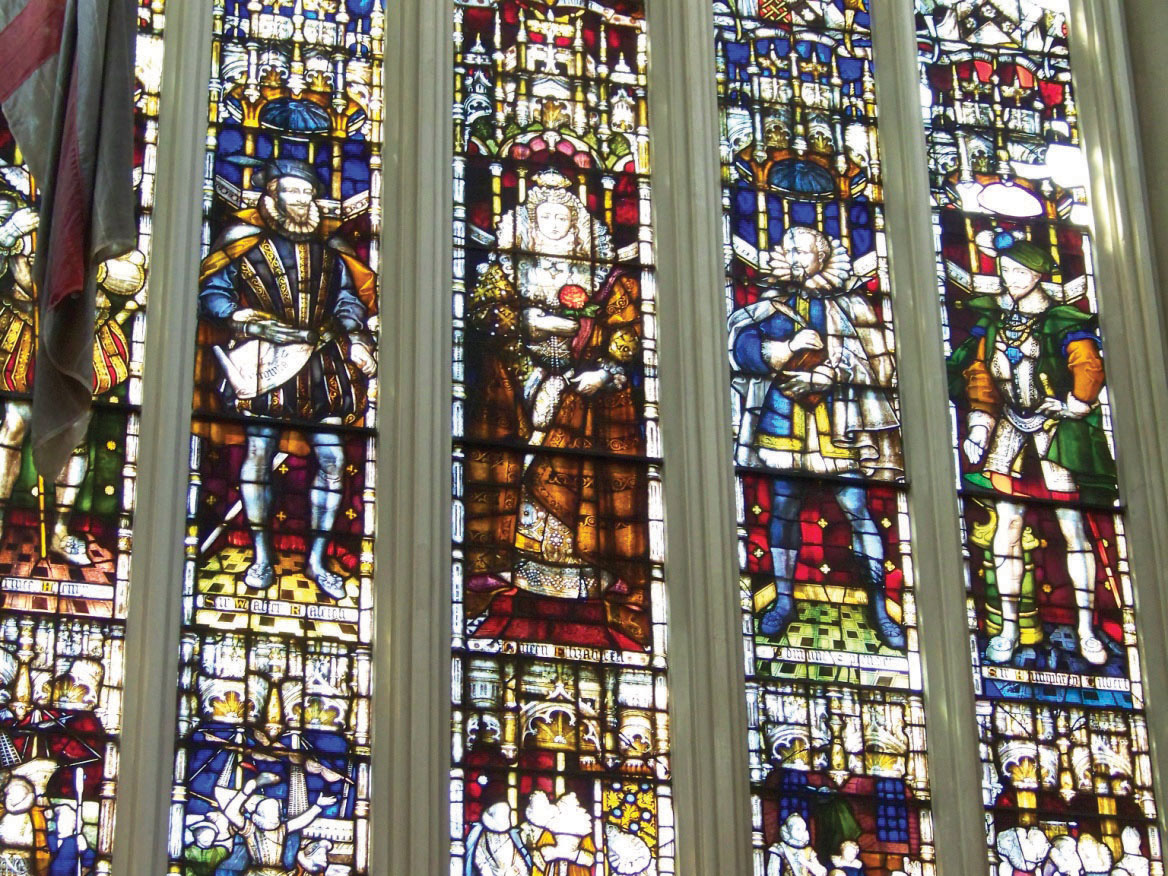 Figure 3.5. shows the stained glass window in St. Margaret's church which commemorates Sir Walter Raleigh as one of Elizabeth I's favorites. Raleigh is the figure to the left of Elizabeth I in the center.
Figure 3.6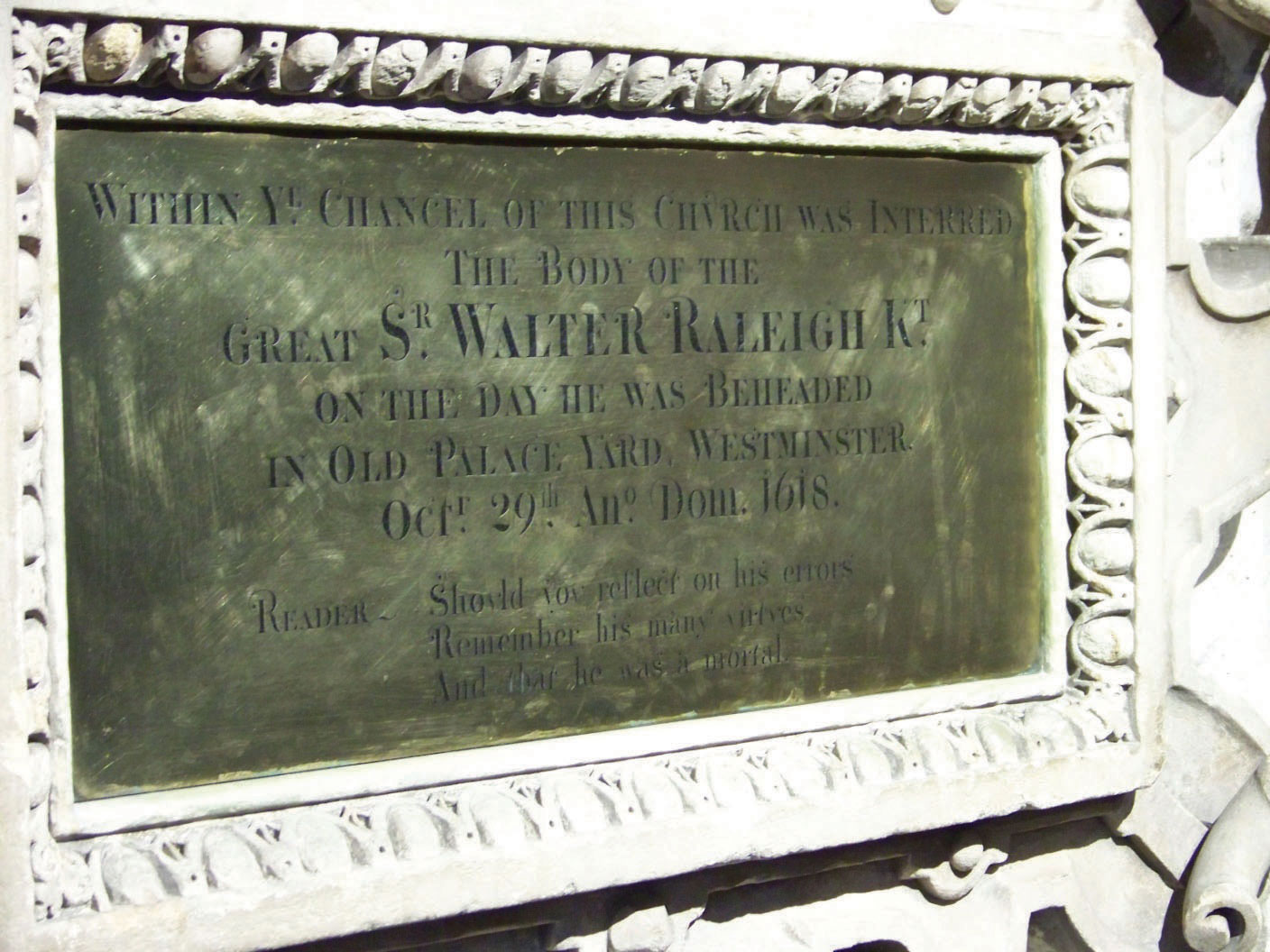 The plaque in Figure 3.6. states that Sir Walter Raleigh is interred in St. Margaret's Church.