This is "Risk Factors for Osteoporosis", section 9.6 from the book An Introduction to Nutrition (v. 1.0). For details on it (including licensing), click here.
For more information on the source of this book, or why it is available for free, please see the project's home page. You can browse or download additional books there. To download a .zip file containing this book to use offline, simply click here.
Has this book helped you? Consider passing it on:

Creative Commons supports free culture from music to education. Their licenses helped make this book available to you.

DonorsChoose.org helps people like you help teachers fund their classroom projects, from art supplies to books to calculators.
9.6

Risk Factors for Osteoporosis
Learning Objective
Discuss risk factors for osteoporosis.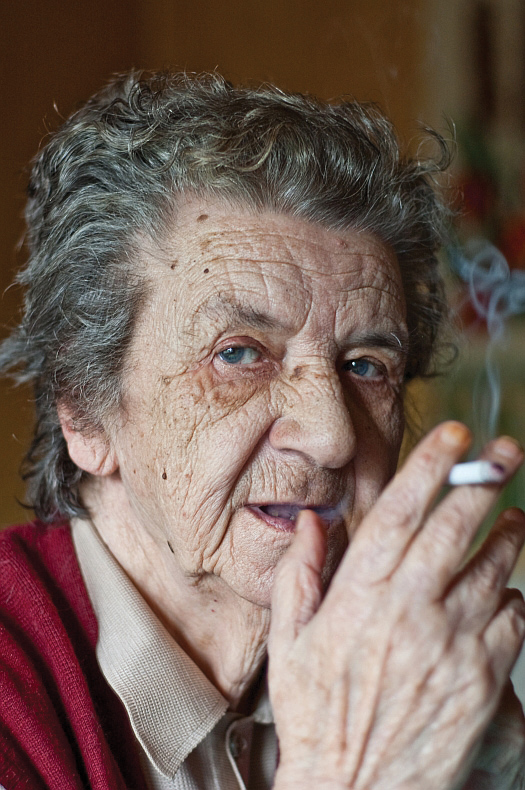 Certain risk factors for developing osteoporosis are biological, such as being Caucasian or Asian and being over age forty. Other factors are related to lifestyle choices such as smoking.
A risk factorA variable that is linked to an increased probability of developing a disease or adverse outcome. is defined as a variable that is linked to an increased probability of developing a disease or adverse outcome. Recall that advanced age and being female increase the likelihood for developing osteoporosis. These factors present risks that should signal doctors and individuals to focus more attention on bone health, especially when the risk factors exist in combination. This is because not all risk factors for osteoporosis are out of your control. Risk factors such as age, gender, and race are biological risk factors, and are based on genetics that cannot be changed. By contrast, there are other risk factors that can be modified, such as physical activity, alcohol intake, and diet. The changeable risk factors for osteoporosis provide a mechanism to improve bone health even though some people may be genetically predisposed to the disease.
Nonmodifiable Risk Factors
Age, Sex, Body Type, and Heredity
As noted previously, after age forty, bone mass declines due to bone breakdown exceeding bone building. Therefore, any person over the age of forty has an increased probability of developing osteoporosis in comparison to a younger person. As noted, starting out with more bone (a high peak bone mass) enables you to lose more bone during the aging process and not develop osteoporosis. Females, on average, have a lower peak bone mass in comparison to males and therefore can sustain less bone tissue loss than males before developing a low BMD. Similarly, people with small frames are also at higher risk for osteoporosis. Being of advanced age, being a woman, and having a small frame are all biological risk factors for osteoporosis. Other biological risk factors that are linked to an increased likelihood of developing osteoporosis are having low estrogen levels, or another endocrine disorder such as hyperthyroidism, having a family member with osteoporosis, and being Caucasian or Asian.
Estrogen Level
EstrogenPrimary female reproductive hormone. is the primary female reproductive hormone and it stimulates osteoblast-mediated bone building and reduces osteoclast activity. Any condition in which estrogen levels are reduced throughout a woman's life decreases BMD and increases the risk for osteoporosis. By far the most profound effect on estrogen occurs during female menopause. Around the age of forty-five or fifty, women stop producing estrogen. The rapid decline in estrogen levels that occurs during menopause speeds up the bone resorptive process, and as a result the loss of bone tissue in menopausal women lasts for a period of five to ten years. Up to 3 percent of bone tissue is lost annually during menopause and therefore potentially 30 percent of peak bone mass can vanish during this time, leading to a substantial increase in risk for developing osteoporosis in postmenopausal women.
Medications
Some medications, most notably glucocorticoids (used to treat inflammatory disorders such as rheumatoid arthritis and asthma), are associated with an increased risk for osteoporosis. A side effect of glucocorticoids is that they stimulate bone resorption and decrease bone building. Other medications linked to an increased risk for osteoporosis are certain anticancer drugs, some antidiabetic drugs, and blood thinners.
Other Diseases
Diseases that predispose people to osteoporosis include those that disrupt nutrient absorption and retention, such as anorexia nervosa, chronic kidney disease, and Crohn's disease; diseases that influence bone remodeling such as hyperthyroidism and diabetes; and diseases that are characterized by chronic inflammatory responses such as cancer, chronic obstructive pulmonary disease, and rheumatoid arthritis.
Modifiable Risk Factors