Calcium
The most abundant mineral in the body is calciumThe most abundant mineral in mineralized bone tissue. Good dietary sources of calcium are dairy products and many vegetables with low oxalate content, such as kale, collard greens, and okra., and greater than 99 percent of it is stored in bone tissue. Although only 1 percent of the calcium in the human body is found in the blood and soft tissues, it is here that it performs the most critical functions. Blood calcium levels are rigorously controlled so that if blood levels drop the body will rapidly respond by stimulating bone resorption, thereby releasing stored calcium into the blood. (This is discussed in further detail shortly.) Thus, bone tissue sacrifices its stored calcium to maintain blood calcium levels. This is why bone health is dependent on the intake of dietary calcium and also why blood levels of calcium do not always correspond to dietary intake.
Vitamin D
Figure 9.6 Vitamin D Food Sources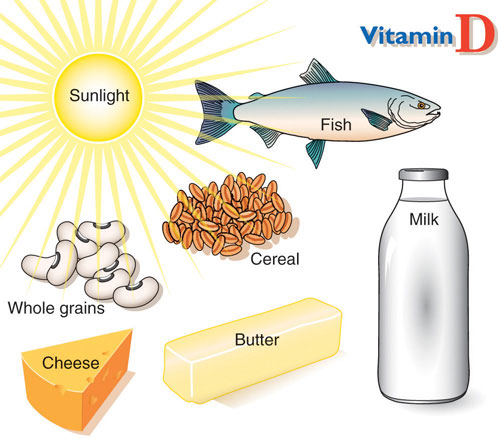 Vitamin DBoth a vitamin and a hormone, vitamin D plays an essential role in maintaining calcium homeostasis. A deficiency in vitamin D compromises bone health. refers to a group of fat-soluble vitamins derived from cholesterol. Vitamins D2 and D3 are the only ones known to have biological actions in the human body. Although vitamin D3 is called a vitamin, the body can actually synthesize vitamin D3. When exposed to sunlight, a cholesterol precursor in the skin is transformed into vitamin D3. However, this is not the bioactive form of vitamin D. It first must be acted upon by enzymes in the liver and then transported to the kidney where vitamin D3 is finally transformed into the active hormone, calcitriol (1,25-dihydroxy vitamin D3) (Figure 9.7 "The Activation of Vitamin D to Calcitriol"). The skin synthesizes vitamin D when exposed to sunlight. In fact, for most people, more than 90 percent of their vitamin D3 comes from the casual exposure to the UVB rays in sunlight. Anything that reduces your exposure to the sun's UVB rays decreases the amount of vitamin D3 your skin synthesizes. That would include long winters, your home's altitude, whether you are wearing sunscreen, and the color of your skin (including tanned skin). Do you ever wonder about an increased risk for skin cancer by spending too much time in the sun? Do not fret. Less than thirty minutes of sun exposure to the arms and legs will increase blood levels of vitamin D3 more than orally taking 10,000 IU (250 micrograms) of vitamin D3. However, it important to remember that the skin production of vitamin D3 is a regulated process, so too much sun does cause vitamin D toxicity.
Interactive 9.1
Vitamin D Production in the Body
Visit the University of North Carolina Gillings School of Global Public Health website to review the activation of vitamin D to calcitriol.
A person's vitamin D status is determined by measuring 25-hydroxy vitamin D3 levels in the blood serum because it reflects both the vitamin D obtained from production in the skin and that from dietary sources. Measuring the active hormone, calcitriol, does not accurately reflect one's vitamin D status because of its short half-life (six to twelve hours). The vast majority of nutrition experts consider a concentration of 25-hydroxy vitamin D3 in the blood serum less than 20 nanograms per millileter as an indicator of vitamin D deficiency. The IOM states that serum levels above 20 nanograms per milliliter are sufficient to maintain bone health in healthy individuals. Both nutrition experts and health advocates currently are debating what the optimal levels of vitamin D3 should be to take full advantage of all of its health benefits. Some advocates propose that serum levels of vitamin D3 above 40 nonograms per milliliter are optimal. To determine whether higher levels of vitamin D3 provide advantages in fighting diseases such as cancer, a large clinical trial called VITAL (Vitamin D and Omega-3 Trial) has been initiated at Brigham and Women's Hospital and Harvard Medical School in Boston, Massachusetts. To remain updated on this trial, visit their website at http://www.vitalstudy.org/index.html.
Figure 9.7 The Activation of Vitamin D to Calcitriol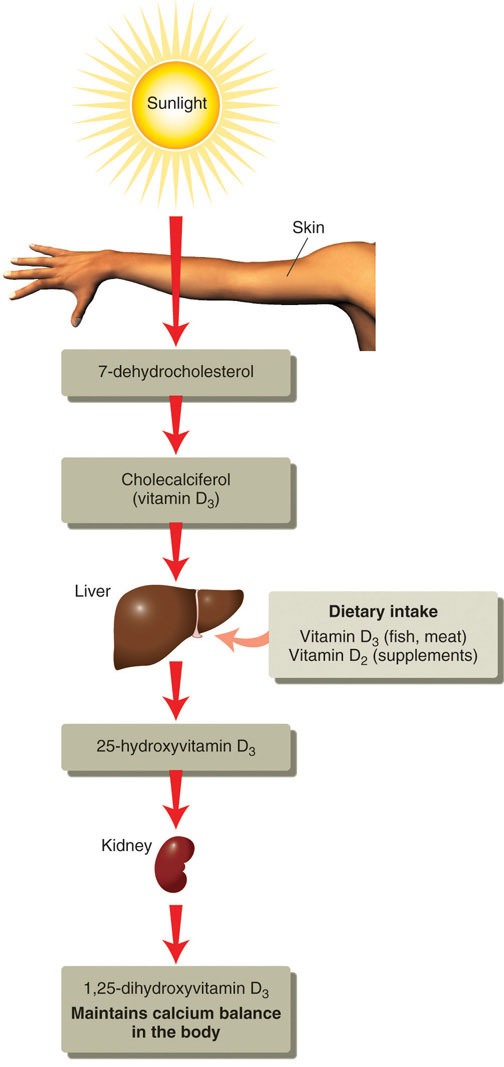 Vitamin D's Functional Role
As previously discussed, activated vitamin D3 (calcitriol) regulates blood calcium levels in concert with parathyroid hormone. In the absence of an adequate intake of vitamin D, less than 15 percent of calcium is absorbed from foods or supplements. The effects of calcitriol on calcium homeostasis are critical for bone health. A deficiency of vitamin D in children causes the bone disease nutritional ricketsA childhood bone disease caused by a lack of vitamin D. It is characterized by soft, weak bones that are susceptible to fracture.. Rickets is very common among children in developing countries and is characterized by soft, weak, deformed bones that are exceptionally susceptible to fracture. In adults, vitamin D deficiency causes a similar disease called osteomalaciaSimilar to nutritional rickets, in adults this disease involves softening and weakening of the bones due to a lack of vitamin D or a problem metabolizing the vitamin., which is characterized by low BMD. Osteomalacia has the same symptoms and consequences as osteoporosis and often coexists with osteoporosis. Vitamin D deficiency is common, especially in the elderly population, dark-skinned populations, and in the many people who live in the northern latitudes where sunlight exposure is much decreased during the long winter season.
Observational studies have shown that people with low levels of vitamin D in their blood have lower BMD and an increased incidence of osteoporosis. In contrast, diets with high intakes of salmon, which contains a large amount of vitamin D, are linked with better bone health. A review of twelve clinical trials, published in the May 2005 issue of the Journal of the American Medical Association, concluded that oral vitamin D supplements at doses of 700–800 international units per day, with or without coadministration of calcium supplements, reduced the incidence of hip fracture by 26 percent and other nonvertebral fractures by 23 percent. A reduction in fracture risk was not observed when people took vitamin D supplements at doses of 400 international units.
Vitamin D Needs and Sources
Dietary Reference Intake for Vitamin D
The Institute of Medicine RDAs for vitamin D for different age groups is listed in Table 9.3 "Dietary Reference Intakes for Vitamin D". For adults, the RDA is 600 international units, which is equivalent to 15 micrograms of vitamin D. The National Osteoporosis Foundation recommends slightly higher levels and that adults under age fifty get between 400 and 800 international units of vitamin D every day, and adults fifty and older get between 800 and 1,000 international units of vitamin D every day. According to the IOM, the tolerable upper intake level (UL) for vitamin D is 4,000 international units per day. Toxicity from excess vitamin D is rare, but certain diseases such as hyperparathyroidism, lymphoma, and tuberculosis make people more sensitive to the increases in calcium caused by high intakes of vitamin D.
Table 9.3 Dietary Reference Intakes for Vitamin D
Age Group
RDA (mcg/day)
UL (mcg/day)
Infant (0–6 months)
10*
25
Infants (6–12 months)
10*
25
Children (1–3 years)
15
50
Children (4–8 years)
15
50
Children (9–13 years)
15
50
Adolescents (14–18 years)
15
50
Adults (19–71 years)
15
50
Adults (> 71 years)
20
50
* denotes Adequate Intake
Source: Ross, A. C. et al. "The 2011 Report on Dietary Reference Intakes for Calcium and Vitamin D from the Institute of Medicine: What Clinicians Need to Know." J Clin Endocrinol Metab 96, no. 1 (2011): 53–8. http://www.ncbi.nlm.nih.gov/pubmed/21118827.
Vitamin D Bioavailability
There are few food sources of vitamin D. Oily fish, such as salmon, is one of the best. The amount of vitamin D obtained from one 3-ounce piece of salmon is greater than the recommended intake for one day. Many foods, including dairy products, orange juice, and cereals are now fortified with vitamin D. Most vitamin-D-fortified foods contain about 25 percent of the RDA for vitamin D per serving, but check the label. Many people are deficient in vitamin D as a result of the few dietary sources for this vitamin.
Other Health Benefits of Vitamin D in the Body
Many other health benefits have been linked to higher intakes of vitamin D, from decreased cardiovascular disease to the prevention of infection. Furthermore, evidence from laboratory studies conducted in cells, tissues, and animals suggest vitamin D prevents the growth of certain cancers, blocks inflammatory pathways, reverses atherosclerosis, increases insulin secretion, and blocks viral and bacterial infection and many other things. Vitamin D deficiency has been linked to an increased risk for autoimmune diseases. (Autoimmune diseases are those that result from an abnormal immune response targeted against the body's own tissues.) An increased prevalence of the autoimmune diseases, rheumatoid arthritis, multiple sclerosis, and Type 1 diabetes has been observed in populations with inadequate vitamin D levels. Additionally, vitamin D deficiency is linked to an increased incidence of hypertension. Until the results come out from the VITAL study (see Note 9.47 "Video 9.2"), the bulk of scientific evidence touting other health benefits of vitamin D is from laboratory and observational studies and requires confirmation in clinical intervention studies.
Key Takeaways
Calcium is the most abundant mineral in the body and has four primary functions: making bones strong and healthy, facilitating nerve-to-nerve communication, stimulating muscle contraction, and activating blood-clotting factors. Other benefits of calcium in the body include decreasing blood pressure and preventing colon cancer.
Calcium blood-levels are rigorously controlled by three hormones: PTH, calcitriol, and calcitonin.
The DRI for calcium intake for adults averages from 1,000–1,200 milligrams per day.
Only some of the calcium in food is absorbed by the body. Vitamin D and estrogen enhance the bioavailability of calcium in the body. Alternately, diets high in oxalates, some types of fiber, and diets low in fat decrease the bioavailability of calcium in the body.
Vitamin D is essential for maintaining calcium levels in the body. Once activated to calcitriol, it acts in concert with PTH to keep blood levels of calcium constant, especially by enhancing its intestinal absorption. High levels of vitamin D in the blood promote bone health.
Discussion Starters
Talk about some of the vital functions of calcium and vitamin D in the body. Why are these nutrients so important to health? What can you do to increase these vitamins in your diet?

Watch the video below. List the pros and cons of consuming both raw and pasteurized milk. Develop an informed opinion based upon the history of milk and the scientific evidence about both types of milk consumption.

Raw Milk