Several problematic fact scenarios recur in agency, and law has developed in response.
John Alden
Consider John Alden (1599–1687), one of the most famous agents in American literature. He is said to have been the first person from the Mayflower to set foot on Plymouth Rock in 1620; he was a carpenter, a cooper (barrel maker), and a diplomat. His agency task—of interest here—was celebrated in Henry Wadsworth Longfellow's "The Courtship of Miles Standish." He was to woo Priscilla Mullins (d. 1680), "the loveliest maiden of Plymouth," on behalf of Captain Miles Standish, a valiant soldier who was too shy to propose marriage. Standish turned to John Alden, his young and eloquent protégé, and beseeched Alden to speak on his behalf, unaware that Alden himself was in love with Priscilla. Alden accepted his captain's assignment, despite the knowledge that he would thus lose Priscilla for himself, and sought out the lady. But Alden was so tongue-tied that his vaunted eloquence fell short, turned Priscilla cold toward the object of Alden's mission, and eventually led her to turn the tables in one of the most famous lines in American literature and poetry: "Why don't you speak for yourself, John?" John eventually did: the two were married in 1623 in Plymouth.
Recurring Issues in Agency
Let's analyze this sequence of events in legal terms—recognizing, of course, that this example is an analogy and that the law, even today, would not impose consequences on Alden for his failure to carry out Captain Standish's wishes. Alden was the captain's agent: he was specifically authorized to speak in his name in a manner agreed on, toward a specified end, and he accepted the assignment in consideration of the captain's friendship. He had, however, a conflict of interest. He attempted to carry out the assignment, but he did not perform according to expectations. Eventually, he wound up with the prize himself. Here are some questions to consider, the same questions that will recur throughout the discussion of agency:
How extensive was John's authority? Could he have made promises to Priscilla on the captain's behalf—for example, that Standish would have built her a fine house?
Could he, if he committed a tort, have imposed liability on his principal? Suppose, for example, that he had ridden at breakneck speed to reach Priscilla's side and while en route ran into and injured a pedestrian on the road. Could the pedestrian have sued Standish?
Suppose Alden had injured himself on the journey. Would Standish be liable to Alden?
Is Alden liable to Standish for stealing the heart of Priscilla—that is, for taking the "profits" of the enterprise for himself?
As these questions suggest, agency law often involves three parties—the principal, the agent, and a third party. It therefore deals with three different relationships: between principal and agent, between principal and third party, and between agent and third party. These relationships can be summed up in a simple diagram (see Figure 9.1 "Agency Relationships").
Figure 9.1 Agency Relationships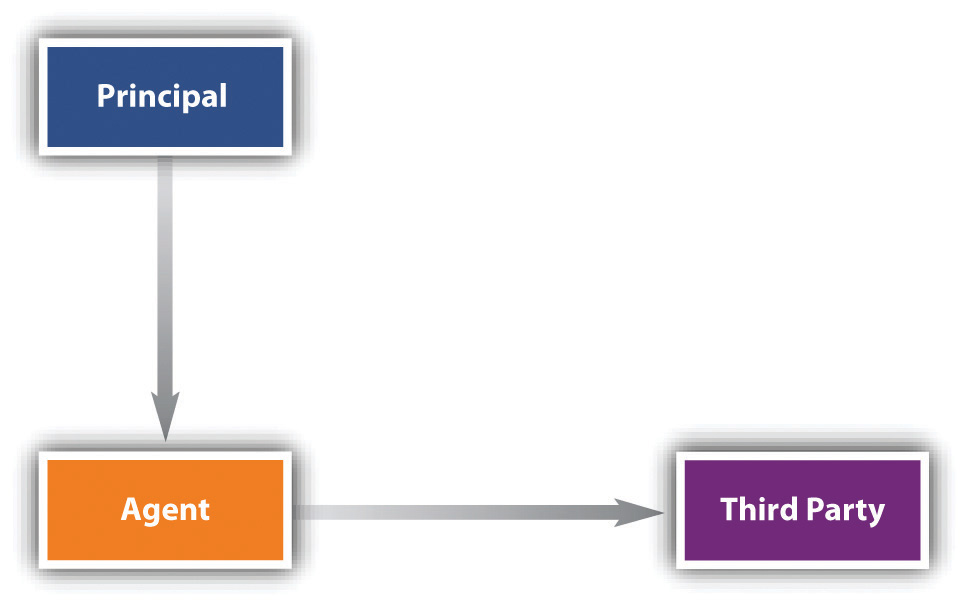 In this chapter, we will consider the principal-agent side of the triangle. In the next chapter we will turn to relationships involving third parties.