4.5

Life Cycle Management and Sustainability
Learning Objectives
Describe life cycle management.
Discuss the phases of a product life cycle.
Understand the role that life cycle assessment can have in sustainability reporting.
Discuss the key considerations in carbon and water footprint analysis.
Explain the benefits of assessing the supply chain for sustainability.
Figure 4.2 Life Cycle of a Mobile Phonehttp://www.unep.fr/shared/publications/pdf/DTIx1208xPA-LifeCycleApproach-Howbusinessusesit.pdf.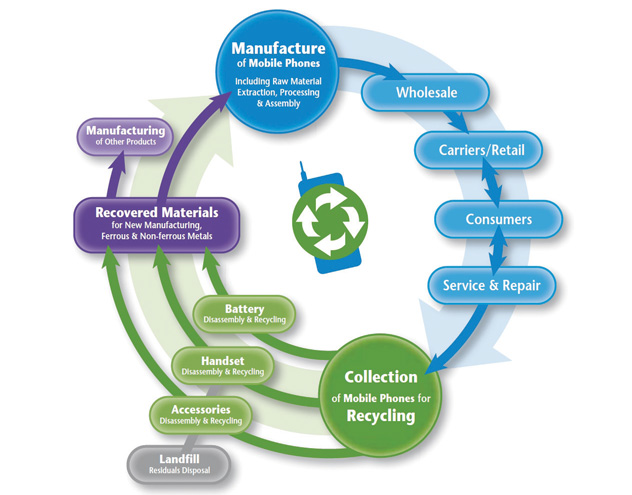 Sustainability involves taking a holistic perspective to understand the true short-term and long-term impacts of a business activity. Life cycleA view of a process from its beginning to its end. thinking has emerged as a useful tool in sustainability to consider the total impacts of an activity, product, or service from its origin to its end. This differs from conventional business practices in which the focus has traditionally been on more immediate factors, such as cost, quality, and availability in the supply chain. Life cycle thinking still takes into account these factors but considers them over a product's lifetime. While conventional business practices have given limited consideration to disposal costs, life cycle thinking considers the impacts of disposal to be an important part of the overall process of product or service provision.
Life cycle thinking in a business context considers business activities using a "cradle to graveA term used in life cycle thinking that represents the consideration of a specific entity or activity from the process of activities leading to its inception to its disposal." perspective. Cradle to grave starts by considering the impacts of raw material extraction and other inputs. It considers transportation of inputs to the organization and the impacts of the transformation process into a useful product or service that occur at the organization. It then considers transportation from the organization through the use of the product or service up to the ultimate disposal. Each step in the life cycle features a specific focus on inputs and outputs, such as raw materials and waste.
Life cycle thinking came into attention in the 1960s, when life-cycle-based accounting was first used to account for environmental emissions and economic costs associated with various energy technologies over their life cycle. Life cycle thinking has evolved as a sophisticated method for businesses to consider their environmental and social impacts.
Life Cycle Management
The management philosophy that integrates a comprehensive life cycle approach for organizations in managing their value chain is called life cycle management (LCM). A value chain is the connected activities that an organization undertakes in providing a product or service, with each interconnected activity adding value. LCM is a systematic progress of organizing, analyzing, and managing of sustainability impacts throughout the entire life cycle of a product, process, or activity. LCM can occur at the product or service level or at the entire company level. For example, a company may be interested in managing the life cycle of one of its products to improve sustainability, or it may take a more comprehensive look at the portfolio of activities that it engages in as part of a more far-reaching approach to sustainability. One of the key benefits of life cycle management is that it can alert management to potential "hot spots," or areas that may be ecologically or socially problematic.
Sustainable Supply Chain Assessment
Assessing the sustainability performance of an organization's supply chain is an essential part of life cycle management and can be instrumental in strategy and managing long-term business risks and opportunities. Supply chain assessment can provide a comprehensive view of risk associated with specific suppliers. A supplier may have low pricing but highly irresponsible environmental or labor practices. An organization's reputation and brand can be damaged by poor performers in its supply chain. By evaluating risks—such as low eco-efficiencyA phrase originally put forth by the World Business Council for Sustainable Development. The council definition is "competitively priced goods and services that satisfy human needs and bring quality of life while progressively reducing environmental impacts of goods and resource intensity throughout the entire life cycle to a level at least in line with the earth's estimated carrying capacity." or poor social practices in the supply chain—organizations can identify "hot spots" and opportunities for process improvements and cost savings.
Sidebar
In 2007, toy manufacturer Mattel recalled one million children's toys that were manufactured using lead paint. These products were made by a contract manufacturer in China. Lead paint is banned in the United States and can cause children to suffer from lead poisoning, which can lead to learning and behavior problems. Mattel had safety measures in place to prevent contaminants in toys including independent audits of facilities, but the contaminated toys were still produced and distributed.
Failure to effectively manage its supply chain allowed for the introduction of dangerous and illegal substances into its products. If the company had had the appropriate information systems and sustainability reporting protocols in place, they could have been in a better position to avoid this situation, which not only damaged its brand but hurt financial profitability.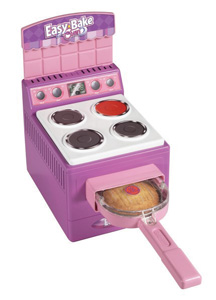 A recalled toy.
Supply chain assessment can be challenging. While large companies may have the economic clout to mandate suppliers to provide information about their business practices, smaller companies may experience difficulty with supplier compliance. There also is the risk of overburdening the relationship with an organization's suppliers if the information required is too high or onerous.
Supplier questionnaires are one of the most common forms of supply chain assessment. Third-party certification can be another useful component in supply chain assessment. An example of certification for use in supply chain assessment is Fair Trade Certification.
Walmart Supplier Sustainability Assessment
Walmart is the world's largest public corporation by revenue and exerts a tremendous impact on US and global economic structures. Any initiative that Walmart undertakes can have significant social and environmental consequences, both positive and negative.
In recent years, Walmart has put significant focus on sustainability in its business operations. Walmart produces an annual social responsibility report, as do many other major multinational companies, but their recent efforts extend far beyond reporting on sustainability performance. Part of this initiative is the construction of a sustainability index. Walmart's goal is to communicate to customers the safety, quality, and social responsibility of the products they purchase from Walmart.
The first step in developing the sustainability index has been to analyze the impact of their supply chain. This upstream analysis has involved surveying and scoring suppliers according to a fifteen-question supplier sustainability assessment. These questions are divided into four categories: (1) energy and climate, (2) material efficiency, (3) nature and resources, and (4) people and community. Walmart provided more than one hundred thousand global suppliers with the brief survey to evaluate their own sustainability, and the survey was required to be completed by their top-tier suppliers.
The next steps in their development of a sustainability index are to develop a life cycle analysis database for products and to develop a simple tool to communicate sustainability performance from suppliers to customers.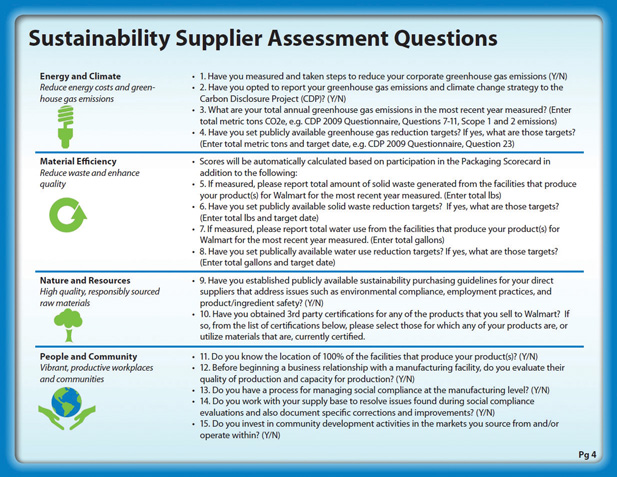 Walmart Supplier Assessment Survey.
Key Takeaways
Life cycle management is a philosophy that integrates a comprehensive life cycle approach for organizations in managing their value chain.
Life cycle thinking considers the impact of a product or service from its "cradle to grave."
Carbon and water footprinting are specific applications of life cycle management.
Supply chain assessment serves as a valuable tool. For many organizations, the life cycle impacts of a product or service are upstream of the organization.
Exercises
Go online and find the Walmart Supplier Assessment Survey. Review the questions in the survey. Do you think these questions are sufficient to allow Walmart to assess the sustainability of its suppliers? Based on the frameworks discussed in this chapter can you highlight any shortcomings to this approach?
Visit the GHG Protocol website and review the corporate standard posted at http://www.ghgprotocol.org/standards/corporate-standard. Identify and discuss three examples of how the standard provides guidance to organizations on how to account for emissions. (An example is employee commuting.)