As the health-care debate in 2009 and 2010 illustrates, the practice of medicine in the United States raises many important issues about its cost and quality. Before we discuss some of these issues, a brief discussion of the history of medicine will sketch how we have reached our present situation (Louden, 1997; Porter, 2006).Louden, I. (1997). Western medicine: An illustrated history. Oxford, England: Oxford University Press; Porter, R. (Ed.). (2006). The Cambridge history of medicine (Rev. ed.). New York, NY: Cambridge University Press.
The Rise of Scientific Medicine
The practice of medicine today in the United States and much of the rest of the globe follows a scientific approach. But scientific medicine is a relatively recent development in the history of the world. Prehistoric societies attributed illness to angry gods or to evil spirits that took over someone's body. The development of scientific medicine since then illustrates one of the sociological insights discussed at the beginning of this chapter: the type of society influences its beliefs about health and ways of healing.
The roots of today's scientific medicine go back to the ancient civilizations in the Middle East, Asia, and Greece and Rome, which began to view health and illness somewhat more scientifically. In ancient Egypt, for example, physicians developed some medications, such as laxatives, that are still used, and they also made advances in the treating of wounds and other injuries. The ancient Chinese developed several drugs, including arsenic, sulfur, and opium, that are also still used. Ancient India developed anesthesia, antidotes for poisonous snakebites, and several surgical techniques including amputation and the draining of abscesses (Porter, 2006).Porter, R. (Ed.). (2006). The Cambridge history of medicine (Rev. ed.). New York, NY: Cambridge University Press. Ancient Greece built medical schools in which dissection of animals was used to help understand human anatomy. Later, a Greek physician named Galen, who lived in Rome during the 100s A.D., wrote influential treatises on inflammation, infectious disease, and the muscular and spinal cord systems. Medical advances continued in the Middle Ages and the Renaissance, as various physicians wrote about smallpox, measles, and other diseases, and several medical schools and hospitals were established. Leonardo da Vinci and other scientists performed many dissections and produced hundreds of drawings of human anatomy. Other major advances, including the development of surgical techniques and the treatment of burns, were also made during this period.
What is now called modern medicine began in the 1600s, as scientists learned how blood circulates through the body and used microscopes to discover various germs, including bacteria. By the end of the 1800s, the germ theory of disease had become widely accepted, thanks largely to the work of Louis Pasteur and other scientists. Other key developments during this time included the discovery of ether gas as an effective anesthesia and the realization that surgery needed to be carried out under the strictest standards of cleanliness (Porter, 2006).Porter, R. (Ed.). (2006). The Cambridge history of medicine (Rev. ed.). New York, NY: Cambridge University Press. During the 1800s, the American Medical Association and other professional associations of physicians were founded to advance medical knowledge and standards and to help give physicians a monopoly over the practice of medicine (Starr, 1982).Starr, P. (1982). The social transformation of American medicine. New York, NY: Basic Books. In the early 1900s, scientists learned about the importance of vitamins, and penicillin was developed as the first antibiotic. Developments in immunology, physiology, and many other areas of medicine have advanced far beyond what we knew a century ago and remain too numerous and complex to discuss here.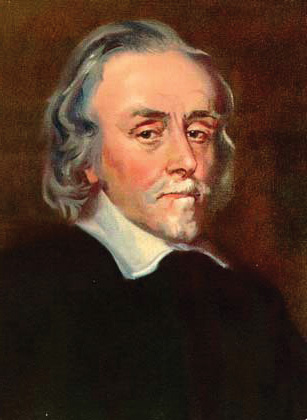 Modern medicine began during the 17th century with the discovery by English physician William Harvey of how blood circulates through the body.
Scientific medicine has saved countless lives: life spans used to average no more than the age of 40 or so, as we have seen, but in industrial nations now average well into the 70s. Still, as we have also seen, huge disparities remain across the world today in life spans and the quality of health. Disparities also exist in the quality of health care across the world. In the United States, questions about the cost and effectiveness of health care have dominated the news. We now turn to some of these issues.
U.S. Health Care and the Industrial World
Medicine in the United States is big business. Expenditures for health care, health research, and other health items and services have risen sharply in recent years, having increased tenfold since 1980, and now costs the nation more than $2.6 trillion annually (see Figure 18.6 "U.S. Health-Care Expenditure, 1980–2010 (in Billions of Dollars)"). This translates to the largest figure per capita in the industrial world. Despite this expenditure, the United States lags behind many other industrial nations in several important health indicators, as we have already seen. Why is this so?
Figure 18.6 U.S. Health-Care Expenditure, 1980–2010 (in Billions of Dollars)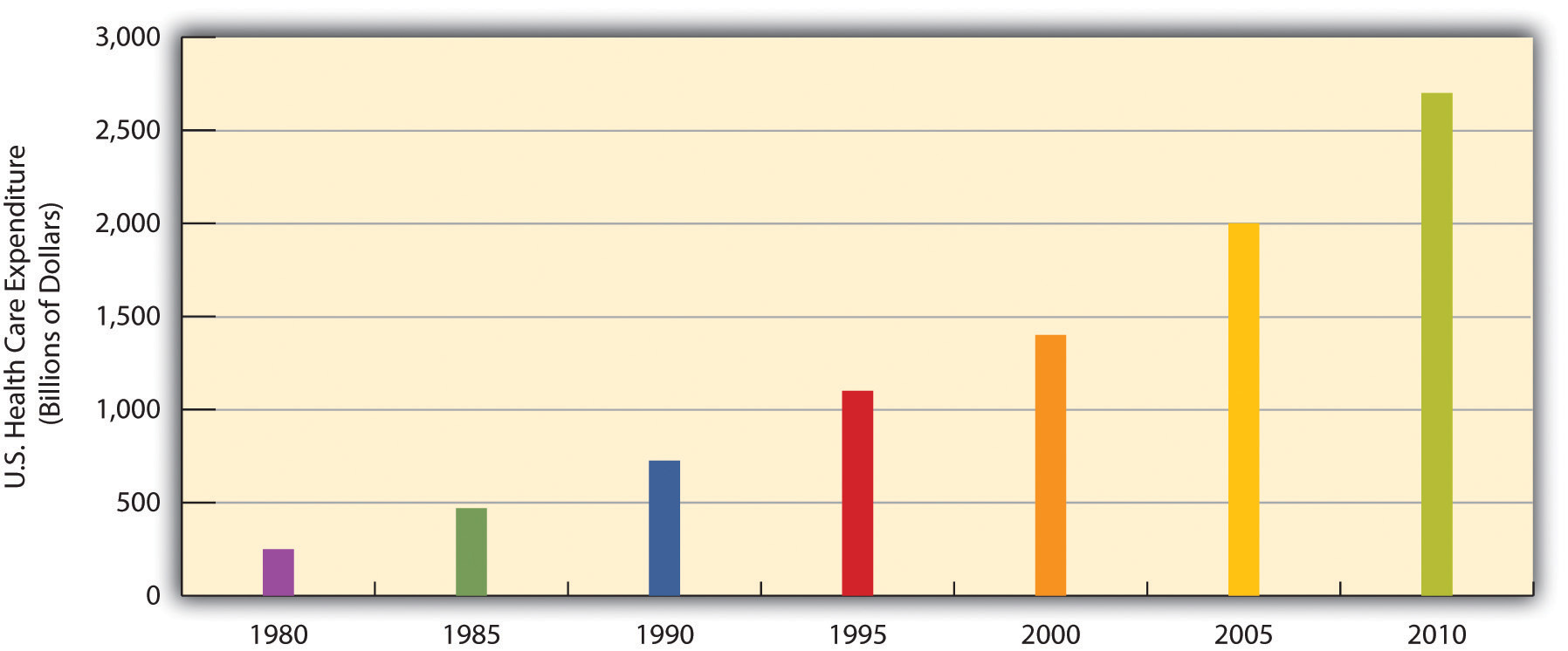 Source: Data from U.S. Census Bureau. (2010). Statistical abstract of the United States: 2010. Washington, DC: U.S. Government Printing Office. Retrieved from http://www.census.gov/compendia/statab.
The U.S. Health-Care Model
As discussed earlier, other Western nations have national systems of health care and health insurance. In stark contrast to these nations, the United States relies on a direct-fee systemA system of medicine in which patients pay for health care, prescriptions, and other medical costs themselves., in which patients are expected to pay for medical costs themselves, aided by private health insurance, usually through one's employer. Table 18.4 "Health Insurance Coverage in the United States, 2008" shows the percentages of Americans who have health insurance from different sources or who are not insured at all. (All figures are from the period before the major health-care reform package was passed by the federal government in early 2010.) Adding together the top two figures in the table, 57% of Americans have private insurance, either through their employers or from their own resources. Almost 28% have some form of public insurance (Medicaid, Medicare, other public), and 15.4% are uninsured. This final percentage amounts to about 46 million Americans, including 8 million children, who lack health insurance. Their lack of health insurance has deadly consequences because they are less likely to receive preventive health care and care for various conditions and illnesses. It is estimated that 45,000 people die each year because they do not have health insurance (Wilper et al., 2009).
Table 18.4 Health Insurance Coverage in the United States, 2008
| | |
| --- | --- |
| Employer | 52.3% |
| Individual | 4.7% |
| Medicaid | 14.1% |
| Medicare | 12.4% |
| Other public | 1.2% |
| Uninsured | 15.4% |
Although almost 28% of Americans do have public insurance, this percentage and the coverage provided by this insurance do not begin to match the coverage enjoyed by the rest of the industrial world. Although Medicare pays some medical costs for the elderly, we saw in Chapter 12 "Aging and the Elderly" that its coverage is hardly adequate, as many people must pay hundreds or even thousands of dollars in premiums, deductibles, coinsurance, and copayments. The other government program, Medicaid, pays some health-care costs for the poor, but many low-income families are not poor enough to receive Medicaid. Eligibility standards for Medicaid vary from one state to another, and a family poor enough in one state to receive Medicaid might not be considered poor enough in another state. The State Children's Health Insurance Program (SCHIP), begun in 1997 for children from low-income families, has helped somewhat, but it, too, fails to cover many low-income children. Largely for these reasons, about two-thirds of uninsured Americans come from low-income families.
Not surprisingly, the 15.4% uninsured rate varies by race and ethnicity (see Figure 18.7 "Race, Ethnicity, and Lack of Health Insurance, 2008 (Percentage With No Insurance)"). Among people under 65 and thus not eligible for Medicare, the uninsured rate rises to almost 21% of the African American population and 32% of the Latino population. Moreover, 45.3% of adults under 65 who live in official poverty lack health insurance, compared to only about 6% of high-income adults (those with incomes higher than 4 times the poverty level). Almost one-fifth of poor children have no health insurance, compared to only 3.5% of children in higher-income families (Kaiser Family Foundation, 2010). As discussed earlier, the lack of health insurance among the poor and people of color is a significant reason for their poorer health.
Figure 18.7 Race, Ethnicity, and Lack of Health Insurance, 2008 (Percentage With No Insurance)