2.1 Culture and the Sociological Perspective
Learning Objectives
Describe examples of how culture influences behavior.
Explain why sociologists might favor cultural explanations of behavior over biological explanations.
As this evidence on kissing suggests, what seems to us a very natural, even instinctual act turns out not to be so natural and biological after all. Instead, kissing seems best understood as something we learn to enjoy from our cultureThe artifacts and ways of thinking, feeling, and acting that are part of any society., or the symbols, language, beliefs, values, and artifacts (material objects) that are part of a society. Because society, as defined in Chapter 1 "Sociology and the Sociological Perspective", refers to a group of people who live in a defined territory and who share a culture, it is obvious that culture is a critical component of any society.
If the culture we learn influences our beliefs and behaviors, then culture is a key concept to the sociological perspective. Someone who grows up in the United States differs in many ways, some of them obvious and some of them not so obvious, from someone growing up in China, Sweden, South Korea, Peru, or Nigeria. Culture influences not only language but the gestures we use when we interact, how far apart we stand from each other when we talk, and the values we consider most important for our children to learn, to name just a few. Without culture, we could not have a society.
The profound impact of culture becomes most evident when we examine behaviors or conditions that, like kissing, are normally considered biological in nature. Consider morning sickness and labor pains, both very familiar to pregnant women before and during childbirth, respectively. These two types of discomfort have known biological causes, and we are not surprised that so many pregnant women experience them. But we would be surprised if the husbands of pregnant women woke up sick in the morning during their wives' pregnancies or experienced severe abdominal pains while their wives gave birth. These men are neither carrying nor delivering a baby, and there is no logical—that is, biological—reason for them to suffer either type of discomfort.
And yet anthropologists have discovered several societies in which men about to become fathers experience precisely these symptoms. They are nauseous during their wives' pregnancies, and they experience labor pains while their wives give birth. The term couvade refers to these symptoms, which do not have any known biological origin. Yet the men feel them nonetheless, because they have learned from their culture that they should feel these types of discomfort (Doja, 2005). And because they should feel these symptoms, they actually do so. Perhaps their minds are playing tricks on them, but that is often the point of culture. As sociologists William I. and Dorothy Swaine Thomas (1928) once pointed out, if things are perceived as real, then they are real in their consequences. These men learn how they should feel as budding fathers, and thus they feel this way. Unfortunately for them, the perceptions they learn from their culture are real in their consequences.
The example of drunkenness further illustrates how cultural expectations influence a behavior that is commonly thought to have biological causes. In the United States, when people drink too much alcohol, they become intoxicated and their behavior changes. Most typically, their inhibitions lower and they become loud, boisterous, and even rowdy. We attribute these changes to alcohol's biological effect as a drug on our central nervous system, and scientists have documented how alcohol breaks down in our body to achieve this effect.
Figure 2.2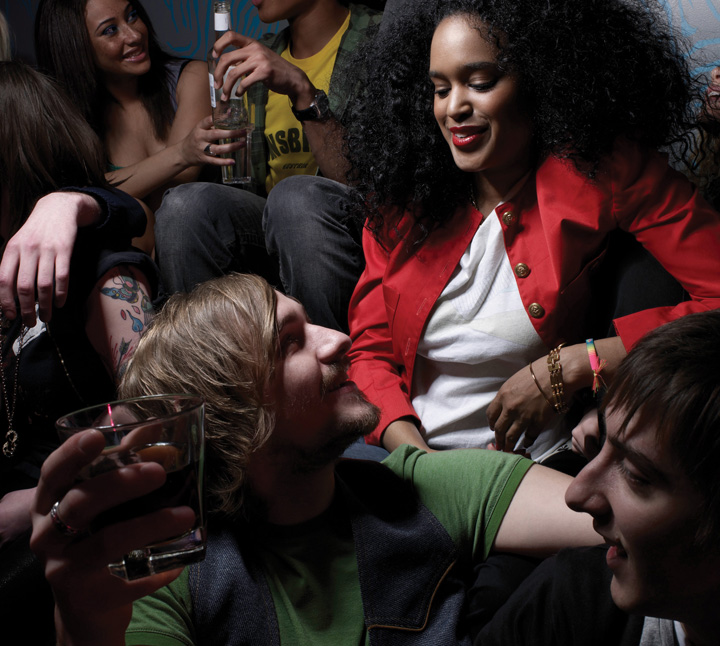 Culture affects how people respond when they drink alcohol. Americans often become louder and lose their sexual inhibitions when they drink, but people in some societies studied by anthropologists often respond very differently, with many never getting loud or not even enjoying themselves.
This explanation of alcohol's effect is OK as far as it goes, but it turns out that how alcohol affects our behavior depends on our culture. In some societies anthropologists have studied, people drink alcohol until they pass out, but they never get loud or boisterous; they might not even appear to be enjoying themselves. In other societies, they drink lots of alcohol and get loud but not rowdy. In some societies, including our own, people lose sexual inhibitions as they drink, but in other societies they do not become more aroused. The anthropological evidence is very clear: alcohol as a drug does affect human behavior, but culture influences the types of effects that occur. We learn from our culture how to behave when drunk just as we learn how to behave when sober (McCaghy, Capron, Jamieson, & Carey, 2008).
Culture Versus Biology
These examples suggest that human behavior is more the result of culture than it is of biology. This is not to say that biology is entirely unimportant. As just one example, humans have a biological need to eat, and so they do. But humans are much less under the control of biology than any other animal species, including other primates such as monkeys and chimpanzees. These and other animals are governed largely by biological instincts that control them totally. A dog chases any squirrel it sees because of instinct, and a cat chases a mouse for the same reason. Different breeds of dogs do have different personalities, but even these stem from the biological differences among breeds passed down from one generation to another. Instinct prompts many dogs to turn around before they lie down, and it prompts most dogs to defend their territory. When the doorbell rings and a dog begins barking, it is responding to ancient biological instinct.
Because humans have such a large, complex central nervous system, we are less controlled by biology. The critical question then becomes, how much does biology influence our behavior? Predictably, scholars in different disciplines answer this question in different ways. Most sociologists and anthropologists would probably say that culture affects behavior much more than biology does. In contrast, many biologists and psychologists would give much more weight to biology. Advocating a view called sociobiologyThe view that genes and other aspects of human biology influence human behavior and values., some scholars say that several important human behaviors and emotions, such as competition, aggression, and altruism, stem from our biological makeup. Sociobiology has been roundly criticized and just as staunchly defended, and respected scholars continue to debate its premises (Freese, 2008).
Why do sociologists generally favor culture over biology? Two reasons stand out. First, and as kissing and the other examples illustrate, many behaviors differ dramatically among societies in ways that show the strong impact of culture. Second, biology cannot easily account for why groups and locations differ in their rates of committing certain behaviors. For example, what biological reason could explain why suicide rates west of the Mississippi River are higher than those east of it, to take a difference discussed in the previous chapter, or why the U.S. homicide rate is so much higher than Canada's? Various aspects of culture and social structure seem much better able than biology to explain these differences.
Many sociologists also warn of certain implications of biological explanations. First, they say, these explanations implicitly support the status quo. Because it is difficult to change biology, any problem with biological causes cannot be easily fixed. Consider evidence that women do worse than men on the math SAT exam and are less likely to be mathematically gifted. Some researchers attribute this difference to women's lower testosterone levels or to their brain structures (Halpern et al., 2007/2008). Suppose either explanation is true. What, then, can we do to improve women's math SAT scores? Operate on their brains? Give them more testosterone? Obviously either option is morally unethical and practically impossible. If these are the only options, then there is little hope for improving women's math ability, and gender inequality in math (and in high-paying jobs requiring good math ability) will continue.
Suppose instead, as many educators think, that the gender math difference stems from social and cultural factors, including the way girls and boys are brought up, the amount of attention teachers pay to them, and gender stereotyping in children's books (Penner, 2008). None of these factors will be easy to change, but at least it is more possible to change them than to change biological conditions. Sociology's perspective on gender and math performance thus promises at least some hope in reducing gender inequality in math performance.
A second possible implication of biological explanations that concerns some sociologists harkens back to an earlier time. This was a time when perceived biological differences among races and religions were used to justify forced sterilization and mass violence, including genocide, against certain groups. As just one example, in the early 1900s, some 70,000 people, most of them poor and many of them immigrants or African Americans, were involuntarily sterilized in the United States as part of the eugenicsThe view, popular in the early 20th century, that certain categories of people were biologically inferior and hence should be sterilized. movement, which said that certain kinds of people were biologically inferior and must not be allowed to reproduce (Lombardo, 2008). The Nazi Holocaust a few decades later used a similar eugenics argument to justify its genocide against Jews, Catholics, gypsies, and gays (Kuhl, 1994). With this history in mind, some scholars fear that biological explanations of human behavior might still be used to support views of biological inferiority (York & Clark, 2007).
Key Takeaways
Culture refers to the symbols, language, beliefs, values, and artifacts that are part of any society.
Because culture influences people's beliefs and behaviors, culture is a key concept to the sociological perspective.
Many sociologists are wary of biological explanations of behavior, in part because these explanations implicitly support the status quo and may be used to justify claims of biological inferiority.
For Your Review
Have you ever traveled outside the United States? If so, describe one cultural difference you remember in the nation you visited.
Have you ever traveled within the United States to a very different region (e.g., urban versus rural, or another part of the country) from the one in which you grew up? If so, describe one cultural difference you remember in the region you visited.
Do you share the concern of many sociologists over biological explanations of behavior? Why or why not?
2.3 Cultural Diversity
Learning Objectives
Define subculture and counterculture and give one example of each.
Distinguish cultural relativism and ethnocentrism.
These cow and pig examples remind us that material and nonmaterial cultures often make sense only in the context of a given society. If that is true, then it is important for outsiders to become familiar with other societies and to appreciate their cultural differences. These differences are often referred to as cultural diversityVariation in the elements of culture from one society to the next.. Cultural diversity also occurs within a single society, where subcultures and countercultures can both exist.
Learning From Other Societies
Saving Dogs and Cats in South Korea
Sometimes citizens can make a difference. Dog ownership has recently been increasing in South Korea, a nation in which dogs have traditionally been preferred more as a source of food than as pets. Two individuals who can claim credit for the more humane treatment of dogs there are Kyenan Kum and Haesun Park, two women who founded the Korea Animal Protection and Education Society (KAPES; http://www.koreananimals.org/index.htm) in 2007.
The mission of KAPES is to educate South Koreans about the humane treatment of dogs and cats and to promote compassionate treatment of these pets. Kyenan Kum had previously founded the International Aid for Korean Animals (IAKA) organization in 1997, to achieve the same goals. During the next 10 years, IAKA advocated for the more humane treatment of pets and publicized their plight to other nations to help bring international pressure to bear upon South Korea. In 2007 IAKA's efforts proved successful when the Korean government strengthened its Animal Protection Law. With stronger legal protections for pets in place, Kum and Park decided it was now time to focus on convincing the public that pets should be treated humanely, and they founded KAPES to achieve this goal. In December 2008, Park received an award from the Ministry of Agriculture for her efforts, which have included the holding of animal protection festivals and advocating for government funding for animal shelters.
It is not easy to confront a deeply embedded cultural practice as Kyenan Kum and Haesun Park have done. Their example offers inspiration to Americans and other citizens who also dedicate their lives to various kinds of social reforms.
Figure 2.19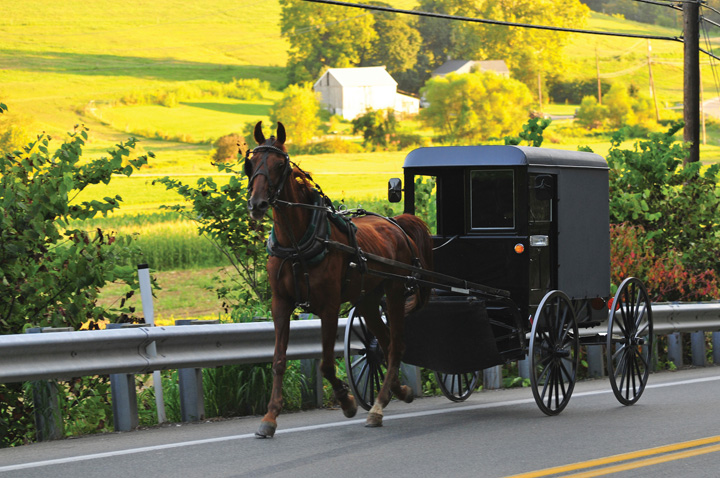 The Amish in the United States are a subculture that shuns electricity and many other modern conveniences.
A subcultureA smaller culture within a larger culture with distinctive ways of thinking, feeling, and acting. refers to a group that shares the central values and beliefs of the larger culture but still retains certain values, beliefs, and norms that make it distinct from the larger culture. A good example of a U.S. subculture is the Amish, who live primarily in central Pennsylvania and parts of Ohio and shun electricity and other modern conveniences, including cars, tractors, and telephones. Their way of life is increasingly threatened by the expansion of non-Amish businesses and residences into Amish territory (Rifkin, 2009). Since the 1970s, development has cost Lancaster County, Pennsylvania—where many Amish live—thousands of acres of farming land. Some Amish families have moved to other states or left farming to start small businesses, where some do use cell phones and computers. Despite these concessions to modern development, for the most part the Amish live the way they always have. Most still do not drive cars or even ride bikes. The case of the Amish dramatically illustrates the persistence of an old-fashioned subculture and its uneasy fit with the larger, dominant culture.
A countercultureA subculture whose norms and values directly oppose those of the larger culture. is a group whose values and beliefs directly oppose those of the larger culture and even reject it. Perhaps the most discussed example of a counterculture is the so-called youth counterculture of the 1960s, often referred to as the hippies but also comprising many other young people who did not fit the "tuned-out" image of the hippies and instead were politically engaged against U.S. government policy in Vietnam and elsewhere (Roszak, 1969). A contemporary example of a U.S. counterculture is the survivalists, whose extreme antigovernment views and hoarding of weapons fit them into the counterculture category (Mitchell, 2002).
Cultural Relativism and Ethnocentrism
The fact of cultural diversity raises some important but difficult questions of cultural relativism and ethnocentrism. Cultural relativismThe belief that no culture's norms, values, or practices are superior or inferior to those of any other culture. refers to the belief that we should not judge any culture as superior or inferior to another culture. In this view, all cultures have their benefits and disadvantages, and we should not automatically assume that our own culture is better and "their" culture is worse. EthnocentrismThe tendency to judge another culture by the standards of our own, and the belief that our own culture is superior to another culture., the opposite view, refers to the tendency to judge another culture by the standards of our own and to the belief that our own culture is indeed superior to another culture. When we think of cow worship in India, it is easy to be amused by it and even to make fun of it. That is why anthropologist Marvin Harris's analysis was so important, because it suggests that cow worship is in fact very important for the Indian way of life.
Figure 2.20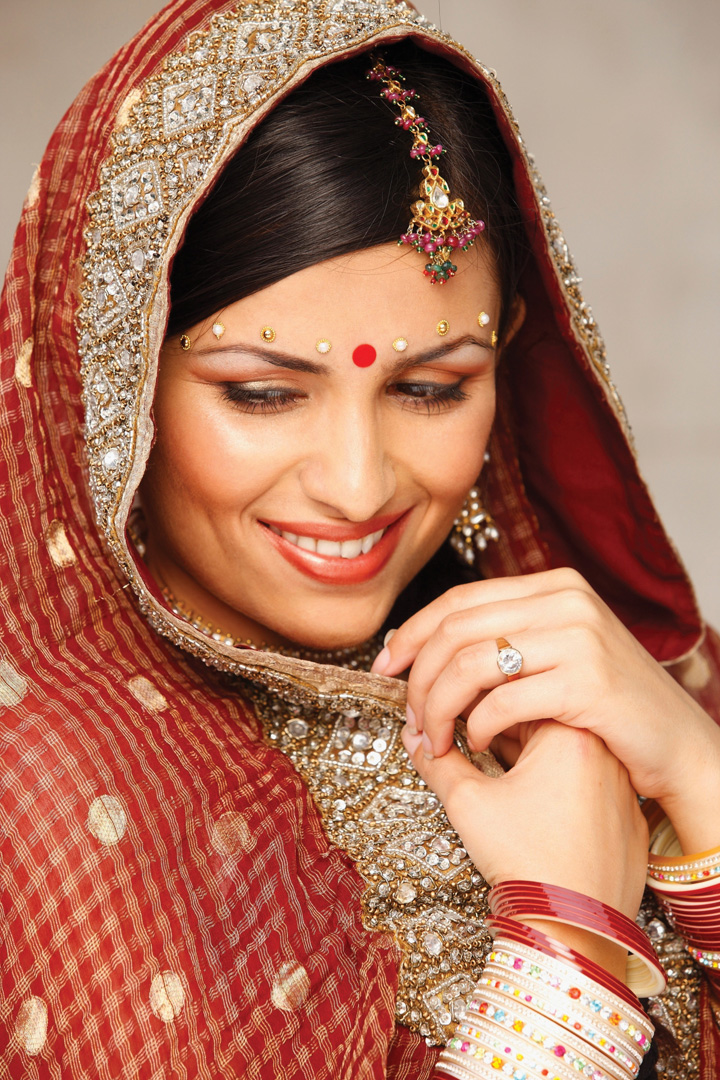 Dowry deaths are relatively common in certain parts of India and Pakistan. Should we practice cultural relativism and not disapprove of dowry deaths? Or is it fair to condemn this practice, even if it is one that many people in these nations accept?
Some scholars think cultural relativism is an absolute, that we should never judge another culture's beliefs and practices as inferior to our own. Other scholars think cultural relativism makes sense up to a point, but that there are some practices that should be condemned, even if they are an important part of another culture, because they violate the most basic standards of humanity. For example, a common practice in areas of India and Pakistan is dowry deaths, where a husband and his relatives murder the husband's wife because her family has not provided the dowry they promised when the couple got married (Kethineni & Srinivasan, 2009). Often they burn the wife in her kitchen with cooking oil or gasoline and make it look like an accident. The number of such dowry deaths is estimated to be at least several hundred every year and perhaps as many as several thousand. Should we practice cultural relativism and not disapprove of dowry deaths? Or is it fair to condemn this practice, even if it is one that many people in those nations accept?
Because dowry death is so horrible, you might be sure we should not practice cultural relativism for this example. However, other cultural practices such as cow worship might sound odd to you but are not harmful, and you would probably agree we should accept these practices on their own terms. Other practices lie between these two extremes. Consider the eating of dog meat, which was mentioned in the "Learning From Other Societies" box. In China, South Korea, and other parts of Asia, dog meat is considered a delicacy, and people sometimes kill dogs to eat them (Dunlop, 2008). As one observer provocatively asked about eating dog meat, "For a Westerner, eating it can feel a little strange, but is it morally different from eating, say, pork? The dogs brought to table in China are not people's pets, but are raised as food, like pigs. And pigs, of course, are also intelligent and friendly" (Dunlop, 2008). Should we accept the practice of eating dog meat on its own terms? Is it any worse than eating pork or slaughtering cattle in order to eat beef? If an Asian immigrant killed and ate a dog in the United States, should that person be arrested for engaging in a practice the person grew up with? Cultural relativism and ethnocentrism certainly raise difficult issues in today's increasingly globalized world.
Key Takeaways
Subcultures and countercultures are two types of alternative cultures that may exist amid the dominant culture.
Cultural relativism and ethnocentrism are often in tension, and it is sometimes difficult to determine whether it is appropriate to condemn behaviors that one's own culture finds repugnant but that another culture considers appropriate.
For Your Review
This section discussed the eating of dog meat in some other cultures. Many Americans and Europeans condemn this practice. Do you think it is appropriate to condemn eating dog meat, or do you think such criticism violates cultural relativism and is thus inappropriate? Explain your answer.
2.4 The Development of Modern Society
Learning Objectives
Define Gemeinschaft and Gesellschaft.
List the major types of societies that have been distinguished according to their economy and technology.
Explain why social development produced greater gender and wealth inequality.
Since the origins of sociology during the 19th century, sociologists have tried to understand how and why modern society developed. Part of this understanding involves determining the differences between modern societies and nonmodern (or simple) ones. This chapter has already alluded to some of these differences. In this section, we look at the development of modern society more closely.
One of the key differences between simple and modern societies is the emphasis placed on the community versus the emphasis placed on the individual. As we saw earlier, although community and group commitment remain in modern society, and especially in subcultures like the Amish, in simple societies they are usually the cornerstone of social life. In contrast, modern society is more individualistic and impersonal. Whereas the people in simple societies have close daily ties, in modern societies we have many relationships where we barely know the person. Commitment to the group and community become less important in modern societies, and individualism becomes more important.
Sociologist Ferdinand Tönnies (1887/1963) long ago characterized these key characteristics of simple and modern societies with the German words Gemeinschaft and Gesellschaft. Gemeinschaft means human community, and Tönnies said that a sense of community characterizes simple societies, where family, kin, and community ties are quite strong. As societies grew and industrialized and as people moved to cities, Tönnies said, social ties weakened and became more impersonal. Tönnies called this situation a Gesellschaft and found it dismaying.
Other sociologists have distinguished societies according to their type of economy and technology. One of the most useful schemes distinguishes the following types of societies: hunting and gathering, horticultural, pastoral, agricultural, and industrial (Nolan & Lenski, 2009). Some scholars add a final type, postindustrial, to the end of this list. We now outline the major features of each type in turn. Table 2.2 "Summary of Societal Development" summarizes these features.
Table 2.2 Summary of Societal Development
| Type of society | Key characteristics |
| --- | --- |
| Hunting and gathering | These are small, simple societies in which people hunt and gather food. Because all people in these societies have few possessions, the societies are fairly egalitarian, and the degree of inequality is very low. |
| Horticultural and pastoral | Horticultural and pastoral societies are larger than hunting and gathering societies. Horticultural societies grow crops with simple tools, while pastoral societies raise livestock. Both types of societies are wealthier than hunting and gathering societies, and they also have more inequality and greater conflict than hunting and gathering societies. |
| Agricultural | These societies grow great numbers of crops, thanks to the use of plows, oxen, and other devices. Compared to horticultural and pastoral societies, they are wealthier and have a higher degree of conflict and of inequality. |
| Industrial | Industrial societies feature factories and machines. They are wealthier than agricultural societies and have a greater sense of individualism and a lower degree of inequality. |
| Postindustrial | These societies feature information technology and service jobs. Higher education is especially important in these societies for economic success. |
Hunting and Gathering Societies
Beginning about 250,000 years ago, hunting and gathering societiesSocieties of a few dozen members whose food is obtained from hunting animals and gathering plants and vegetation. are the oldest ones we know of; few of them remain today, partly because modern societies have encroached on their existence. As the name "hunting and gathering" implies, people in these societies both hunt for food and gather plants and other vegetation. They have few possessions other than some simple hunting and gathering equipment. To ensure their mutual survival, everyone is expected to help find food and also to share the food they find. To seek their food, hunting and gathering peoples often move from place to place. Because they are nomadic, their societies tend to be quite small, often consisting of only a few dozen people.
Beyond this simple summary of the type of life these societies lead, anthropologists have also charted the nature of social relationships in them. One of their most important findings is that hunting and gathering societies are fairly egalitarian. Although men do most of the hunting and women most of the gathering, perhaps reflecting the biological differences between the sexes discussed earlier, women and men in these societies are roughly equal. Because hunting and gathering societies have few possessions, their members are also fairly equal in terms of wealth and power, as virtually no wealth exists.
Horticultural and Pastoral Societies
Horticultural and pastoral societies both developed about 10,000–12,000 years ago. In horticultural societiesSocieties that use the hoe and other simple tools to raise small amounts of crops., people use a hoe and other simple hand tools to raise crops. In pastoral societiesSocieties that raise livestock as their primary source of food., people raise and herd sheep, goats, camels and other domesticated animals and use them as their major source of food and also, depending on the animal, as a means of transportation. Some societies are either primarily horticultural or pastoral, while other societies combine both forms. Pastoral societies tend to be at least somewhat nomadic, as they often have to move to find better grazing land for their animals. Horticultural societies, on the other hand, tend to be less nomadic, as they are able to keep growing their crops in the same location for some time. Both types of societies often manage to produce a surplus of food from vegetable or animal sources, respectively, and this surplus allows them to trade their extra food with other societies. It also allows them to have a larger population size (often reaching several hundred members) than hunting and gathering societies.
Figure 2.21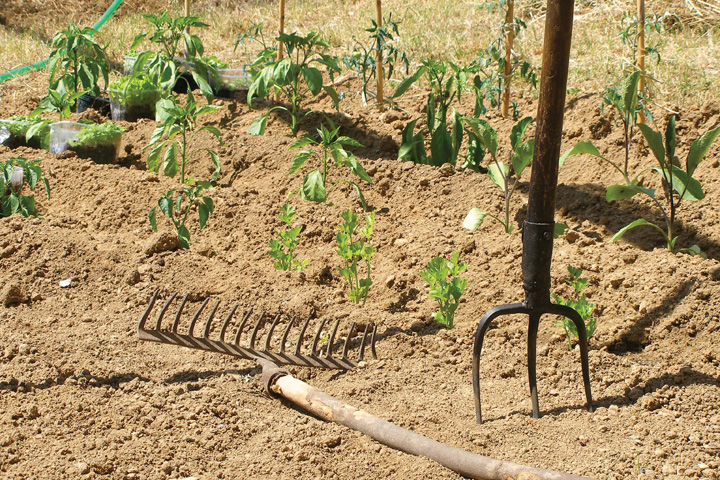 Horticultural societies often produced an excess of food that allowed them to trade with other societies and also to have more members than hunting and gathering societies.
Accompanying the greater complexity and wealth of horticultural and pastoral societies is greater inequality in terms of gender and wealth than is found in hunting and gathering societies. In pastoral societies, wealth stems from the number of animals a family owns, and families with more animals are wealthier and more powerful than families with fewer animals. In horticultural societies, wealth stems from the amount of land a family owns, and families with more land are more wealthy and powerful.
One other side effect of the greater wealth of horticultural and pastoral societies is greater conflict. As just mentioned, sharing of food is a key norm in hunting and gathering societies. In horticultural and pastoral societies, however, their wealth, and more specifically their differences in wealth, leads to disputes and even fighting over land and animals. Whereas hunting and gathering peoples tend to be very peaceful, horticultural and pastoral peoples tend to be more aggressive.
Agricultural Societies
Agricultural societiesSocieties that cultivate large amounts of crops with the plow and other relatively advanced tools and equipment. developed some 5,000 years ago in the Middle East, thanks to the invention of the plow. When pulled by oxen and other large animals, the plow allowed for much more cultivation of crops than the simple tools of horticultural societies permitted. The wheel was also invented about the same time, and written language and numbers began to be used. The development of agricultural societies thus marked a watershed in the development of human society. Ancient Egypt, China, Greece, and Rome were all agricultural societies, and India and many other large nations today remain primarily agricultural.
We have already seen that the greater food production of horticultural and pastoral societies led them to become larger than hunting and gathering societies and to have more trade and greater inequality and conflict. Agricultural societies continue all of these trends. First, because they produce so much more food than horticultural and pastoral societies, they often become quite large, with their numbers sometimes reaching into the millions. Second, their huge food surpluses lead to extensive trade, both within the society itself and with other societies. Third, the surpluses and trade both lead to degrees of wealth unknown in the earlier types of societies and thus to unprecedented inequality, exemplified in the appearance for the first time of peasants, people who work on the land of rich landowners. Finally, agricultural societies' greater size and inequality also produce more conflict. Some of this conflict is internal, as rich landowners struggle with each other for even greater wealth and power, and peasants sometimes engage in revolts. Other conflict is external, as the governments of these societies seek other markets for trade and greater wealth.
If gender inequality became somewhat greater in horticultural and pastoral societies than in hunting and gathering ones, it became very pronounced in agricultural societies. An important reason for this is the hard, physically taxing work in the fields, much of it using large plow animals, that characterizes these societies. Then, too, women are often pregnant in these societies, because large families provide more bodies to work in the fields and thus more income. Because men do more of the physical labor in agricultural societies—labor on which these societies depend—they have acquired greater power over women (Brettell & Sargent, 2009). In the Standard Cross-Cultural Sample, agricultural societies are much more likely than hunting and gathering ones to believe men should dominate women (see Figure 2.22 "Type of Society and Presence of Cultural Belief That Men Should Dominate Women").
Figure 2.22 Type of Society and Presence of Cultural Belief That Men Should Dominate Women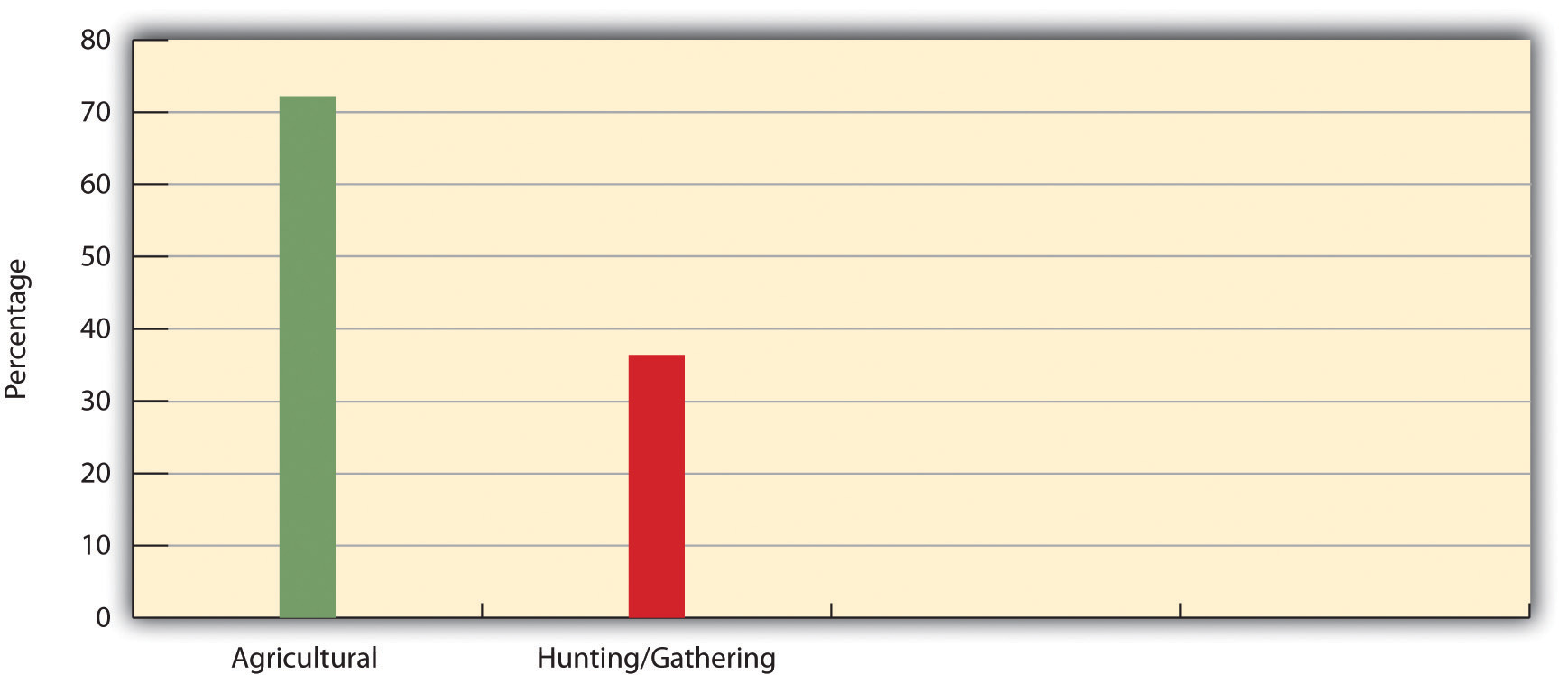 Source: Data from Standard Cross-Cultural Sample.
Industrial Societies
Industrial societiesLarge societies that rely on machines and factories as their primary mode of economic production. emerged in the 1700s as the development of machines and then factories replaced the plow and other agricultural equipment as the primary mode of production. The first machines were steam- and water-powered, but eventually, of course, electricity became the main source of power. The growth of industrial societies marked such a great transformation in many of the world's societies that we now call the period from about 1750 to the late 1800s the Industrial Revolution. This revolution has had enormous consequences in almost every aspect of society, some for the better and some for the worse.
On the positive side, industrialization brought about technological advances that improved people's health and expanded their life spans. As noted earlier, there is also a greater emphasis in industrial societies on individualism, and people in these societies typically enjoy greater political freedom than those in older societies. Compared to agricultural societies, industrial societies also have lower economic and gender inequality. In industrial societies, people do have a greater chance to pull themselves up by their bootstraps than was true in earlier societies, and "rags to riches" stories continue to illustrate the opportunity available under industrialization. That said, we will see in later chapters that economic and gender inequality remains substantial in many industrial societies.
On the negative side, industrialization meant the rise and growth of large cities and concentrated poverty and degrading conditions in these cities, as the novels of Charles Dickens poignantly remind us. This urbanization changed the character of social life by creating a more impersonal and less traditional Gesellschaft society. It also led to riots and other urban violence that, among other things, helped fuel the rise of the modern police force and forced factory owners to improve workplace conditions. Today industrial societies consume most of the world's resources, pollute the environment to an unprecedented degree, and have compiled nuclear arsenals that could undo thousands of years of human society in an instant.
Postindustrial Societies
We are increasingly living in what has been called the information technology age (or just information age), as wireless technology vies with machines and factories as the basis for our economy. Compared to industrial economies, we now have many more service jobs, ranging from housecleaning to secretarial work to repairing computers. Societies in which this is happening are moving from an industrial to a postindustrial phase of development. In postindustrial societiesSocieties in which information technology and service jobs have replaced machines and manufacturing jobs as the primary dimension of the economy., then, information technology and service jobs have replaced machines and manufacturing jobs as the primary dimension of the economy (Bell, 1999). If the car was the sign of the economic and social times back in the 1920s, then the smartphone or netbook/laptop is the sign of the economic and social future in the early years of the 21st century. If the factory was the dominant workplace at the beginning of the 20th century, with workers standing at their positions by conveyor belts, then cell phone, computer, and software companies are dominant industries at the beginning of the 21st century, with workers, almost all of them much better educated than their earlier factory counterparts, huddled over their wireless technology at home, at work, or on the road. In short, the Industrial Revolution has been replaced by the Information Revolution, and we now have what has been called an information society (Hassan, 2008).
As part of postindustrialization in the United States, many manufacturing companies have moved their operations from U.S. cities to overseas sites. Since the 1980s, this process has raised unemployment in cities, many of whose residents lack the college education and other training needed in the information sector. Partly for this reason, some scholars fear that the information age will aggravate the disparities we already have between the "haves" and "have-nots" of society, as people lacking a college education will have even more trouble finding gainful employment than they do now (Wilson, 2009). In the international arena, postindustrial societies may also have a leg up over industrial or, especially, agricultural societies as we move ever more into the information age.
Key Takeaways
The major types of societies historically have been hunting and gathering, horticultural, pastoral, agricultural, industrial, and postindustrial.
As societies developed and grew larger, they became more unequal in terms of gender and wealth and also more competitive and even warlike with other societies.
Postindustrial society emphasizes information technology but also increasingly makes it difficult for individuals without college educations to find gainful employment.
For Your Review
Explain why societies became more unequal in terms of gender and wealth as they developed and became larger.
Explain why societies became more individualistic as they developed and became larger.
Describe the benefits and disadvantages of industrial societies as compared to earlier societies.