10.4

Field Notes
Learning Objectives
Define descriptive field notes.
Cite the variety of ways that field researchers might take notes while in the field.
Describe what should be noted when taking field notes.
Field notes are your opportunity to write poorly and get away with it. I say that in jest, but there is some truth to it. This is one type of writing where you should not be going for literary value, to make your writing interesting, and even to make it readable for anyone other than yourself. Instead, the aim is to record your observations as straightforwardly and, while in the field, as quickly as possible in a way that makes sense to you. Field notesIn field research, the official record that affirms what you observed. are the first—and a necessary—step toward developing quality analysis. They are also the record that affirms what you observed. In other words, field notes are not to be taken lightly or overlooked as unimportant.
Some say that there are two different kinds of field notes: descriptive and analytic. Though the lines between what counts as "description" and what counts as "analysis" can get pretty fuzzy, the distinction is nevertheless useful when thinking about how to write and how to interpret field notes. In this section, we'll focus on descriptive field notes. Descriptive field notesNotes that describe a field researcher's observations as straightforwardly as possible. are notes that simply describe a field researcher's observations as straightforwardly as possible. These notes typically do not contain explanations of or comments about those observations. Instead, the observations are presented on their own, as clearly as possible. In the following section, we'll examine the uses and writing of analytic field notes more closely.
Writing in the Field
Field researchers use a variety of strategies to take notes while in the field. Some research is conducted in settings where sitting with a notebook, iPad, or computer is no problem (e.g., if conducting observations in a classroom or at a meeting), but this is probably the exception rather than the norm. More often, field researchers must find creative ways to note their observations while engaged in the field. I've heard about field researchers jotting notes on their hands and arms, keeping very small notebooks in their pockets and occasionally jotting notes there, carrying small recorders to make quick observations, and even writing notes on toilet paper during visits to the restroom. With the advent of smartphones, taking notes in the field has become less arduous than it once was, as it is common to see someone texting or surfing the web from their phone in almost any setting.
Figure 10.9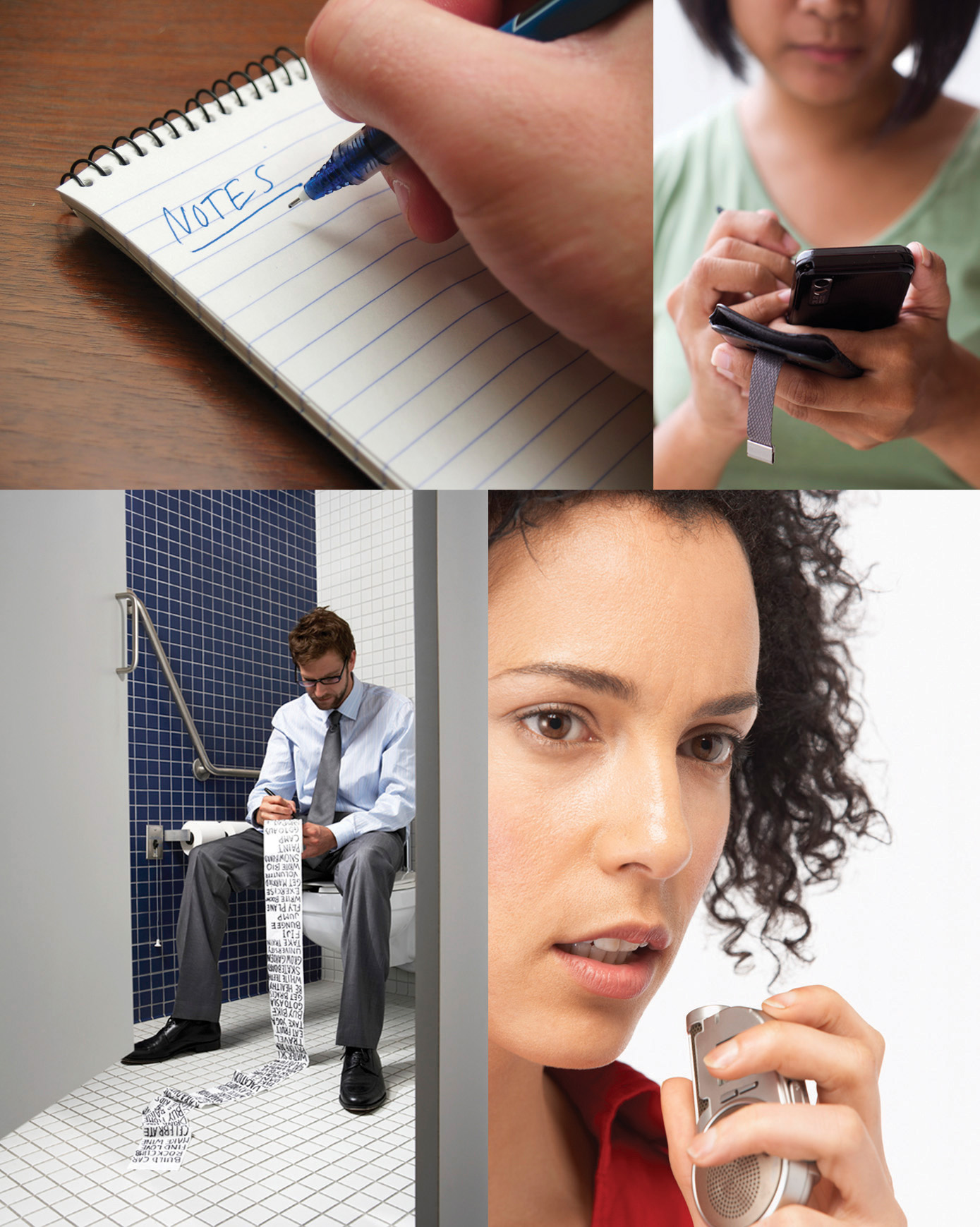 When you are in the field, whether you jot down your field notes on a notepad, type them on your phone, write them on a roll of toilet paper, dictate them into a recorder, or use some other means of note taking, be sure to do so in a way that will be the least disruptive to your research participants and others in the field.
Your strategy for recording your observations while in the field will be determined mostly by the site you choose and the role you play in that site. Will you be in a setting where having a notebook or smartphone in your hands will look out of place? If no, by all means, take notes! But don't let your note taking distract you from what's happening around you. Writing notes while in the field requires a fine balance between jotting down your observations and actually engaging in the setting. If you are strictly an observer, these will be easy to balance. But if you are also a participant, don't let your note taking keep you from participating. If you do happen to be in a location where taking notes "in the moment" would be too obvious, rude, or distracting, you may still be able to occasionally jot down a few things very quickly. You may also need to develop a way of jotting down observations that doesn't require complete sentences or perhaps even words. I know several field researchers who developed their own version of shorthand to take notes, using some combination of abbreviations and symbols, without taking too much time away from their participation in the field.
As with other proficiencies one develops, writing field notes is a skill that can be improved with practice. Recall the discussion in Chapter 1 "Introduction" about the dangers of informal observation. Conducting field research and taking field notes are decidedly not informal activities. In field research, observation is deliberate, not haphazard. That said, for a first-time field researcher, taking field notes can feel like a pretty haphazard activity. Understanding when to write, what to write, where to write, and how to write are all skills that field researchers develop with experience. I demonstrate this point to students early in our discussion of field methods by sending them out of the classroom in groups of two or three each and having them take notes about what they observe over a 15-minute period of time. No problem, they say. How hard can it be? Pretty tough, as it turns out. Students typically return from their 15 minutes of observation frustrated, confused, and annoyed with me for putting them through the experience.
So why torture my students in this way? It isn't just to be a jerk, I promise. When students return to the classroom, I ask them to compare notes with their group members and discuss what strategies they used in making and recording observations. Typically, students have some overlap in the kinds of things noted, but inevitably one person will have paid more attention to conversations overheard, another to actions and unspoken physical expressions such how people walked or dressed, and yet another to nonhuman surroundings such as the landscape, sounds, and scents. Students conducting this exercise also often use different note-taking strategies, some drawing more pictures, others writing in complete sentences, others using abbreviations. I ask them to talk about what they've learned from the experience and the following two "lessons" are among the most frequently cited: (a) taking field notes is hard, and (b) it would have been nice to have some more direction before the exercise so they knew what to zero in on.
I'm always glad to hear that students recognize the difficulty of the task, and it's true that I give them very few instructions prior to the field note exercise. This is intentional. In part I hope to make the point that while field research projects often occur inductively, this doesn't mean that field researchers enter the field with absolutely no idea about what they plan to observe. Having a research question or topic in mind helps a researcher focus her or his observations. At the same time, it is important that field researchers not allow their original question or topic blind them to occurrences in the field that may not seem particularly important at the time. As I share with my students, you never know whether or how some observation might be important down the line. We'll take a closer look at this point in Section 10.5 "Analysis of Field Research Data".
Figure 10.10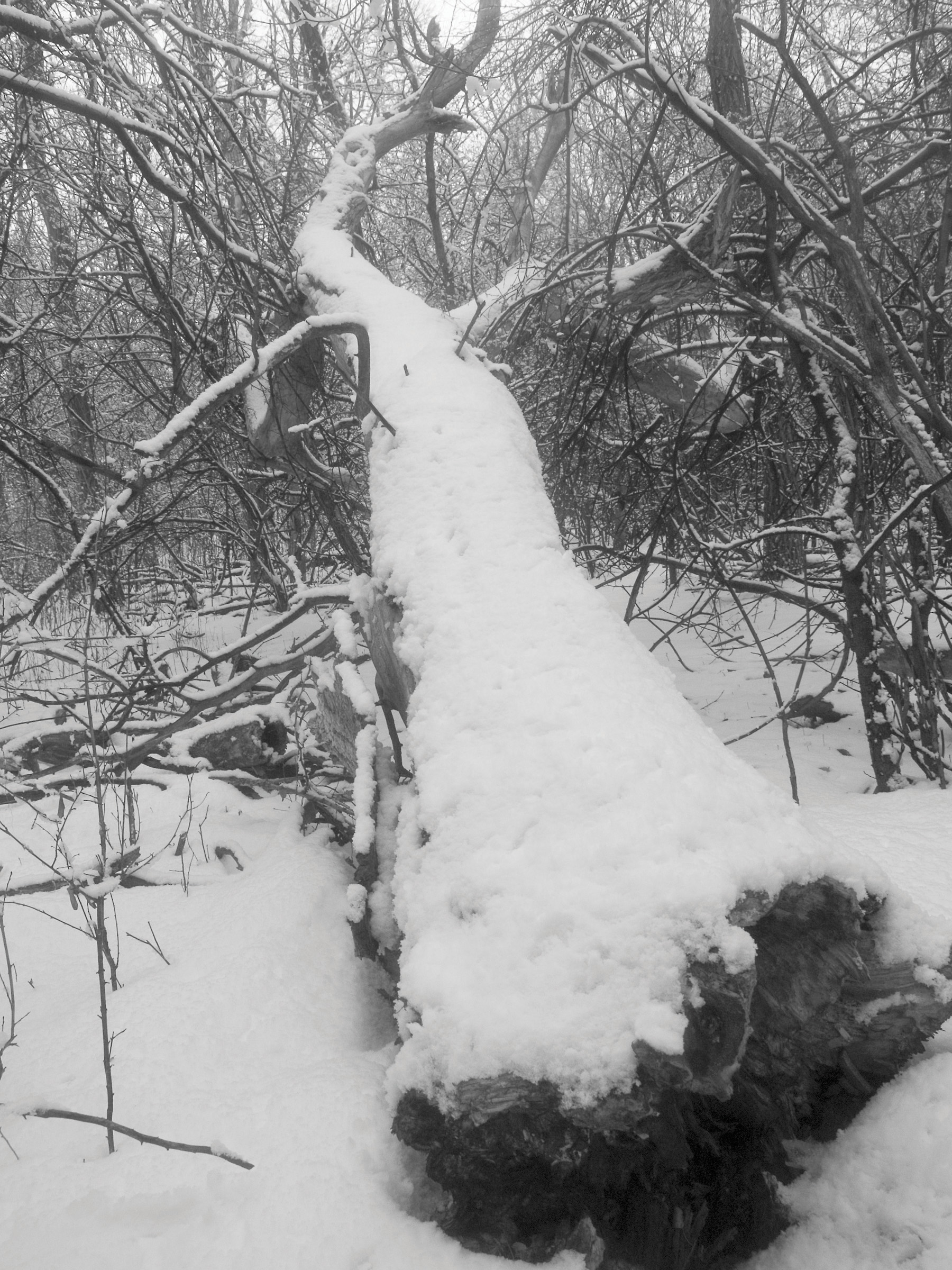 As in the philosophical quandary about whether a tree that no one heard falling made any sound, if you observe something without recording it, how can you be certain that it actually occurred?
No matter how difficult it can be to write notes while in the field, it is worth the effort. Field researchers rely on the notes they take in the field to develop more complete notes later and, eventually, to develop analysis. Have you heard the popular philosophical question about trees falling? It goes something like this: If a tree falls in the woods but nobody hears it, did it actually make a sound? I don't have a good answer for you from a philosophical perspective, but I can say that when it comes to field research, if you observe something but neglect to note it, it might as well not have happened. This is because you, like any other human being, cannot possibly be expected to remember everything that you see happen over the hours, days, months, or years that you spend collecting data in the field. For this reason, writing notes in the field (to the extent possible) is important, as is "filling in" those notes as soon as you are in a location where you can focus on more formal note taking. We examine this more formal aspect of note taking next.
Writing out of the Field
Immediately upon leaving any observation in the field, you should take the time to complete the brief notes you took while in the field. Even if you feel that the notes you've taken in the field are complete, you'll be surprised by how much more you'll recall once you sit down without distractions and read through what you've jotted down. You'll also have the opportunity to add your own reflections, or observations about your observations, when you write up more complete notes.
When you type up notes upon returning from an observation, you should "fill in the blanks" and write as much as possible about what you've just observed. Even if it seems mundane, I think it's fair to say that one's field notes can never contain too much detail. Writing as much as possible, in as much detail as possible, should also help you avoid generalizing in your field notes. Be specific about what you observe; rather than saying that "everyone" said or did something, make note of exactly who said or did X (or note that you're not sure exactly who did so but that it seemed as if most everyone did). Rather than saying that someone you observed was "angry," describe what gave you that impression. For example, was that person yelling, red in the face, or shaking her fist?
Don't forget to describe exactly where you were and detail your surroundings (in addition to describing the interactions and conversations you observed and participated in). Early in a field research project you may focus slightly more on describing the "lay of the land" than you do later on. This might mean writing up very detailed descriptions of the locations you observe and the people with whom you interact. You might also draw a map or, if appropriate in your setting, take pictures of your field sites. If your observations will be conducted in the same place and with the same people, these descriptive details you write up early on will become less noticeable to you over time. It will be helpful to have some documentation of your first impressions and of the sort of details that later become so much a part of the everyday scene that you stop noticing them. The following excerpt from my own field notes comes from my first meeting with two of the key informants in my field research in the breast cancer movement.
1/14/99, 11:00am
Met Jane and Polly at the XX office today. I was scheduled to be there at 10:30 but traffic was so bad due to last night's snow storm that I did not get there until 11:00am. Jane and Polly did not seem bothered by my tardiness (Polly, "We don't keep a time clock around here."). I walked into the building and took the elevator up to the second floor. I was a little unsure about where to go from there so I just walked into the first open door and said, "I'm looking for the XX office." A woman showed me into a large office (long and slightly irregular shape with windows on one wall, a desk and table and many chairs. Also two computers set up on a counter that runs along the wall across from the windows.) Two women were looking at a computer screen that was on the counter. When I walked in I introduced myself and Jane and Polly introduced themselves to me. Both women shook my hand, though Jane was the first to do so and did so with slightly more self-assurance than Polly. Polly told me to hang my coat on one of the "coat racks" and gestured to the many chairs that were around the office. I placed my coat and purse in what I hoped would be the most out of the way location; a corner behind the table. (Blackstone, 2003)
The description in my field notes continues for several more paragraphs, but I won't torture you with those details. As you can see, this field notes excerpt is definitely not going to win the Pulitzer Prize for its riveting story or prose. Thankfully, that isn't its purpose. Instead, the goal was to describe a location where I knew I'd be spending a fair amount of time and to describe my first impressions of the two women I knew would be likely candidates for key informants. One thing you'll notice is that I used quotation marks every time I directly quoted a person. Including as many direct quotes as you can is a good idea, as such quotes provide support for the analytic points you'll make when you later describe patterns in your data. This is another reason that taking notes in the field (to the extent possible) is a good idea. Direct quotes may be difficult to remember hours or even minutes after hearing them. For this reason you may wish to write verbatim quotes while in the field and then take the time to describe the circumstances under which something was said later on when you write up your full notes after leaving the scene.
Another thing you might find were you to read through the many pages of field notes I took during my participant observation is that I use all capital letters and brackets in some places. This is the strategy I developed for expressing my own personal feelings and impressions in my field notes. While the distinction between what one actually observed and what one thinks about what he or she observed is not always easy to make, most field researchers do attempt to distinguish between these two categories of information.
The bracketed portions of your field notes may never be used, but in some cases they will become the very early stages in your analysis of data. My notes from three years of participant observation include bracketed notes of both types. Sometimes, I used bracketed notes to express emotion or purge difficult thoughts or feelings. This was especially helpful when I felt upset about or annoyed by something that had occurred in the field. Because field research requires developing personal relationships with "subjects," and because interpersonal relationships all experience various highs and lows, it is important to express your feelings about those relationships in your notes. Writing these more personal reflections may become important for analysis later or they may simply be cathartic at the moment. They might also reveal biases you have about the participants that you should confront and be honest about.
Every field researcher's approach to writing up field notes will vary according to whatever strategy works best for that individual. Where I used brackets to document personal feelings and reflections on bits of data, other field researchers may use the "comments" function in a word processing program or use a different font type, size, or color to distinguish observations from reflections. Others might create two columns for their full field notes—one containing notes only about what was observed directly and the other containing reactions and impressions. There isn't a wrong way to write field notes. What's important is that you adopt a strategy that enables you to write accurately, to write as much detail as possible, and to distinguish observations from reflections.
Key Takeaways
When taking descriptive field notes, researchers should try to make note of their observations as straightforwardly as possible.
Field researchers might use any number of tools or strategies to facilitate taking notes in the field such as writing on one's own hands, dictating observations into a handheld recorder, or taking notes in the form of text messages on one's phone.
In field research, observation is deliberate, not haphazard.
Note taking does not end when a researcher exits an observation; handwritten notes are typed up immediately upon leaving the field so that researchers can "fill in the blanks" in their brief notes taken while in the field.
Exercise
Try out the note-taking exercise that my students complete in class. Find another person or two with whom you can conduct observations and take notes for about 15 minutes (perhaps someplace in your campus library, student union, or dorm). Sit near your peers who are also taking notes but do not talk with them during this portion of the exercise. Be sure to use all of your senses as you take notes: your eyes, your ears, your nose, your mouth, and your sense of touch. When your 15 minutes are up, compare notes with your peers. Where are there similarities? Where are their differences? Why do those similarities and differences exist? What strategy did you each employ to take notes? How might you approach field note taking differently were you asked to do it again?