Vermont Teddy Bear Company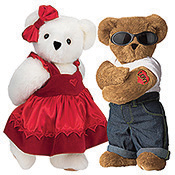 In 1980, John Sortino got the idea for making teddy bears. He was playing with his young son, Graham, and noticed that none of Graham's 38 stuffed animals was made in the United States. This inspired John to make a teddy bear for Graham—named Bearcho. John then went on to make others, falling in love with the idea of making them by hand. Bearcho was soon followed by Buffy, Bearazar, and Fuzzy Wuzzy, all made in his wife's sewing room. By 1983, John was selling his bears from a gift cart at an open-air market in Burlington, Vermont. The sale of his first bear took 4 days, and it took 1 year to sell 200 bears. Today, the Vermont Teddy Bear Company produces about 300,000 bears a year.
The Vermont Teddy Bear Company has tapped into America's long-standing love affair with teddy bears by creating a wide variety of customized teddy bears and shipping them to customers via the well-recognized Bear-Gram, "…a customized bear placed in a colorful box with an air hole and game printed on the inside, and enclosed with a personalized greeting and candy treat." The company has experienced many changes, including John's departure in 1995 to pursue other interests and the addition of Pajamagram and Calyx Flowers as additional unique brands, but the Vermont Teddy Bear Company remains a household name and a Vermont icon.
Jay Bruns, vice president of branding, talks about the importance of knowing how to present the product so the company can grow further. Right now, a Vermont Teddy Bear is a unique gift item that promises quality for life, but the dynamics of gifting have changed. Same day or overnight delivery is not special anymore, so a Vermont Teddy Bear must offer something more than convenience. It needs to be a "go-to" gift of choice rather than an emergency or "last-minute" gift. This requires presenting the product as fresh and special. E-commerce is an integral part of Vermont Teddy Bear's marketing strategy, with online sales accounting for more than one-half of its total sales. The company saw the growth in online buying and launched its website in October 1996 in an effort to reach the online consumer base. Elisabeth Robert, the CEO at the time, saw the potential synergy between radio and the Internet and used the power of the company's radio advertising "…to direct customers to the company's website where they could actually see the bears they were ordering."
Victor Castro, director of e-commerce, describes the company's e-commerce strategy as direct marketing with a focus on easy ordering and the customer being able to interact with the brand. Convenience has become even more convenient, and the Vermont Teddy Bear Company makes things simple. As the consumer becomes more proficient online, it will be necessary to communicate properly what the Vermont Teddy Bear gift is all about (i.e., the experience of owning the bear). Castro says that the company has been very successful at that. However, the company's e-commerce strategy must evolve with changes in the online customer.
To learn more about the Bear-Gram, go to www.vermontteddybear.com/Static/Bear-Grams.aspx. To take the online factory tour, go to www.vermontteddybear.com/Static/tour-welcomestation.aspx.