This is "Growth Strategy", chapter 6 from the book Competitive Strategies for Growth (v. 1.0). For details on it (including licensing), click here.
For more information on the source of this book, or why it is available for free, please see the project's home page. You can browse or download additional books there. To download a .zip file containing this book to use offline, simply click here.
Has this book helped you? Consider passing it on:

Creative Commons supports free culture from music to education. Their licenses helped make this book available to you.

DonorsChoose.org helps people like you help teachers fund their classroom projects, from art supplies to books to calculators.
Chapter 6

Growth Strategy

 
6.1

Introduction

We have used the phrase "breakdown" value several times so far. The term breaking down has become a common phrase in the English language in reference to dividing some whole up into component parts. In sports, one of the most impressive feats in the history of breaking down complexity is Ben Hogan's classic Five Lessons: The Modern Fundamentals of Golf.Hogan (1957). Mr. Hogan is one of the greatest champions in the history of the game, with 64 PGA tour wins between 1938 and 1959. These included nine major tournament titles, six of which came after a horrific 1949 accident in which the car he was driving collided head on with a Greyhound bus. In Five Lessons, he provides the first in-depth accounting of the golf swing broken down into four core elements: the grip, stance and posture, first part of the swing (backswing), and the second part of the swing (downswing). This paperback has itself turned into a modern classic, still in print (available on Amazon!) and responsible for the swings of some of the most accomplished players today, including Tiger Woods.

Those inexperienced with golf often wonder how this seemingly simple game can be worthy of such devotion and study. They are incredulous to learn, for example, that Mr. Hogan's book has an entire chapter on the grip—that is, simply how to hold the club! Figure 6.1 "Ben Hogan on the Cover of Sports Illustrated" shows the striking ink drawings by Anthony Ravielli on the cover of Sports Illustrated, perfect in detail as Mr. Hogan demanded. Hogan's devotion to studying different approaches to gripping the club has him describing grip aesthetics in words rich with emotion: "For myself and other serious golfers there is an undeniable beauty in the way a fine player sets his hands on the club." Such admiration and attention to subtle nuance is the result of deep study, and it leads to explanations of the grip of such a technical nature as to leave any but the most dedicated student of golf scratching heads:

Figure 6.1 Ben Hogan on the Cover of Sports Illustrated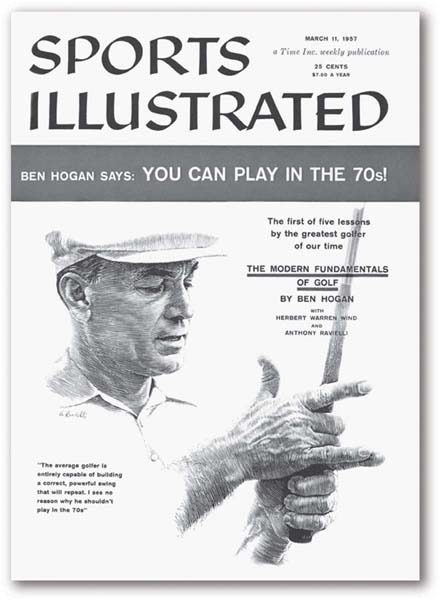 When a golfer has completed his left-hand grip, the V formed by the thumb and forefinger should point to his right eye. The total pressure of all the fingers should not be any stronger (and may even be a little less strong) than the pressure exerted by just the forefinger and the palm pad in the preparatory guiding action. In the completed I grip, the main pressure points are the last three fingers, with the forefinger and the palm pad adding assisting pressure. (Hogan, 1957)
Yet Mr. Hogan is also clear in identifying the important outcomes of developing this understanding, which ultimately connects the grip with other parts of the swing:
Keeping pressure on the shaft with the palm pad does three things: it strengthens the left arm throughout the swing; at the top of the backswing, the pressure from this pad prevents the club from slipping from the player's grasp; and it acts as a firm reinforcement at impact. (Hogan, 1957)
The grip elements represent one piece of the puzzle. But Mr. Hogan has a deep, almost stunning insight about the outcome of grounding your golf swing in solid fundamentals throughout. Ultimately, careful attention to the grip helps in executing other fundamental elements of the swing and also dramatically improves the golfer's ability to compete:
Frequently, you know, what looks like a fairly good golf swing falls apart in competition…the harsh light of competition reveals that a swing is only superficially correct…It can't stand up day after day. A correct swing will. In fact, the greater the pressure you put on it, the better your swing should function, if it is honestly sound. (Hogan, 1957)
While we would overly flatter ourselves to suggest that we could replicate the level of depth and expertise in Mr. Hogan's work on the golf swing in the study of growth strategy, our intent is the same. The 3-Circle model is about creating honestly sound strategy that will hold up under competition. We do that by breaking down value, seeking to deeply understand the component parts and how to work with them and then assembling them back together in an integrative strategy. The primary insight is that each individual category of value can spawn unique ideas for growth through building the firm's ability to produce and communicate value that really matters to customers. This is what we will be breaking down in this chapter.
6.2

Value and Positioning

There are a number of prescriptions for growth that emerge from the 3-Circle model. However, growth strategy should not be developed independent of the firm's overall positioning strategy. At the end of Chapter 5 "Sorting Value", the value map was presented as a means of thinking through where your offering lies in a value space, defined by price on one axis and perceived benefits on the other. Growth strategy ideas that each seek to improve value for customers should form an integrative whole to the extent possible, and should be consistent with the overall positioning and meaning for your organization or brand. As you think through growth strategies, it is important to do so with the backdrop of your goals for your overall position as a choice alternative for the customer. The overall goal of the analysis is to improve the value proposition for the customer relative to competitors to increase the probability that the customer will choose your offering.
Overall Positioning Strategy
We have replicated the value map from Chapter 5 "Sorting Value" into Figure 6.2 "Directional Moves on the Value Map", which illustrates "directional" moves from a center location. As noted in Chapter 5 "Sorting Value", a firm improves its value proposition by either adding or improving benefits or lowering the customer's costs. The degree to which adding or improving benefits (moving east on the value map) increases sales depends on whether those benefits are important to customers. The degree to which changing customer costs or price will affect sales depends on customer price sensitivity. Lowering customer costs represents a southerly move, while raising customer costs is a move toward the north on the map. However, simultaneous changes in both numerator and denominator can occur—then, customer response depends on the combined impact on value. So a firm might add benefits and raise price, which would move it northeast on the 45-degree line on the map, as when Ford makes a hybrid version of its Escape SUV and charges $9,000 more. Alternatively, a southwest move would involve reducing benefits compared to an existing position and lowering price, illustrated by a cluster of emergent cell phone and cell phone service providers like Net10 who sell simple cell phones on prepaid plans at prices substantially lower than the standard national carriers. Figure 6.3 "Repositioning the iPhone 3GS: "Twice as Fast. Half the Price."" illustrates a unique strategy by Apple, moving the iPhone southeast—enhancing both benefits (twice as fast) and cost (half the price). We will see that this overall value positioning is difficult but increasingly evident, reflected in Kim and Mauborgne's work on value innovation and blue ocean strategy.Kim and Mauborgne (2005). In sum, while we think of individual changes as additions or deletions of attributes or benefits, such changes, in fact, (a) may have multiple elements, and (b) will eventually be translated in the minds of customers to some sense of overall value for the money. The degree to which such changes contribute to improved profitability is a function of both changes in sales revenue and changes in cost.
Figure 6.2 Directional Moves on the Value Map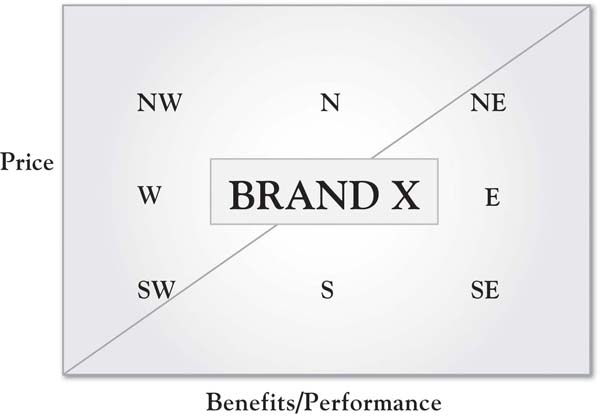 Figure 6.3 Repositioning the iPhone 3GS: "Twice as Fast. Half the Price."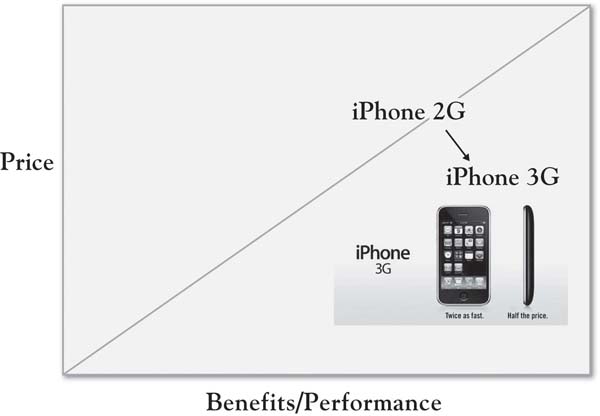 6.3

Growth Implications for Value Categories

In alphabetical order, here is a generally comprehensive list of the key growth strategy implications from the seven value categories in the 3-Circle framework:
Area A: Defend and build. The chief goal is to enhance and enlarge Area A relative to Area C by building distinctive attributes and benefits for which we have a unique capability or identity, in a manner focused on target customers.
Area B: Maintain and defend the foundation. There are core attributes and benefits (table stakes) that you must deliver as effectively as competitors do to even be in the game.
Area C: Shore up your value (i.e., neutralize competitors' advantage) where it is cost-effective and strategy-consistent to do so. Certain deficits in Area C may provide an opportunity to improve our value proposition by neutralizing and perhaps exceeding the competitor's advantage. Alternatively, live and let live.
Areas D, E: Correct negative value, eliminate or reduce unwanted attributes, better communicate, or find new capabilities. These are areas with multiple dimensions for which there are a variety of growth strategy directions.
Area F: Improve upon and exploit the competitor's unique deficiency. This is a strategic decision, but it holds the possibility of improving your offering's value position by helping customers discover more about what is legitimately wrong with the competitor's offering.
Area G: Continually seek unmet needs. There are ways in which the white space can be explored in a structured and disciplined manner. The exploration provides a means of uncovering potentially new sources of value that can substantially improve customers' connection with the firm's offering.
Here, we will cycle through these ideas, expanding upon them and introducing a number of illustrations. An important point here is that there is a logical sequence or order with which one should evaluate growth opportunities. We are going to suggest a series of strategic growth options—questions that will prompt a concrete look at a number of potential ideas for growing the value customers receive that will enhance and strengthen the firm's overall position. We always need to keep in mind the simple value formula and the goal: to enhance that overall value by recognizing that the firm might improve either numerator or denominator:
We will walk through each of the imperatives and strategic growth opportunities, one at a time. We will occasionally refer to "numerator" ideas, which are ideas to build and enhance benefits. "Denominator" ideas are those related to reducing customer costs—either direct costs or effort costs.
6.4

Overall Positioning: First, Take a Hard, Honest Look at Your Area A

The following questions are among the most essential that one can ask about the business that can be answered by the customer value analysis you have completed:
What is our unique equity with customers? Do we truly have a unique competitive advantage?
If no, why not?
If yes, does that Area A value accurately capture the market position we are trying to reflect?
Going forward, what do we want Area A to be—that is, what points of difference do we want to establish?
To illustrate a common finding, consider a manufacturer who has, for the past several years, touted its efficiency as its primary point of difference. The firm's management has been consistent in communicating this priority both internally (mission statement, coffee cups, posters on the wall) and externally with distributors and customers, proud of the fact that it is the "most efficient in the industry." Then, in a 3-Circle growth project, some leaders in the firm discover the surprising insight that customers only care about the firm's efficiency if they see some benefit from it. In some ways, the firm's promotion of its efficiency is almost resented by some customers who do not believe they see anything being passed down in the way of lower costs or greater efficiency for them. Recall similar cases in this book (e.g., Resource Recovery Corporation, Food Supplier, Inc.) in which executives discovered that their Area A was not nearly as large and distinctive as they had envisioned. So the first step in plotting growth is to get a clear understanding of your current Area A, being open to the possibility that customers may not view you as you think they do. As noted in Chapter 5 "Sorting Value", an important element of this assessment is identifying where you currently reside in consumers' minds on the value map. Figure 6.4 "First Priority in Growth Strategy: Assess Your Area A" summarizes this first priority.
Figure 6.4 First Priority in Growth Strategy: Assess Your Area A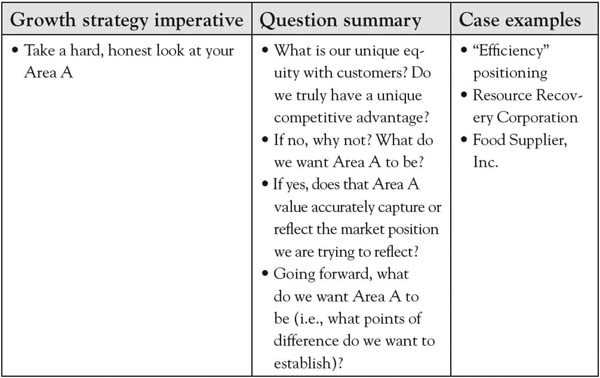 6.5

Exploring Five Growth Imperatives

The strategic positioning assessment is critical in highlighting strategic priorities for the company. In addition, there are some tactical insights that emerge that can be fixed in a straightforward way. The fundamental growth imperatives can be summarized as follows:
Correct obvious, critical deficiencies (Areas E, D)
Solidify Area B
Neutralize Area C
Reduce and eliminate, or reinvigorate, current Areas E and D dimensions
Build and defend Area A
The goal of 3-Circle analysis is to leverage the insight from the initial, structured analysis of customer feedback into a preliminary set of ideas or brainstorms about growth. We will provide a systematic walk-through of these ideas. Figure 6.5 "Growth Imperatives 1 Through 4" summarizes the analysis of the first four growth imperatives.
6.6 Chapter Summary
Let us summarize the chapter's key concepts by returning to the Kindle example from Chapter 5 "Sorting Value". What are the implications of the growth strategy framework for Kindle's possible outlets for growth? We can get some initial speculative insight—subject, of course, to the need for additional research.
Kindle's Area A: Kindle's positioning as a dedicated electronic reader is very clear, as it was essentially the pioneer. Its features build to the core benefits of focused reading and undistracted immersion, as well as inexpensive access to books.
Imperative 1: Correct deficiencies. There may be some borderline deficiencies here, particularly related to navigation. While the system moves relatively quickly, the difficulty of using the tiny joystick can be frustrating both in terms of speed and accuracy of navigation.
Imperative 2: Solidify and update Area B. If book selection is currently roughly equivalent (and limited) between Kindle and iPad, then this may be an area we can expect differences to emerge because it is both important to customers and a function of building and shifting partnerships with publishers, which could quickly add access.
Imperative 3: Neutralize Area C. There is, of course, some overlap here with Imperative 1. We designated navigation as more of a deficiency because it has an immediate, potentially dissatisfying effect in simple operation of the device. Related, but perhaps not as immediately urgent, is the availability of touch-screen technology and color. The point here is not simply to mimic the iPad but to enable design changes that will improve the user experience for the focused purpose. It is conceivable that no changes should be made regarding the Kindle navigation if most users perceive minimal effects on the user experience or if such changes reduced the speed of the device.
Imperative 4: Reduce and eliminate nonvalue. Since the Kindle is already believed to have value because of its simplicity and single purpose, it is fair to suggest that there may be few areas in which to reduce the reading-focused capability. However, it is important to note the mantra of "keeping Kindle simple" is strategically very important, as there may be temptation to gravitate toward greater capability.
Imperative 5: Build and expand Area A. To be selective here, we will focus on an Area G item that is important to readers, particular on niche genres or topics. Collectively, readers demand a large book selection. Currently, each competitor in the eReader market is limited to a select number of publishing relationships. Blogger Damon Brown (cf. note 16) offers the following advice:
There are hundreds of medium-sized (or smaller) publishers available within and outside of the United States. Amazon wisely is going after the smaller guys, too, with its recent royalty (and rights!) heavy contract option appealing to self-publishers, a group Apple didn't acknowledge (during a keynote address).
The development of reading-related applications and more extensive study, which allowed the sizing of benefit and interest segments in the reading market, could be important vehicles for reaching readers more effectively than Apple does.
The importance of the 3-Circle framework is that it allows a systematic walk-through of the dimensions of value currently available on the market and a rigorous review of growth strategy questions with emphasis on all the important value dimensions in the market (but current, known dimensions and those not so well known). The goal is to stay focused on how our organization might build a unique position by developing important value for customers that competitors cannot match. A critical issue in this is the notion of capability—once we develop ideas for building growth strategy, how do we execute them? Capabilities, resources, and assets are the focus of the next chapter.