William Shakespeare and the Wars of the Roses
Throughout the last fifty years of the Middle Ages, England was embroiled in civil strife between two branches of the royal Plantagenet family, the Lancasters and the Yorks. Because the emblem of the Lancasters was the red rose and the emblem of the Yorks was the white rose, these battles were referred to as the Wars of the Roses. Although the Wars of the Roses are usually dated from around 1450 until 1485, the struggle stretched all the way back to the reign of Edward III which ended with his death in 1377 (during the time Chaucer was writing).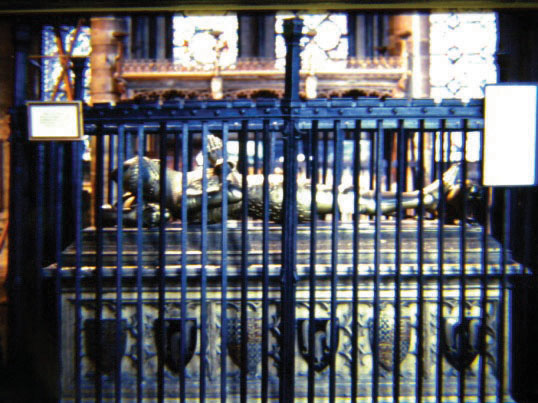 The tomb of Edward the Black Prince in Canterbury Cathedral.
The death of Edward III's oldest son, known as Edward the Black Prince, resulted in conflict between supporters of Richard (Edward III's grandson and Edward the Black Prince's son) and supporters of his third son John of Gaunt (Chaucer's patron) and his descendents (the house of Lancaster). Richard did become King Richard II, but died under mysterious circumstances while imprisoned by his cousin Henry who then became King Henry IV.
In the late 16th century, Shakespeare wrote a series of history plays which chronicled the Wars of the Roses:
| | |
| --- | --- |
| Edward III (attributed to Shakespeare by some scholars) | 1596 |
| Richard II | 1595 |
| Henry IV, Part 1 | 1596–1597 |
| Henry IV, Part 2 | 1597–1598 |
| Henry V | 1598–1599 |
| Henry VI, Part 1 | 1590–1591 |
| Henry VI, Part 2 | 1590–1591 |
| Henry VI, Part 3 | 1591–1592 |
| Richard III | 1592–1593 |
Edward III
Edward III was a politically and militarily strong king who had 4 sons, all of whom had the strong personality and leadership abilities of their father. Had the oldest son, Edward the Black Prince, lived, the Wars of the Roses might never have taken place; the throne would without question have passed to Edward. Edward the Black Prince, however, died before his father, leaving his 10-year-old son Richard as his heir.
During the 14th century, a king still had to be a warrior to hold on to his throne; an important part of a king's job was holding territory against invaders. A boy-king was dependent on his "protectors" to fight his battles for him and to ward off usurpers until he could physically protect himself and his domain.
When King Edward III died, many people felt that the crown should pass not to his 10-year-old grandson Richard, but to one of his other sons, John Duke of Lancaster (red rose) or Edmund Duke of York (white rose). John and Edmund agreed! (Lionel, the second son, had also died, but his descendents were the Nevilles, who by marriage figured prominently in the future royal line.)
The battle for the crown had begun.
Richard II
The grandson Richard was crowned but proved to be a weak, unpopular king. His cousin Henry, son of John Duke of Lancaster, felt that he would be a much better king and that his father really should have been king anyway. Henry staged a rebellion against Richard, captured him, and Richard soon "died" in prison. Henry declared himself King Henry IV.
Henry IV
Henry IV was a strong king who put down 4 separate rebellions led by people who had supported Richard II.
Henry V
Henry V was one of the best of English kings. He recaptured parts of France and sealed the bargain by marrying Katherine, daughter of the French king. England probably could have peacefully united behind Henry V, ending the dynastic conflict. Unfortunately, Henry V died, leaving his infant son Henry as his heir.
Henry VI
Henry VI grew up to be a weak leader, a scholarly, religious man who really wanted to be a priest, not a king. He ignored affairs of state in favor of solitary study and worship. He lost all the lands in France won by his father, and his cousin, Richard Duke of York, soon started a military campaign to overthrow the Lancastrian King Henry VI. Richard and one of his sons were captured and executed by Henry's armies, their heads posted on stakes over Micklegate Bar in the city of York. The surviving sons Edward, George, and Richard continued their father's battle with the substantial help of another cousin, Richard Neville (known as Warwick the Kingmaker). Henry VI's troops were defeated, and he was imprisoned in the Tower of London where he "died" during Edward's reign.
Edward IV
With Henry VI in prison, Edward was crowned King Edward IV. He was a young, tall, handsome man with strong military and political skills, and the English people generally welcomed his leadership. Since Henry VI's only son Edmund (son of Margaret and husband of Anne Neville in Richard III) had been killed in battle, he had the strongest claim to the throne. Both his mother and his father were descendents of Edward III. But again, the death of the father before his sons were of age plunged the country into another war of the red rose of Lancaster and white rose of York. Before he died, Edward IV named his younger brother Richard "protector" of his heir.
Edward V
The 12-year-old son of Edward IV was never officially crowned but is referred to as Edward V. His uncle Richard had him taken to the Tower of London for security reasons, and young Edward V was never seen again. No one knows when or how he and his younger brother Richard died.
Richard III
With all the Lancastrian claimants to the throne dead and all his older Yorkist brothers dead as well, Richard became king. He was soon challenged, however, by Henry Tudor, Earl of Richmond. Henry Tudor had the weakest of claims to the throne. He was a descendent of John of Gaunt and his second wife (who had first been his mistress) and of the wife of Henry V and her second husband, Owen Tudor, a Welsh commoner.
Henry VII
Henry Tudor defeated Richard III in battle at Bosworth Field and was crowned King Henry VII. He married Elizabeth of York, daughter of Edward IV. With his Lancastrian blood and her Yorkist blood, their descendents thus united the two warring factions of the family and established the Tudor dynasty. Their son Henry VIII and his daughter Elizabeth I were two of England's strongest monarchs.
"The rose both white and rede
In one rose now doth growe"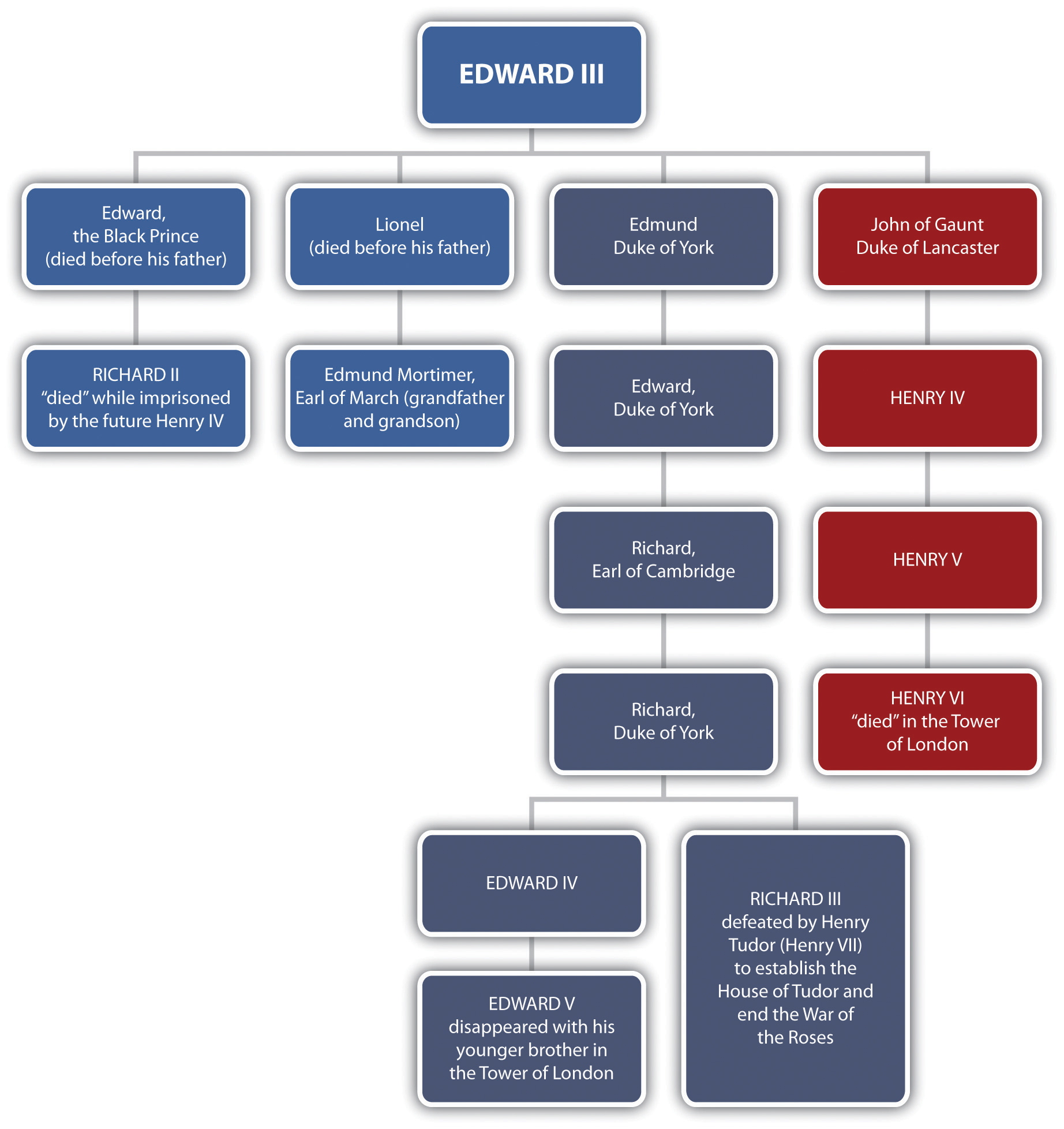 The Wars of the Roses.