If managing diversity effectively has the potential to increase company performance, increase creativity, and create a more satisfied workforce, why aren't all companies doing a better job of encouraging diversity? Despite all the potential advantages, there are also a number of challenges associated with increased levels of diversity in the workforce.
Similarity-Attraction Phenomenon
One of the commonly observed phenomena in human interactions is the tendency for individuals to be attracted to similar individuals. Research shows that individuals communicate less frequently with those who are perceived as different from themselves. They are also more likely to experience emotional conflict with people who differ with respect to race, age, and gender. Individuals who are different from their team members are more likely to report perceptions of unfairness and feel that their contributions are ignored.
The similarity-attraction phenomenonThe tendency to be more attracted to individuals who are similar to us. may explain some of the potentially unfair treatment based on demographic traits. If a hiring manager chooses someone who is racially similar over a more qualified candidate from a different race, the decision will be ineffective and unfair. In other words, similarity-attraction may prevent some highly qualified women, minorities, or persons with disabilities from being hired. Of course, the same tendency may prevent highly qualified Caucasian and male candidates from being hired as well, but given that Caucasian males are more likely to hold powerful management positions in today's U.S.-based organizations, similarity-attraction may affect women and minorities to a greater extent. Even when candidates from minority or underrepresented groups are hired, they may receive different treatment within the organization. For example, research shows that one way in which employees may get ahead within organizations is through being mentored by a knowledgeable and powerful mentor. Yet, when the company does not have a formal mentoring program in which people are assigned a specific mentor, people are more likely to develop a mentoring relationship with someone who is similar to them in demographic traits. This means that those who are not selected as protégés will not be able to benefit from the support and advice that would further their careers. Similarity-attraction may even affect the treatment people receive daily. If the company CEO constantly invites a male employee to play golf with him while a female employee never receives the invitation, the male employee may have a serious advantage when important decisions are made.
Why are we more attracted to those who share our demographic attributes? Demographic traits are part of what makes up surface-level diversityTraits that are highly visible to us and those around us, such as race, gender, and age.. Surface-level diversity includes traits that are highly visible to us and those around us, such as race, gender, and age. Researchers believe that people pay attention to surface diversity because they are assumed to be related to deep-level diversityDiversity in values, beliefs, and attitudes., which includes values, beliefs, and attitudes. We want to interact with those who share our values and attitudes, but when we meet people for the first time, we have no way of knowing whether they share similar values. As a result, we tend to use surface-level diversity to make judgments about deep-level diversity. Research shows that surface-level traits affect our interactions with other people early in our acquaintance with them, but as we get to know people, the influence of surface-level traits is replaced by deep-level traits such as similarity in values and attitudes. Age, race, and gender dissimilarity are also stronger predictors of employee turnover during the first few weeks or months within a company. It seems that people who are different from others may feel isolated during their early tenure when they are dissimilar to the rest of the team, but these effects tend to disappear as people stay longer and get to know other employees.
Figure 2.3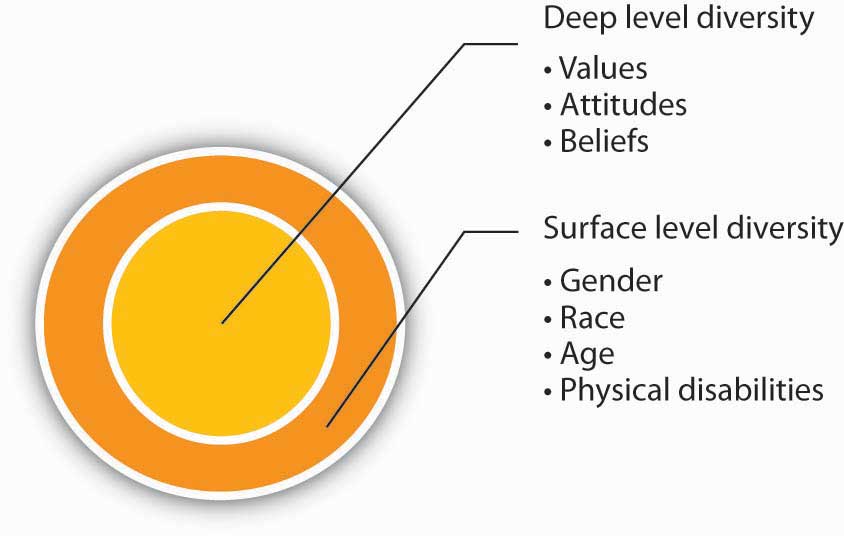 Individuals often initially judge others based on surface-level diversity. Over time, this effect tends to fade and is replaced by deep-level traits such as similarity in values and attitudes.
As you may see, while similarity-attraction may put some employees at a disadvantage, it is a tendency that can be managed by organizations. By paying attention to employees early in their tenure, having formal mentoring programs in which people are assigned mentors, and training managers to be aware of the similarity-attraction tendency, organizations can go a long way in dealing with potential diversity challenges.
Faultlines
A faultlineAn attribute along which a group is split into subgroups. is an attribute along which a group is split into subgroups. For example, in a group with three female and three male members, gender may act as a faultline because the female members may see themselves as separate from the male members. Now imagine that the female members of the same team are all over 50 years old and the male members are all younger than 25. In this case, age and gender combine to further divide the group into two subgroups. Teams that are divided by faultlines experience a number of difficulties. For example, members of the different subgroups may avoid communicating with each other, reducing the overall cohesiveness of the team. Research shows that these types of teams make less effective decisions and are less creative. Faultlines are more likely to emerge in diverse teams, but not all diverse teams have faultlines. Going back to our example, if the team has three male and three female members, but if two of the female members are older and one of the male members is also older, then the composition of the team will have much different effects on the team's processes. In this case, age could be a bridging characteristic that brings together people divided across gender.
Research shows that even groups that have strong faultlines can perform well if they establish certain norms. When members of subgroups debate the decision topic among themselves before having a general group discussion, there seems to be less communication during the meeting on pros and cons of different alternatives. Having a norm stating that members should not discuss the issue under consideration before the actual meeting may be useful in increasing decision effectiveness.
Figure 2.4

The group on the left will likely suffer a strong faultline due to the lack of common ground. The group to the right will likely only suffer a weak faultline because the men and women of the different groups will likely identify with each other.
Stereotypes
An important challenge of managing a diverse workforce is the possibility that stereotypes about different groups could lead to unfair decision making. StereotypesGeneralizations about a particular group of people. are generalizations about a particular group of people. The assumption that women are more relationship oriented, while men are more assertive, is an example of a stereotype. The problem with stereotypes is that people often use them to make decisions about a particular individual without actually verifying whether the assumption holds for the person in question. As a result, stereotypes often lead to unfair and inaccurate decision making. For example, a hiring manager holding the stereotype mentioned above may prefer a male candidate for a management position over a well-qualified female candidate. The assumption would be that management positions require assertiveness and the male candidate would be more assertive than the female candidate. Being aware of these stereotypes is the first step to preventing them from affecting decision making.