The first step in production planning is deciding which type of production process is best for making the goods that your company intends to manufacture. In reaching this decision, you should answer such questions as the following:
One way to appreciate the nature of this decision is by comparing three basic types of processes or methods: make-to-order, mass production, and mass customization. The task of the operations manager is to work with other managers, particularly marketers, to select the process that best serves the needs of the company's customers.
Make-to-Order
At one time, most consumer goods, such as furniture and clothing, were made by individuals practicing various crafts. By their very nature, products were customized to meet the needs of the buyers who ordered them. This process, which is called a make-to-order strategyProduction method in which products are made to customer specification., is still commonly used by such businesses as print or sign shops that produce low-volume, high-variety goods according to customer specifications.
Mass Production
Figure 11.2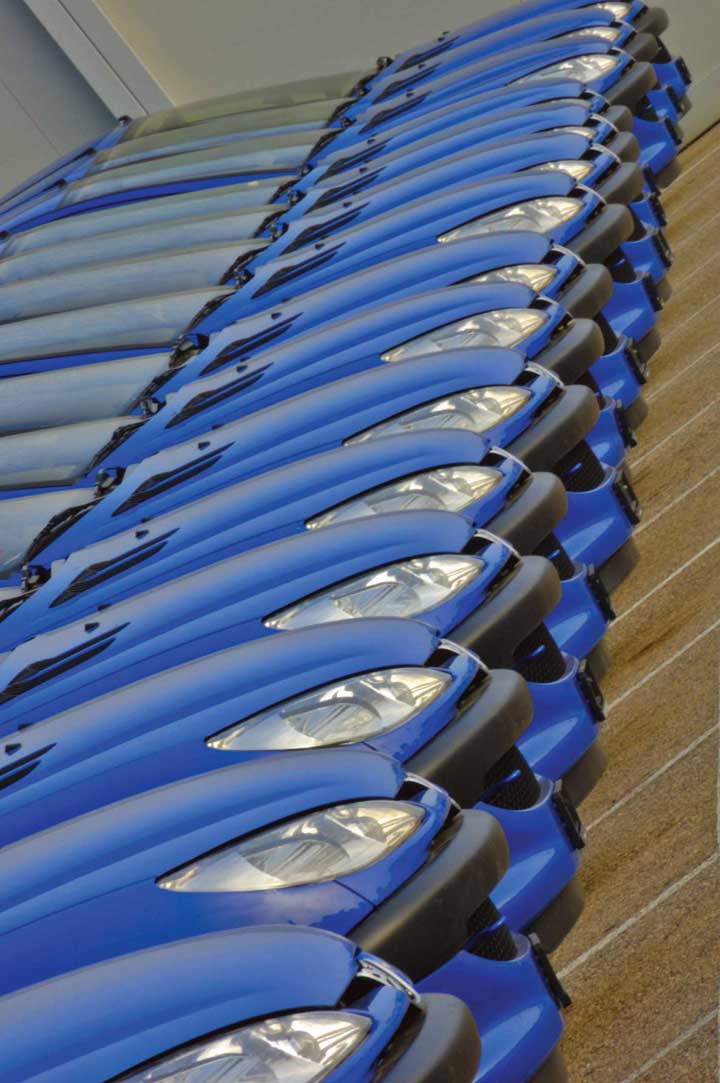 Automakers produce a high volume of cars in anticipation of future demand.
By the early twentieth century, however, a new concept of producing goods had been introduced: mass production (or make-to-stock strategy)Production method in which high volumes of products are made at low cost and held in inventory in anticipation of future demand. is the practice of producing high volumes of identical goods at a cost low enough to price them for large numbers of customers. Goods are made in anticipation of future demand (based on forecasts) and kept in inventory for later sale. This approach is particularly appropriate for standardized goods ranging from processed foods to electronic appliances.
Mass Customization
But there's a disadvantage to mass production: customers, as one contemporary advertising slogan puts it, can't "have it their way." They have to accept standardized products as they come off assembly lines. Increasingly, however, customers are looking for products that are designed to accommodate individual tastes or needs but can still be bought at reasonable prices. To meet the demands of these consumers, many companies have turned to an approach called mass customizationProduction method in which fairly high volumes of customized products are made at fairly low prices., which (as the term suggests) combines the advantages of customized products with those of mass production.
This approach requires that a company interact with the customer to find out exactly what the customer wants and then manufacture the good, using efficient production methods to hold down costs. One efficient method is to mass-produce a product up to a certain cut-off point and then to customize it to satisfy different customers.
The list of companies devoting at least a portion of their operations to mass customization is growing steadily. One of the best-known mass customizer is Nike, which has achieved success by allowing customers to configure their own athletic shoes, apparel, and equipment through Nike's iD program. The Web has a lot to do with the growth of mass customization. Levi's, for instance, lets a woman find a pair of perfect fitting jeans by going through an online fitting process that first identifies her "curve" type: slight (straight figure), demi (evenly proportioned), bold (curvy figure, which experiences waist gapping in the back), and supreme (curviest shape, which needs a higher rise in the back). Oakley offers customized sunglasses, goggles, watches, and backpacks, while Mars, Inc. can make M&M's in any color the customer wants (say, school colors) as well as add text and pictures to the candy.
Naturally, mass customization doesn't work for all types of goods. Most people don't care about customized detergents or paper products (although a customized Kleenex tissue box with your picture on it and a statement that says, "go ahead…cry over me!" might come in handy after a relationship breakup with your significant other.) And while many of us like the idea of customized clothes, footwear, or sunglasses from Levi's, Nike, or Oakley, we often aren't willing to pay the higher prices they command.