If you plan to do business in a foreign country, you need to know its level of economic development. You also should be aware of factors influencing the value of its currency and the impact that changes in that value will have on your profits.
Economic Development
If you don't understand a nation's level of economic development, you'll have trouble answering some basic questions, such as, Will consumers in this country be able to afford the product I want to sell? How many units can I expect to sell? Will it be possible to make a reasonable profit? A country's level of economic development can be evaluated by estimating the annual income earned per citizen. The World Bank, which lends money for improvements in underdeveloped nations, divides countries into four income categories:World Bank Group, "Country Classification," Data: Country and Lending Groups, http://data.worldbank.org/about/country-classifications/country-and-lending-groups (accessed August 22, 2011).
High income—$12,276 or higher (United States, Germany, Japan)
Upper-middle income—$3,976 to $12,275 (China, South Africa, Mexico)
Lower-middle income—$1,006 to $3,975 (Vietnam, Philippines, India)
Low income—$1,005 or less (Kenya, Bangladesh, Haiti)
Note that that even though a country has a low annual income per citizen, it can still be an attractive place for doing business. India, for example, is a lower-middle-income country, yet it has a population of a billion, and a segment of that population is well educated—an appealing feature for many business initiatives.
The long-term goal of many countries is to move up the economic development ladder. Some factors conducive to economic growth include a reliable banking system, a strong stock market, and government policies to encourage investment and competition while discouraging corruption. It's also important that a country have a strong infrastructure—its systems of communications (telephone, Internet, television, newspapers), transportation (roads, railways, airports), energy (gas and electricity, power plants), and social facilities (schools, hospitals). These basic systems will help countries attract foreign investors, which can be crucial to economic development.
Currency Valuations and Exchange Rates
If every nation used the same currency, international trade and travel would be a lot easier. Unfortunately, this is not the case. There are about 175 currencies in the world: Some you've heard of, such as the British pound; others are likely unknown to you, such as the manat, the official currency of Azerbaijan, a small nation in Southwest Asia. Let's pretend you suddenly find yourself in Azerbaijan and all you have with you is a credit card (which none of the restaurants or hotels will take) and U.S. dollars (which no one wants either). How can you get some Azerbaijani manats so you can buy a good meal and check into a hotel? If it's during the day, you're in luck. Head to the closest bank and ask someone there who speaks English to exchange your dollars for Azerbaijan manats. If you give the bank clerk $300 (all of your travel money), don't expect to get back 300 manats; the two currencies are not equal. To determine how much Azerbaijan money you'll get in exchange for your $300, the bank clerk will look up the day's foreign exchange rateValue of one currency relative to another.—which tells you how much one currency is worth relative to another currency. If today were August 23, 2011, the clerk would find an exchange rate of 1 U.S. dollar equals .79 manats (which means that you get 79 manats for every dollar you give to the bank clerk). In other words, when you hand the clerk your $300 you'll get back only 235 manats (.79 × $300). Most likely, the deal does not sound good to you, but you have no choice—that's what the exchange rate is. Plus, you're lucky that it's during the day and the banks are open: sleeping outside in Azerbaijan with an empty stomach doesn't sound like fun, although it would give you time to wonder what would happen if an Azerbaijani traveled to the United States. When the traveler goes to exchange manats for U.S. dollars, he or she will get back $1.27 for each manat. Exchanging 300 manats for U.S. dollars yields $381 in U.S. dollars (1.27097 × $300). Well, this doesn't sound fair. Why did you receive fewer manats for your U.S. dollars while the Azerbaijan traveler received more dollars for his or her manats? It is because the U.S. dollar is weak relative to the Azerbaijan manat. There are many reasons for the weakness of the U.S. dollar, but one possible culprit is the huge $14 trillion debt (and rising) carried by the United States. And if you are looking for things to get upset about, your share of this huge U.S. debt is about $47,000 (and rising).National Debt Clock, http://www.usdebtclock.org/ (accessed August 23, 2011).
Now, we'll look at two business examples. First, let's say that your business is importing watches from Switzerland. Because the watchmaker will want to be paid in Swiss francs, you have to figure out how many U.S. dollars you'll need to buy the francs with which to pay the watchmaker. You'd start by finding out the exchange rate between the Swiss franc and the U.S. dollar.
Figure 3.8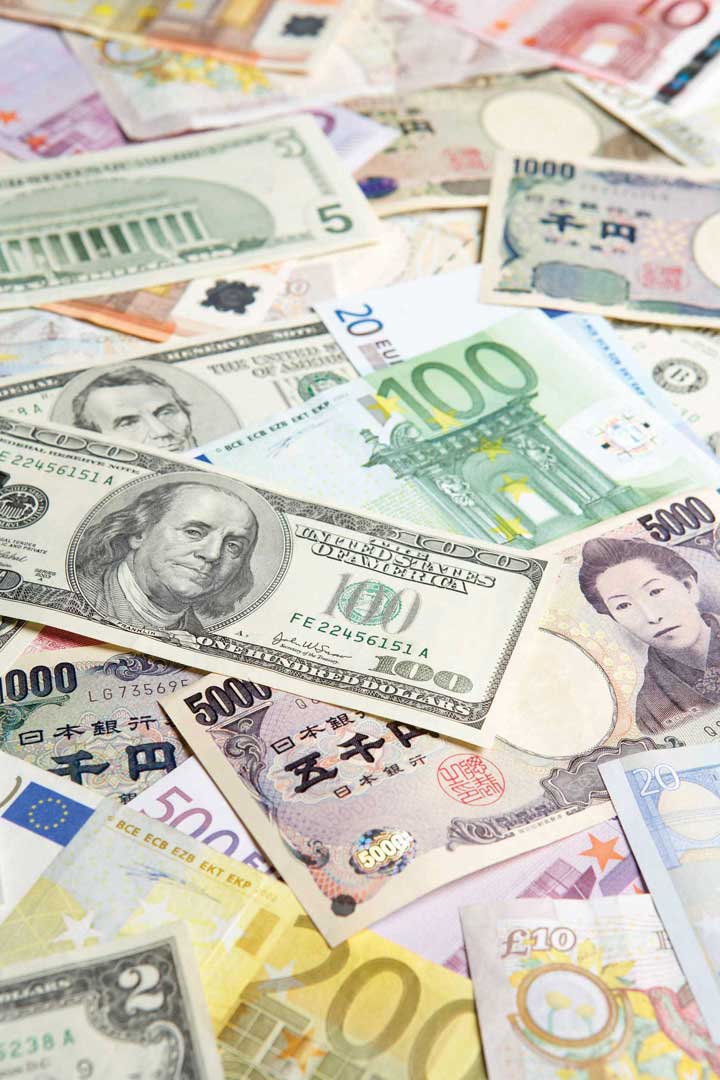 Understanding currency values and exchange rates is important to understanding how global business functions.
You could simply look in a newspaper or go to any number of Web sites—say, http://www.oanda.com to get the current exchange rate. To keep things simple, let's assume that the exchange rate is 1 Swiss franc = US$1.27 (i.e., 1 Swiss franc is worth $1.27). Let's also assume that you owe the Swiss watchmaker 1,000 francs. Doing some quick math, you figure that it will take $1,270 to buy 1,000 francs (1,000 francs × the exchange rate of 1.27 = $1,270).
Now let's say that you don't have the cash flow to pay the watchmaker for two weeks. When you check the exchange rate two weeks later, you find that it has gone up to 1 Swiss franc = $1.37. Are you better off or worse off? It's easy to check: 1,000 francs × the new exchange rate of 1.37 = $1,370. You've just learned the hard way that when the value of the franc relative to the dollar goes up, it costs you more to buy something from Switzerland. You probably can't help but wonder what would have happened if the value of the franc relative to the dollar had gone down—say, to $1.17 per franc. At this rate, you'd need only $1,170 to pay the 1,000 francs (1,000 × 1.17). In other words, when the value of the franc relative to the dollar drops, it costs less to buy goods from Switzerland. In sum you've learned the following:
If a foreign currency goes up relative to the U.S. dollar, Americans must pay more for goods and services purchased from sellers in the country issuing the currency (foreign products are more expensive). This is bad for exporters who have to pay more for the foreign-made goods they buy to bring back to the United States to sell.
If a foreign currency goes down relative to the U.S. dollar, Americans pay less for products from the country issuing the currency (foreign products are cheaper).
In the interest of being thorough, let's look at this phenomenon from the perspective of an American seller and a Swiss buyer. First, we need to know the exchange rate for the U.S. dollar relative to the franc, which happens to be .79 francs = US$1. This means that if you want to sell something—let's say your latest painting—for $1,000 U.S. to an art lover in Switzerland, the Swiss buyer will need only 790 francs to get the $1,000 needed to pay you. If the exchange rate went up to .89 francs = US$1, the cost of the painting would be $890. If the exchange rate went down to .69 francs = US$1, the cost of the painting would be $690. So now you also know the following:
If the U.S. dollar goes up relative to a foreign currency, foreign buyers must pay more for American goods and services (they become more expensive).
If the U.S. dollar goes down relative to a foreign currency, foreign buyers pay less for American products (they become cheaper). This is good for importers as their "cheaper" goods are more attractive to customers in the foreign country.