As social creatures, human beings like to "fit in" and belong to groups. These group memberships help us define our identity. Both individuals and groups influence our attitudes toward products in profound ways.
Opinion Leaders
Most of us eagerly solicit others' opinions about brands, but we don't pay attention to just anyone. An opinion leaderA person who is frequently able to influence others' attitudes or behaviors. is a person who is frequently able to influence others' attitudes or behaviors.Everett M. Rogers, Diffusion of Innovations, 3rd ed. (New York: Free Press, 1983). Advertisers like to reach opinion leaders when they can, so they can enlist these individuals to help them spread the word on their behalf. For example, the BzzAgent word-of-mouth network identifies people who like to talk to others about products. The company recruits BzzAgents at its Web site (http://www.bzzagent.com), where it invites prospective agents to be "part of a growing international network of over 425,000 consumers" who share their honest opinions about its clients' products with people they know.http://www.bzzagent.com/signup/NewAgentSignup.do (accessed July 8, 2008).
Figure 4.10 BzzAgents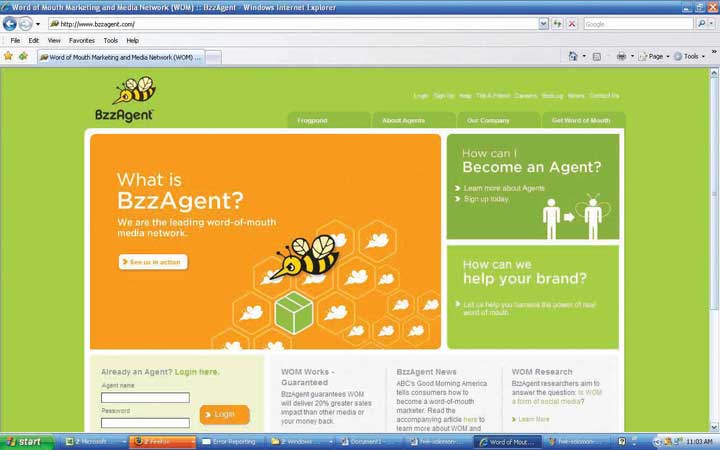 In addition, opinion leaders also are likely to be opinion seekersA person who is involved in a product category and actively searches for information.. They are generally more involved in a product category and actively search for information. As a result, they are more likely to talk about products with others and to solicit others' opinions as well.Laura J. Yale and Mary C. Gilly, "Dyadic Perceptions in Personal Source Information Search," Journal of Business Research 32 (1995): 225–37. Contrary to an outmoded, static view of opinion leadership, most product-related conversation does not take place in a "lecture" format in which one person does all of the talking. A lot of product-related conversation occurs in the context of a casual interaction rather than as formal instruction.Russell W. Belk, "Occurrence of Word-of-Mouth Buyer Behavior as a Function of Situation and Advertising Stimuli," in Combined Proceedings of the American Marketing Association, series no. 33, ed. Fred C. Allvine (Chicago: American Marketing Association, 1971): 419–22.
The Market Maven
Opinion leaders tend to "specialize" in a category (e.g., fashion or electronics), while a market mavenA person who likes to transmit marketplace information of all types; a shopaholic. likes to transmit marketplace information of all types. These shopaholics simply like to stay on top of what's happening in the marketplace.For discussion of the market maven construct, see Lawrence F. Feick and Linda L. Price, "The Market Maven," Managing (July 1985): 10; scale items adapted from Lawrence F. Feick and Linda L. Price, "The Market Maven: A Diffuser of Marketplace Information," Journal of Marketing 51 (January 1987): 83–87. They are likely to strongly agree with statements like "I like helping people by providing them with information about many kinds of products" and "My friends think of me as a good source of information when it comes to new products or sales." Anyone you know?
The Surrogate Consumer
Unlike an informal opinion leader, a surrogate consumerA person who is hired by others to provide input into their purchase decisions. is a person whom we hire to provide input into our purchase decisions. These include interior decorators, stockbrokers, professional shoppers, and even college consultants who help prospective students identify schools that will be the best match for them. Surrogates can exert a huge influence on consumers' decisions. Advertisers tend to overlook surrogates when they try to convince consumers to buy their goods or services. This can be a big mistake: they may mistarget their communications to end consumers instead of to the surrogates who actually sift through product information and decide among product alternatives. For example, in many cases (particularly for more affluent people) it's an interior designer who makes a lot of decisions about the furnishings a client will put into a room; the client just writes the check.Michael R. Solomon, "The Missing Link: Surrogate Consumers in the Marketing Chain," Journal of Marketing 50 (October 1986): 208–18.