Comprehensive Problem
This problem will carry through several chapters, building in difficulty. It allows students to continuously practice skills and knowledge learned in previous chapters.
In Chapter 14 "In a Set of Financial Statements, What Information Is Conveyed about Noncurrent Liabilities Such as Bonds?", you prepared Webworks statements for February. They are included here as a starting point for March.
Figure 15.21 Webworks Financial Statements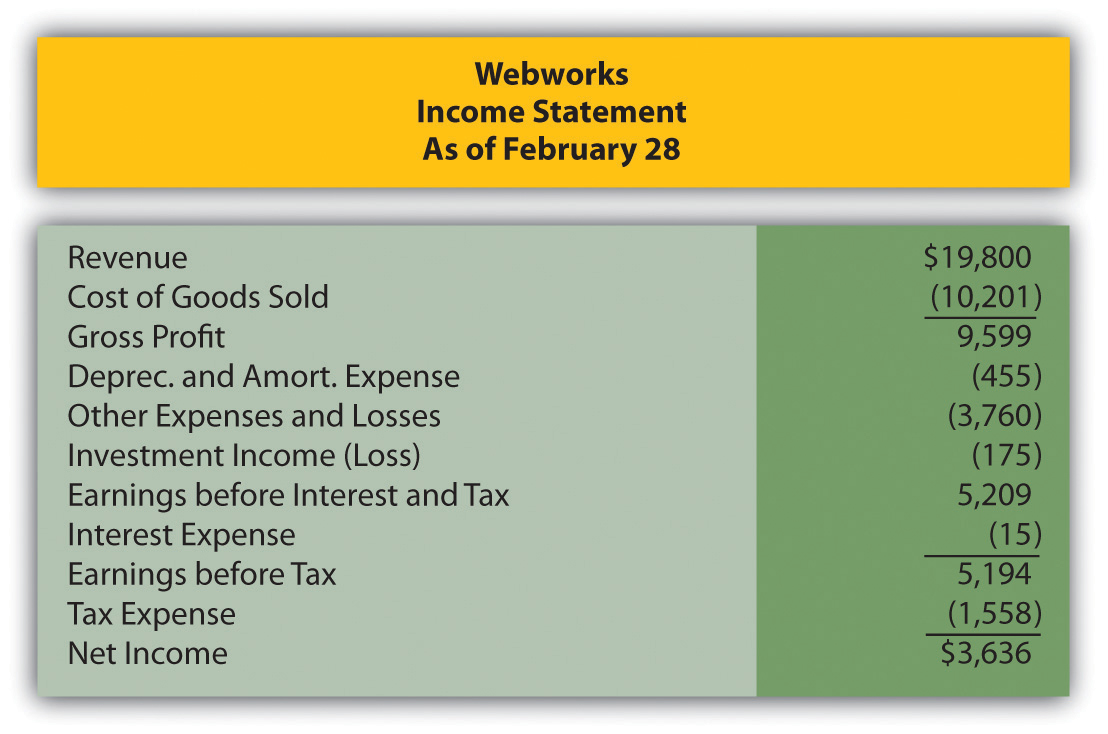 Figure 15.22

Figure 15.23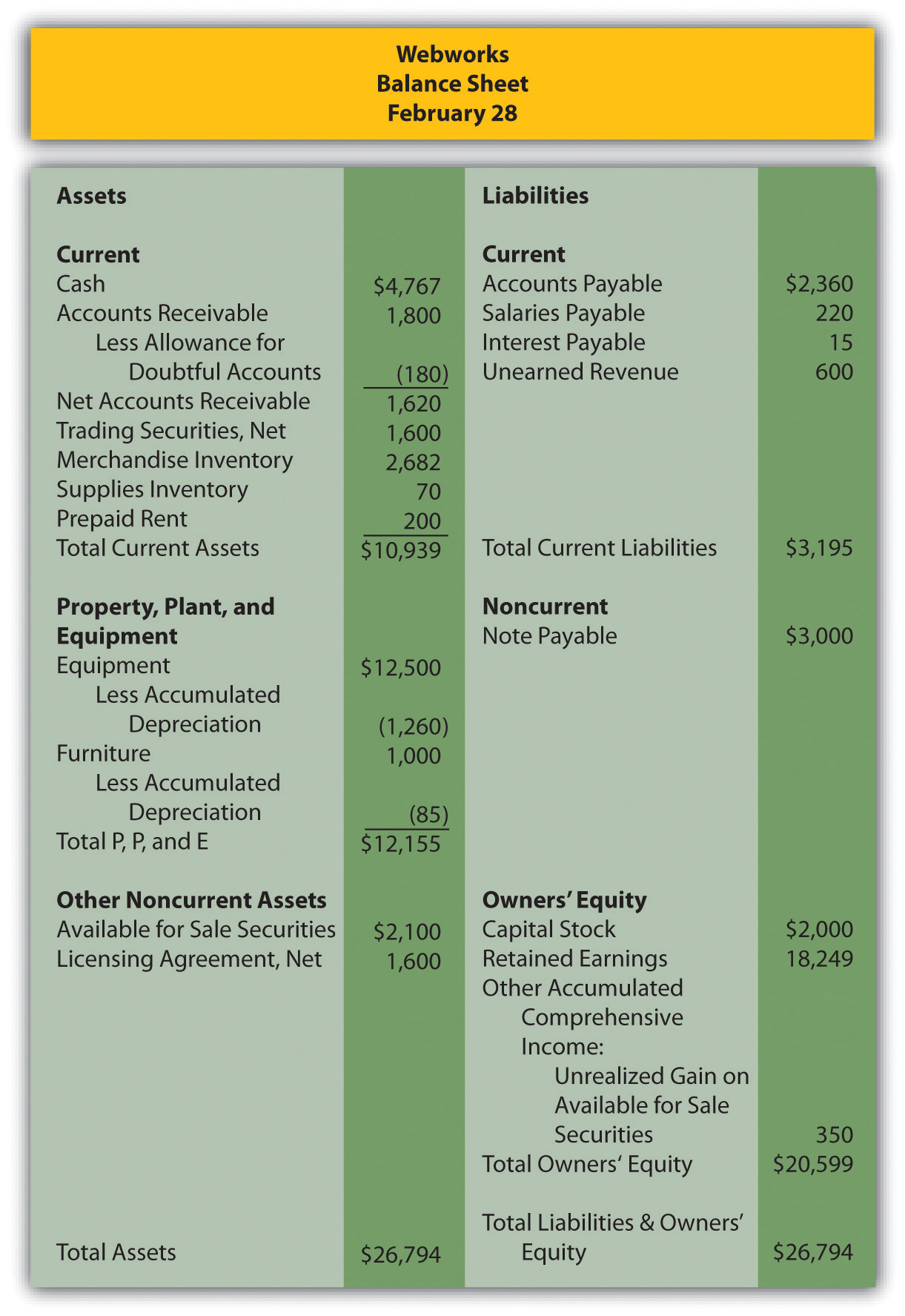 The following events occur during March:
a. Webworks starts and completes seven more Web sites and bills clients for $5,000.
b. Webworks purchases supplies worth $110 on account.
c. At the beginning of March, Webworks had nineteen keyboards costing $118 each and twenty flash drives costing $22 each. Webworks uses periodic FIFO to cost its inventory.
d. On account, Webworks purchases 80 keyboards for $120 each and 100 flash drives for $23 each.
e. Webworks sells eighty-five keyboards for $12,750 and ninety-two of the flash drives for $2,760 cash.
f. Webworks collects $5,000 in accounts receivable.
g. Webworks pays off $12,000 of its accounts payable.
h. Leon determines that some of his equipment is not being used and sells it. The equipment sold originally cost $2,000 and had accumulated depreciation of $297. Webworks sold the equipment for $1,650 cash.
i. Webworks pays Nancy $750 for her work during the first three weeks of March.
j. Leon and Nancy are having trouble completing all their work now that the business has grown. Leon hires another assistant, Juan. Webworks pays Juan $550 for his help during the first three weeks of March.
k. Webworks writes off an account receivable from December in the amount of $200 because collection appears unlikely.
l. Webworks pays off its salaries payable from March.
m. Webworks pays Leon a salary of $3,500.
n. Webworks completes the design for the bakery, but not the photographer for which it was paid in February. Only $300 of the unearned revenue should be reclassified to revenue.
o. Webworks decides that more space is needed than that which is available in the home of Leon's parents (much to his parents' relief). His parents return the $200 he prepaid for March. Webworks signs a six-month lease in a nearby office building. Webworks will pay $500 at the beginning of each month, starting on March 1. The life of the building is forty years, and no bargain purchase option exists, nor do the payments come close to paying the market value of the space.
p. Webworks pays taxes of $580 in cash.
Required:
A. Prepare journal entries for the above events.
B. Post the journal entries to T-accounts.
C. Prepare an unadjusted trial balance for Webworks for March.
D. Prepare adjusting entries for the following and post them to your T-accounts.
q. Webworks owes Nancy $200 and Juan $150 for their work during the last week of March.
r. Webworks receives an electric bill for $400. Webworks will pay the bill in April.
s. Webworks determines that it has $50 worth of supplies remaining at the end of March.
t. Webworks is continuing to accrue bad debts at 10 percent of accounts receivable.
u. Webworks continues to depreciate its equipment over five years and its furniture over five years, using the straight-line method.
v. The license agreement should be amortized over its one-year life.
w. QRS Company is selling for $13 per share and RST Company is selling for $18 per share on March 31.
x. Interest should be accrued for March.
y. Record cost of goods sold.
E. Prepare an adjusted trial balance.
F. Prepare financial statements for March.