Comprehensive Problem
This problem will carry through several chapters, building in difficulty. It allows students to continuously practice skills and knowledge learned in previous chapters.
In Chapter 12 "In a Set of Financial Statements, What Information Is Conveyed about Equity Investments?", you prepared Webworks statements for December. They are included here as a starting point for January.
Figure 13.26 Webworks Financial Statements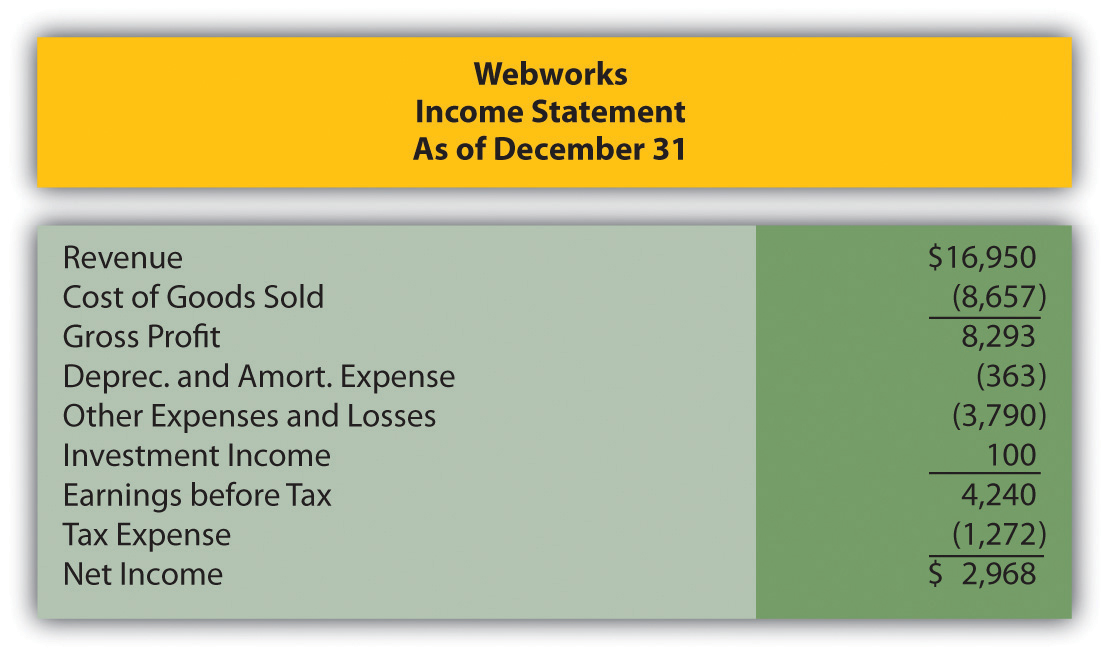 Figure 13.27

Figure 13.28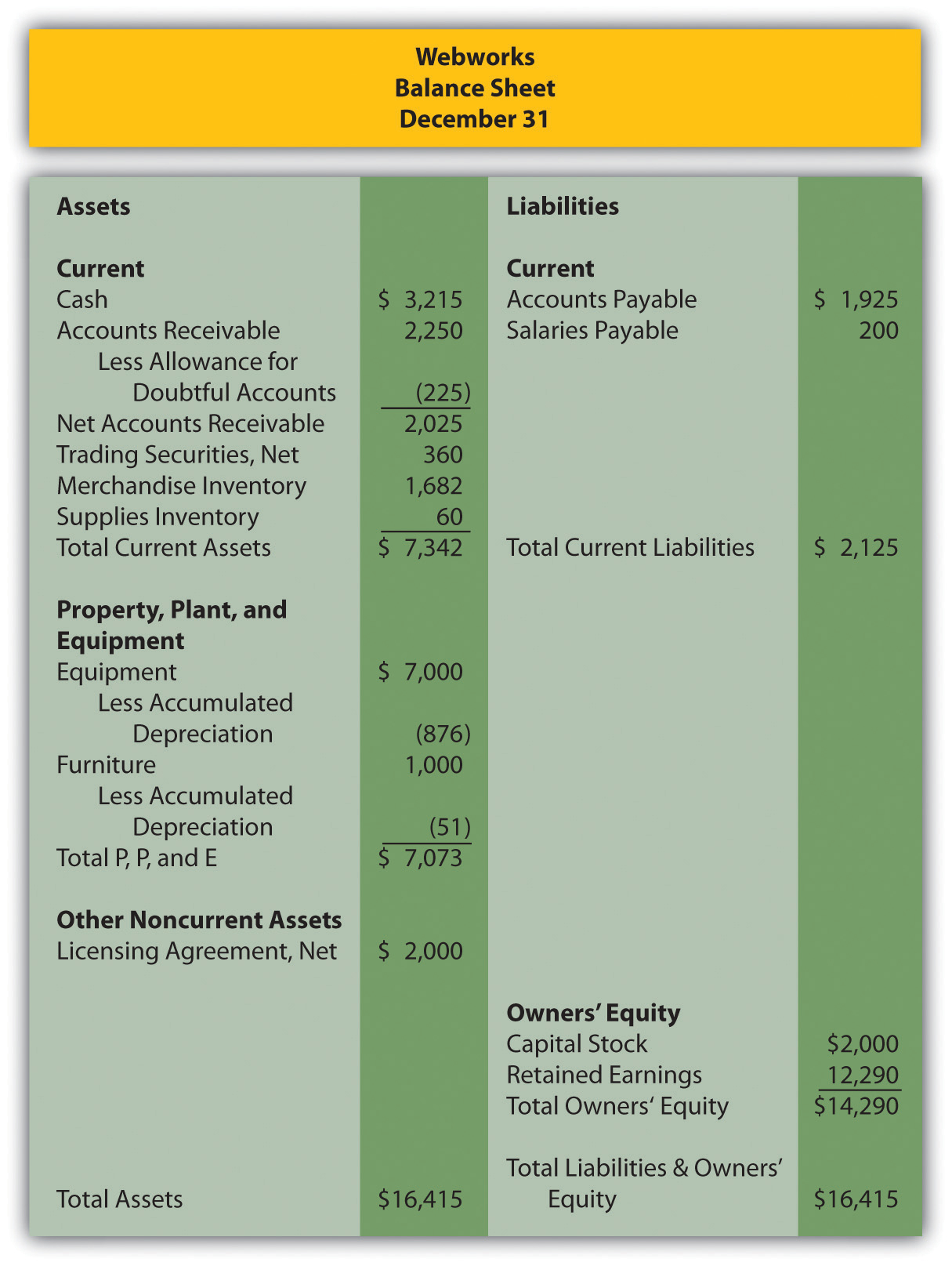 The following events occur during January:
a. Webworks starts and completes seven more Web sites and bills clients for $4,500.
b. Webworks purchases supplies worth $100 on account.
c. At the beginning of January, Webworks had fourteen keyboards costing $113 each and twenty flash drives which had been written down to $5 each in December due to obsolescence. Webworks uses periodic FIFO to cost its inventory.
d. On account, Webworks purchases sixty-five keyboards for $117 each and ninety of the new flash drives for $20 each.
e. Webworks pays Nancy $775 for her work during the first three weeks of January.
f. Webworks writes off an account receivable from October in the amount of $150 because collection appears unlikely.
g. Webworks receives $450 in advance to design a Web site for a local salon. Work won't begin on the Web site until February.
h. Webworks sells sixty keyboards for $9,000, all twenty of the old flash drives for $100 and eighty of the new flash drives for $2,400 cash.
i. During January, Webworks receives notice that one of its former clients is not happy with the work performed. When Webworks refuses to refund the client's money, the client decides to sue for what he paid plus damages for his "pain and suffering," which comes to $5,000. An attorney friend of Leon's mom believes that the suit is without merit and that Webworks probably will not have to pay anything.
j. Webworks collects $5,000 in accounts receivable.
k. During January, Webworks sells all of its stock in XYZ Company for $8 per share. Webworks had originally purchased sixty shares for $5 and they were selling for $6 per share on the last balance sheet date.
l. Webworks pays $200 for advertising that will run over the next two months.
m. Webworks pays off its salaries payable from December.
n. Webworks purchased 175 shares of QRS Company for $10 per share. Webworks considers this an available for sale security.
o. Webworks pays off $9,000 of its accounts payable.
p. Webworks pays Leon a salary of $2,000.
q. Webworks prepays $600 for rent for the months of January, February, and March.
r. QRS Company pays Webworks a dividend of $30.
s. Webworks pays taxes of $1,000 in cash.
Required:
A. Prepare journal entries for the above events.
B. Post the journal entries to T-accounts.
C. Prepare an unadjusted trial balance for Webworks for January.
D. Prepare adjusting entries for the following and post them to your T-accounts.
t. Webworks owes Nancy $200 for her work during the last week of January.
u. Leon's parents let him know that Webworks owes $320 toward the electricity bill. Webworks will pay them in February.
v. Webworks determines that it has $40 worth of supplies remaining at the end of January.
w. Prepaid rent should be adjusted for January's portion.
x. Prepaid advertising should be adjusted for January's portion.
y. Webworks is continuing to accrue bad debts at 10 percent of accounts receivable.
z. Webworks continues to depreciate its equipment over four years and its furniture over five years, using the straight-line method.
i. The license agreement should be amortized over its one-year life.
ii. QRS Company is selling for $9 per share on January 31.
iii. Record cost of goods sold.
E. Prepare an adjusted trial balance.
F. Prepare financial statements for January.