Comprehensive Problem
This problem will carry through several chapters, building in difficulty. It allows students to continuously practice skills and knowledge learned in previous chapters.
In Chapter 10 "In a Set of Financial Statements, What Information Is Conveyed about Property and Equipment?", you prepared Webworks statements for October. They are included here as a starting point for November.
Figure 11.12 Webworks Financial Statements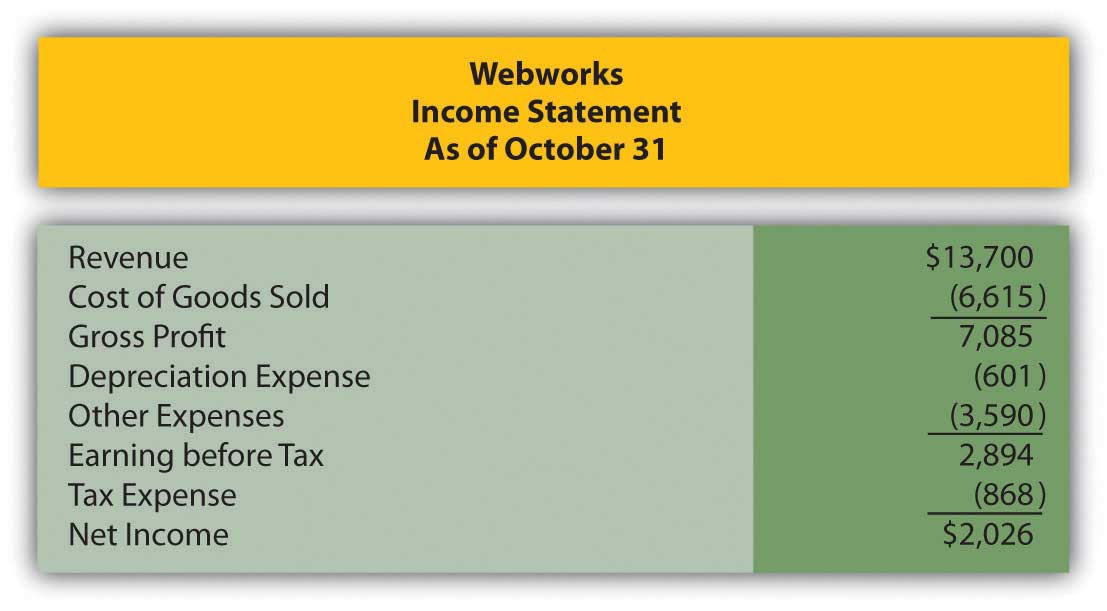 Figure 11.13

Figure 11.14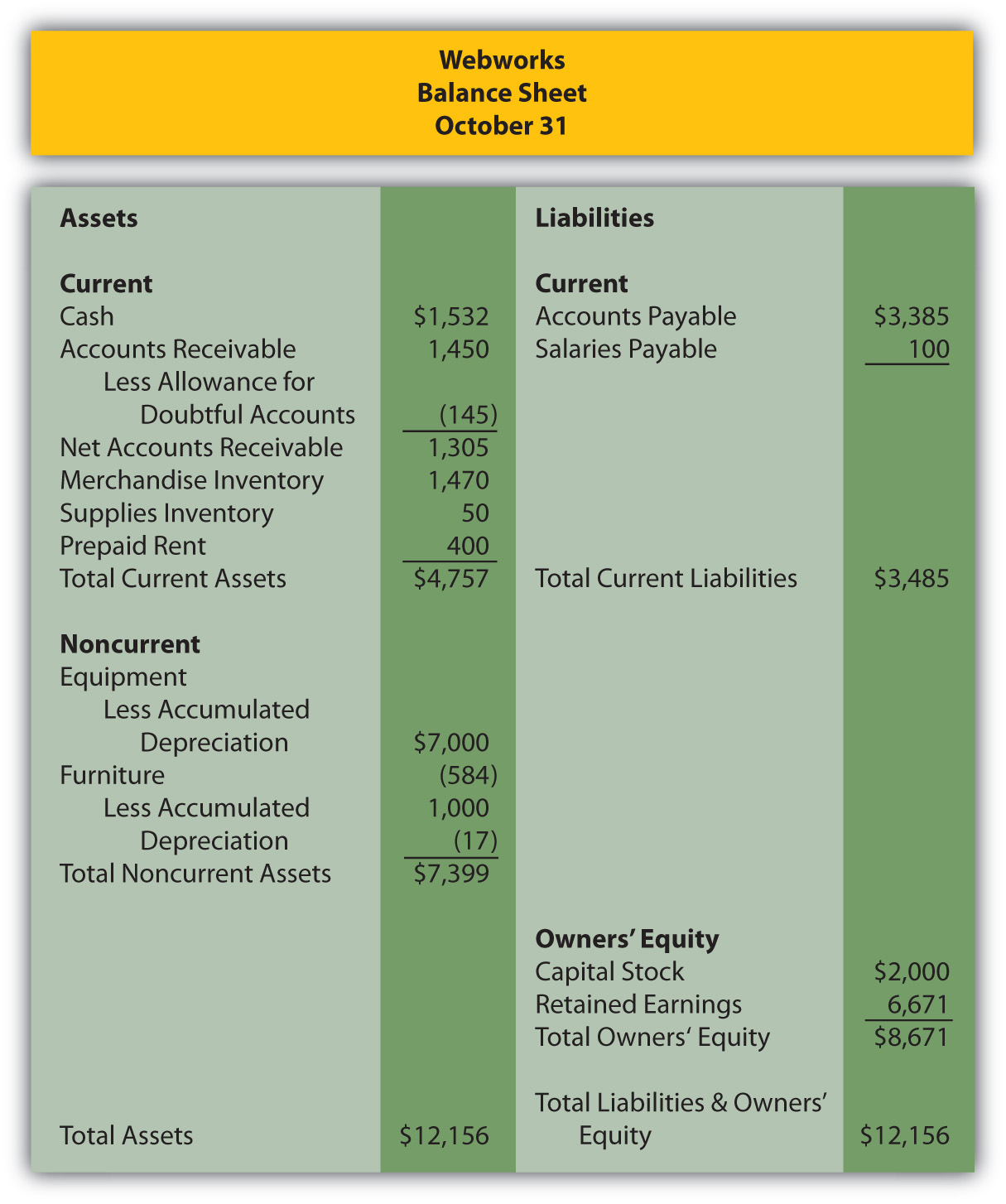 The following events occur during November:
a. Webworks starts and completes eight more Web sites and bills clients for $4,600.
b. Webworks purchases supplies worth $80 on account.
c. At the beginning of November, Webworks had nine keyboards costing $110 each and forty flash drives costing $12 each. Webworks uses periodic FIFO to cost its inventory.
d. On account, Webworks purchases sixty keyboards for $111 each and ninety flash drives for $13 each.
e. Webworks pays Nancy $800 for her work during the first three weeks of October.
f. Webworks sells 60 keyboards for $9,000 and 120 flash drives for $2,400 cash.
g. A local realtor pays $400 in advance for a Web site. It will not be completed until December.
h. Leon read about a new program that could enhance the Web sites Webworks is developing for clients. He decides to purchase a license to be able to use the program for one year by paying $2,400 cash. This is called a "license agreement" and is an intangible asset.
i. Webworks collects $4,200 in accounts receivable.
j. Webworks pays off its salaries payable from November.
k. Webworks pays off $9,000 of its accounts payable.
l. Webworks pays Leon a salary of $2,000.
m. Webworks wrote off an uncollectible account in the amount of $100.
n. Webworks pays taxes of $1,135 in cash.
Required:
A. Prepare journal entries for the above events.
B. Post the journal entries to T-accounts.
C. Prepare an unadjusted trial balance for Webworks for November.
D. Prepare adjusting entries for the following and post them to your T-accounts.
o. Webworks owes Nancy $150 for her work during the last week of November.
p. Leon's parents let him know that Webworks owes $290 toward the electricity bill. Webworks will pay them in December.
q. Webworks determines that it has $20 worth of supplies remaining at the end of November.
r. Prepaid rent should be adjusted for November's portion.
s. Webworks is continuing to accrue bad debts at 10 percent of accounts receivable.
t. Webworks continues to depreciate its equipment over four years and its furniture over five years, using the straight-line method.
u. The license agreement should be amortized over its one-year life.
v. Record cost of goods sold.
E. Prepare an adjusted trial balance.
F. Prepare financial statements for November.