Comprehensive Problem
This problem will carry through several chapters, building in difficulty. It allows students to continuously practice skills and knowledge learned in previous chapters.
In Chapter 9 "Why Does a Company Need a Cost Flow Assumption in Reporting Inventory?", you prepared Webworks statements for September. They are included here as a starting point for October.
Here are Webworks financial statements as of September 30.
Figure 10.20
Figure 10.21

Figure 10.22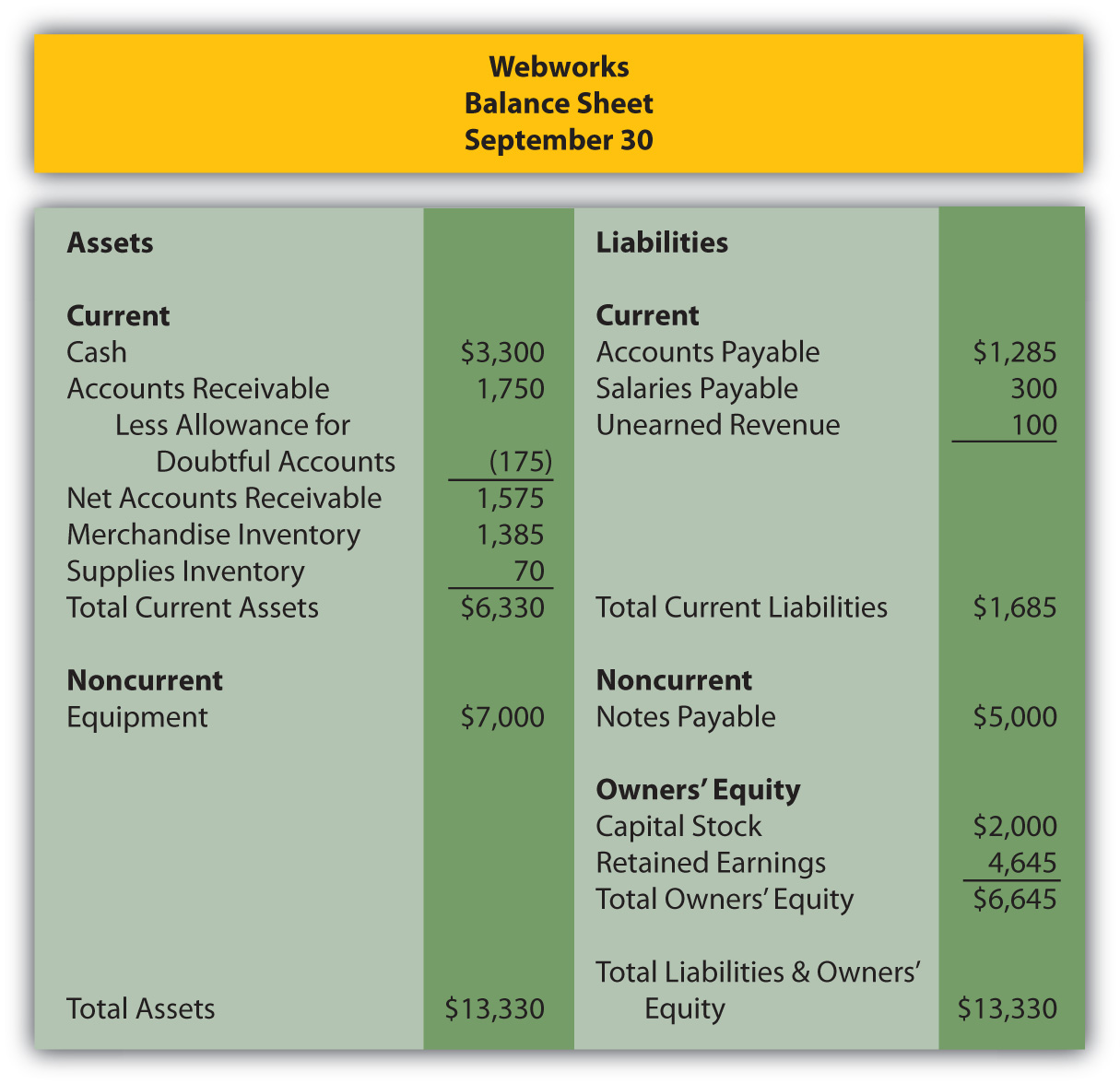 The following events occur during October:
a. Webworks purchases supplies worth $100 on account.
b. Webworks paid $600 in rent for October, November, and December.
c. At the beginning of October, Webworks had nine keyboards costing $105 each and forty flash drives costing $11 each. Webworks uses periodic FIFO to cost its inventory.
d. On account, Webworks purchases fifty keyboards for $110 each and 100 flash drives for $12 each.
e. Webworks starts and completes seven more Web sites and bills clients for $3,900.
f. Webworks pays Nancy $700 for her work during the first three weeks of October.
g. Webworks sells 50 keyboards for $7,500 and 100 flash drives for $2,200 cash.
h. The Web site paid for in August and started in September was completed. The client had originally paid $100 in advance.
i. Webworks paid off the remainder of its note payable.
j. Webworks collects $4,000 in accounts receivable.
k. Webworks pays off its salaries payable from October.
l. Webworks pays off $6,000 of its accounts payable.
m. One Web site client is dissatisfied with the work done and refuses to pay his bill. Rather than incur the expense of taking the client to court, Webworks writes off the account in the amount of $200.
n. Webworks pays Leon a salary of $2,000.
o. Webworks purchased office furniture on account for $1,000, including transportation and setup.
p. Webworks pays taxes of $868 in cash.
Required:
A. Prepare journal entries for the above events.
B. Post the journal entries to T-accounts.
C. Prepare an unadjusted trial balance for Webworks for October.
D. Prepare adjusting entries for the following and post them to your T-accounts.
q. Webworks owes Nancy $100 for her work during the last week of October.
r. Leon's parents let him know that Webworks owes $300 toward the electricity bill. Webworks will pay them in November.
s. Webworks determines that it has $50 worth of supplies remaining at the end of October.
t. Prepaid rent should be adjusted for October's portion.
u. Webworks is continuing to accrue bad debts at 10 percent of accounts receivable.
v. A CPA tells Leon that Webworks should be depreciating its equipment and furniture. The CPA recommends that Webworks use the straight-line method with a four-year life for the equipment and a five-year life for the furniture. Normally, when an error is made, such as not depreciating equipment, the company must go back and restate prior financial statements correctly. Since Webworks is only generating these monthly statements for internal information, the CPA recommends that Leon just "catch up" the prior month's depreciation on the equipment this month. So when Webworks records October's equipment depreciation, it will also record the deprecation that should have been taken in July, August and September. The depreciation on the furniture should just be for one month. Round to the nearest whole number.
w. Record cost of goods sold.
E. Prepare an adjusted trial balance.
F. Prepare financial statements for October.