Comprehensive Problem
This problem will carry through several chapters, building in difficulty. It allows students to continuously practice skills and knowledge learned in previous chapters.
Recall in Chapter 5 "Why Must Financial Information Be Adjusted Prior to the Production of Financial Statements?" that Leon Jackson started Webworks, a Web site design and maintenance firm. You helped him prepare his adjusted trial balance for June. We are going to continue with this problem, preparing Webworks financial statements for July.
Here are Webworks financial statements as of June 30.
Figure 7.24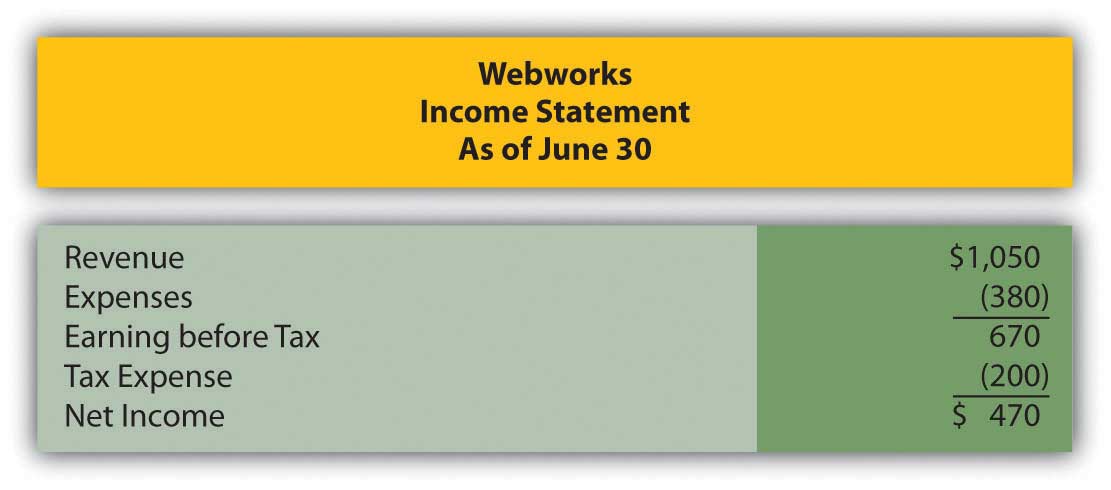 Figure 7.25

Figure 7.26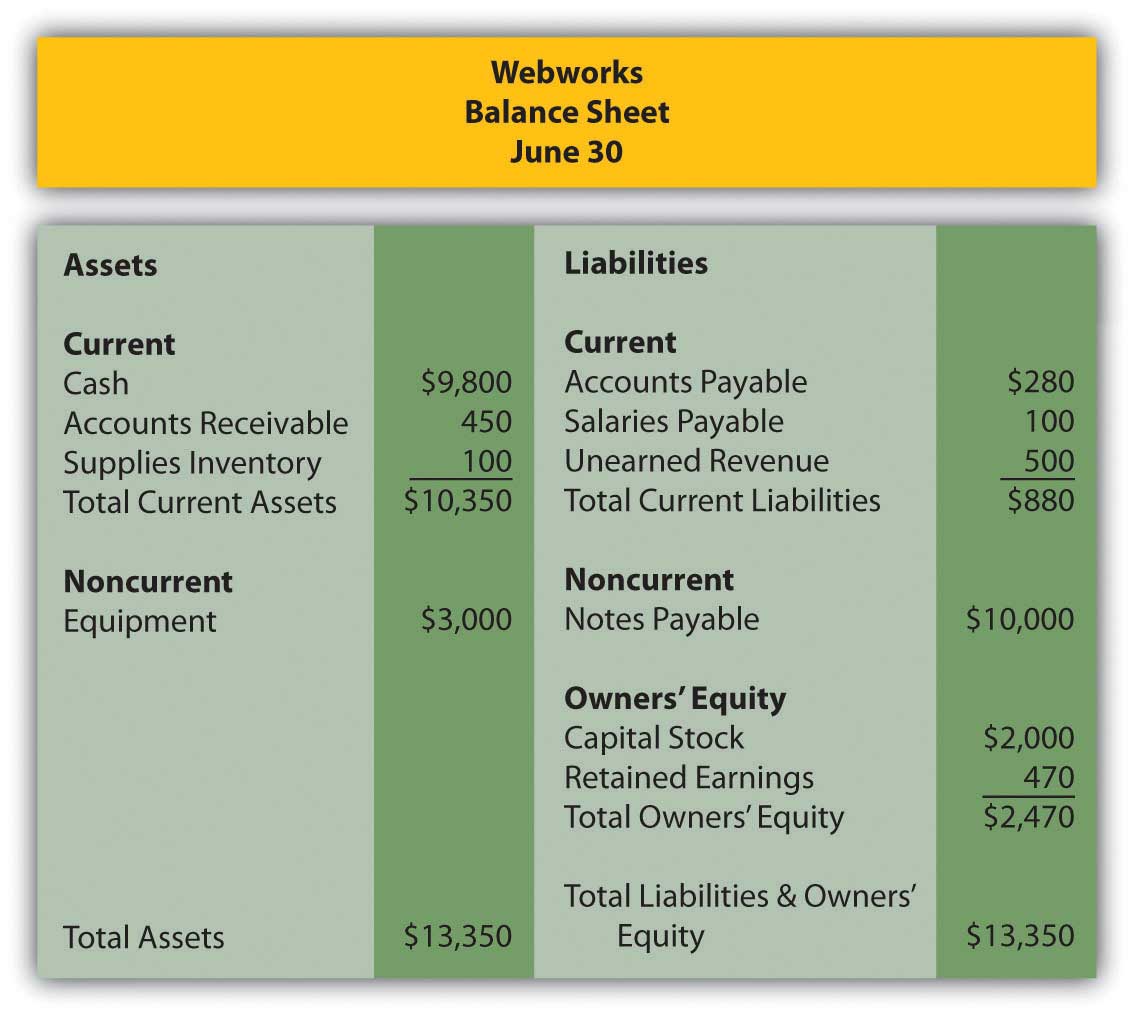 The following events occur during July:
a. Webworks purchases additional equipment for $4,000 cash.
b. Webworks purchases supplies worth $90 on account.
c. Webworks pays off its accounts payable and salaries payable from June.
d. Webworks starts and completes four more Web sites and bills clients for $1,800.
e. Recall that in June, Webworks received $500 in advance to design a restaurant Web site. Webworks completes this site during July.
f. Webworks collects $1,200 in accounts receivable.
g. Webworks pays Nancy $500 for her work during the first three weeks of July.
h. Webworks receives $200 in advance to work on a Web site for a local dry cleaner and $300 in advance to work on a Web site for a local vet. Work will not begin on the Web sites until August.
i. Leon's parents have decided to charge rent after seeing how successful his business is and how much space it is taking up in their house. They all agree that rent will be $200 per month. Webworks pays $600 for July, August, and September.
j. Webworks pays taxes of $300 in cash.
Required:
A. Prepare journal entries for the above events.
B. Post the journal entries to T-accounts.
C. Prepare an unadjusted trial balance for Webworks for July.
D. Prepare adjusting entries for the following and post them to your T-accounts.
k. Webworks owes Nancy $200 for her work during the last week of July.
l. Leon's parents let him know that Webworks owes $150 toward the electricity bill. Webworks will pay them in August.
m. Webworks determines that it has $50 worth of supplies remaining at the end of July.
n. Prepaid rent should be adjusted for July's portion.
o. In June, Webworks designed a site for Pauline Smith, but has not yet been fully paid. Leon believes the company may not be able to collect all of its accounts receivable. A local CPA helps Leon determine that similar businesses report an allowance for bad debt at an average of 10 percent of their accounts receivable. Webworks will use this method. Make the bad debt accrual for Webworks.
E. Prepare an adjusted trial balance.
F. Prepare financial statements for July.