Functions of Minor Parties
Minor parties raise issues that the Democrats and Republicans ignore because of their tendency to take middle-of-the road positions. As a result, minor parties can be catalysts for change.Daniel A. Mazmanian, Third Parties in Presidential Elections (Washington, DC: Brookings Institution, 1974). The Progressive Party backed the women's suffrage movement in the early twentieth century, which led to the passage of the Nineteenth Amendment. Child labor laws, the direct election of US senators, federal farm aid, and unemployment insurance are policies enacted as a result of third-party initiatives.Micah L. Sifry, Spoiling for a Fight (New York: Routledge, 2003).
More recently, the Tea PartyA loosely organized, conservative-leaning grassroots movement that qualifies as a political party as candidates run for office under its label. has raised issues related to the national debate, government bailouts to failing industries, and the health care system overhaul. The Tea Party is a conservative-leaning grassroots political movement that emerged in 2009 when the Young Americans for Liberty in the state of New York organized a protest against state government "tax and spend" policies. The Tea Party–themed protest recalled events in 1773, when colonists dumped tea into Boston Harbor to demonstrate their opposition to paying a mandatory tax on tea to the British government. Subsequent Tea Party protests took place in states across the country. Tea Party supporters participated in national protests in Washington, DC, which drew thousands of supporters.
Video Clip
CNBC's Rick Santelli's Chicago Tea Party
(click to see video)
The national protests were prompted by a video of a rant by CNBC editor Rick Santelli opposing government subsidies of mortgages that went viral after being posted on the Drudge Report.
Santelli called for a "Chicago Tea Party" protest, which ignited the movement. The Tea Party's efforts were publicized through new media, including websites such as Tea Party Patriots, Facebook pages, blogs, and Twitter feeds.
Minor parties can invigorate voter interest by promoting a unique or flamboyant candidate and by focusing attention on a contentious issue.Daniel A. Mazmanian, Third Parties in Presidential Elections (Washington, DC: Brookings Institution, 1974). Voter turnout increased in the 1992 presidential contest for the first time in over two decades in part because of minor-party candidate Ross Perot.Diana Owen and Jack Dennis, "Antipartyism in the USA and Support for Ross Perot," European Journal of Political Research 29 (1996): 383–400. Perot, a wealthy businessman, was a candidate for president in 1992 for the minor party, United We Stand America, receiving nearly twenty million votes. He ran again in 1996 as a member of the Reform Party and earned nearly eight million votes.John C. Green and William Binning, "Surviving Perot: The Origins and Future of the Reform Party," in Multiparty Politics in America, ed. Paul S. Herrnson and John C. Green (Lanham, MD: Rowman & Littlefield, 1997), 87–102. Perot supporters were united in their distrust of professional politicians and opposition to government funding of social welfare programs.
Figure 10.7 Ross Perot and Ralph Nader Campaigning

Minor-party candidates Ross Perot and Ralph Nader did not come close to winning the presidency, but they did bring media attention to issues during the elections in which they ran.
Minor party candidates can be spoilersA minor-party candidate who takes away enough votes from a major-party candidate to influence the outcome of the election while not winning the election himself. in elections by taking away enough votes from a major party candidate to influence the outcome without winning. Minor parties collectively have captured over 5 percent of the popular vote in every presidential election since 1840, although individual minor parties may win only a small percentage of votes. Green Party candidate Ralph Nader was considered by some analysts to be a spoiler in the 2000 presidential campaign by taking votes away from Democratic contender Al Gore in Florida. George W. Bush received 2,912,790 votes in Florida compared to Al Gore's 2,912,253 votes. If 540 of Nader's 96,837 votes had gone to Gore, Gore might have ended up in the White House.
Challenges Facing Minor Parties
A minor-party candidate has never been elected president. In the past five decades, minor parties have held few seats in Congress or high-level state offices. Few minor party candidates have won against major-party candidates for governor, state representative, or county commissioner in the past two decades. Minor-party candidates have better luck in the approximately 65,000 nonpartisan contests for city and town offices and school boards in which no party labels appear on the ballot. Hundreds of these positions have been filled by minor-party representatives.
A majority of the public favors having viable minor-party alternatives in elections. Why, then, are minor parties unable to be a more formidable presence in American politics?
Winner-Take-All Elections
One major reason for two-party dominance in the United States is the prominence of the single-member district plurality systemAlso known as first-past-the-post or winner-take all, the system in which the highest vote getter in a district in federal and most state legislative elections gains a seat in office. of elections, also known as winner-take-all elections. Only the highest vote getter in a district in federal and most state legislative elections gains a seat in office. Candidates who have a realistic chance of winning under such a system are almost always associated with the Democratic and Republican parties, which have a strong following among voters and necessary resources, such as funding and volunteers to work in campaigns.
In contrast, proportional representation (PR) systemsElections are held for multiple seats in a district, allowing seats to be distributed according to the proportion of the vote won by particular political parties., such as those used in most European democracies, allow multiple parties to flourish. PR systems employ larger, multimember districts where five or more members of a legislature may be selected in a single election district. Seats are distributed according to the proportion of the vote won by particular political parties. For example, in a district comprising ten seats, if the Democratic Party got 50 percent of the vote, it would be awarded five seats; if the Republican Party earned 30 percent of the vote, it would gain three seats; and if the Green Party earned 20 percent of the vote, it would be granted two seats. PR was used for a short time in New York City council elections in the 1940s but was abandoned after several communists and other minor-party candidates threatened the Democratic Party's stronghold.
Legal Obstacles
Minor parties are hindered by laws that limit their ability to compete with major parties. Democrats and Republicans in office have created procedures and requirements that make it difficult for minor parties to be listed on ballots in many states. In Montana, Oklahoma, and several other states, a candidate must obtain the signatures of least 5 percent of registered voters to appear on the ballot. A presidential candidate must collect over one million signatures to be listed on the ballot in every state. This is an insurmountable barrier for most minor parties that lack established organizations in many states.
Campaign finance laws work against minor parties. The 1974 Federal Election Campaign Act and its amendments provide for public financing of presidential campaigns. Rarely has a minor-party candidate been able to qualify for federal campaign funds as the party's candidates must receive 5 percent or more of the popular vote in the general election. Similar barriers hinder state-level minor-party candidates from receiving public funding for taxpayer-financed campaigns, although some states, such as Connecticut, are debating plans to rectify this situation.
Lack of Resources
The financial disadvantage of minor parties impedes their ability to amass resources that are vital to mounting a serious challenge to the two major parties. They lack funds to establish and equip permanent headquarters. They cannot hire staff and experienced consultants to conduct polls, gather political intelligence, court the press, generate new media outreach, or manage campaigns.
Lack of Media Coverage
Minor parties rarely receive significant media coverage except when they field a dynamic or outlandish candidate, such as Jesse Ventura, or when they are associated with a movement that taps into public concerns, such as the Tea Party. The dominant horserace frame employed by the media focuses on who is ahead and behind in an election and usually tags minor-party candidates as losers early in the process. Media treat minor parties as distractions and their candidates as novelty acts that divert attention from the main two-party attractions.
Minor parties often are unable to air televised campaign ads because they lack funds. Even in the digital era, television advertising is an essential part of campaigns because it allows candidates to control their own message and reach large numbers of voters. Minor-party candidates have difficulty gaining publicity and gaining recognition among voters when they cannot advertise.
Minor-party candidates routinely are excluded from televised debates in which major-party candidates participate. By being allowed to participate in the 1992 presidential debates, Reform Party candidate Ross Perot achieved national visibility and symbolic equality with incumbent president George W. Bush and Democratic candidate Bill Clinton.
Video Clip
Giant Sucking Sound: Ross Perot 1992 Presidential Debate
(click to see video)
Perot received significant press coverage from his debate performance.
Figure 10.8 Ross Perot Participating in the 1992 Presidential Debate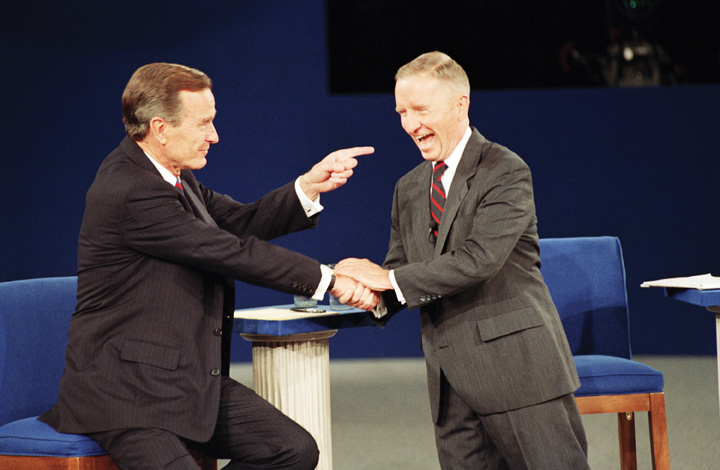 Minor-party candidates rarely have the opportunity to participate in televised presidential debates. An exception was Reform Party candidate Ross Perot, whose campaign was bolstered by his inclusion in the 1992 presidential debate with Republican George W. Bush and Democrat Bill Clinton.
Source: Used with permission from AP Photo/Greg Gibson.
These benefits were denied Ralph Nader when he was excluded from the presidential debates in 2000 because the Commission on Presidential Debates ruled that Nader did not have enough voter support to warrant inclusion.
Absorption by Major Parties
When a minor-party movement gains momentum, the Republican and Democratic parties move quickly to absorb the minor party by offering enticements to their members, such as support for policies that are favored by the minor party. Major-party candidates appeal to minor-party supporters by arguing that votes for minor-party candidates are wasted. Major parties are often successful in attracting minor-party voters because major parties are permeable and ambiguous ideologically.
After the Democrats in Congress were instrumental in passing the Voting Rights Act in 1964, the Republican Party absorbed the southern Dixiecrats, a Democratic Party faction opposed to the legislation. The two major parties tried to attract Ross Perot's Reform Party supporters after his 1992 presidential bid, with the Republican Party succeeding in attracting the lion's share of votes. The Republican Party's position against big government appealed to Perot supporters. Even though the Tea Party gravitates toward the Republican Party, Republicans have not universally accepted it.
Key Takeaways
Minor parties offer an alternative to the dominant Republican and Democratic parties, but they have difficulty surviving. They arise to challenge the two major parties when people feel that their interests are not being met. There are four major types of minor parties: enduring, single-issue, candidate-centered, and fusion parties. Minor parties have difficulty winning high-level office but are able to fill seats at the county and local level. There are numerous challenges faced by minor parties in American politics, including winner-take-all elections, legal obstacles, lack of resources, and limited media coverage.
Exercises
When do minor parties tend to arise? How can minor parties have an impact on national politics if they cannot usually compete in national elections?
What minor parties are you familiar with? How are minor parties generally portrayed in the media?
What makes it difficult for minor parties to win state and local elections?